PPEPP Project: Subsidiary Grant Agreement signed with GoB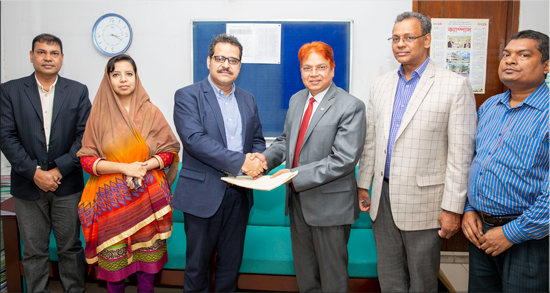 A Subsidiary Grant Agreement (SGA) was signed between Palli Karma-Sahayak Foundation (PKSF) and the Finance Division, Ministry of Finance, Government of Bangladesh (GoB) on 5 March 2019 for the 'Pathways to Prosperity for Extremely Poor People (PPEPP)' project.
Dr Md Jashim Uddin, Deputy Managing Director of PKSF and Mr Shirajun Noor Chowdhury, Joint Secretary of Finance Division, Ministry of Finance signed the agreement. PKSF's Deputy Managing Director Mr AQM Golam Mawla, Deputy Secretary of Financial Institutions Division Ms Mursheda Zaman and Deputy Secretary of Finance Division Mr Mohammad Saidul Islam were also present during the event held at Ministry of Finance. Earlier, a Memorandum of Understanding (MoU) for this project was signed between the Economic Relations Division (ERD), Ministry of Finance, and the UK Department for International Development (DFID) on 17 December 2018.
The inception phase of the PPEPP project is expected to start from April 2019 after the signing of another MoU between PKSF and DFID. It will be implemented for sustained alleviation of poverty of extremely poor people including various disadvantaged communities of Bangladesh. The project targets 250,000 thousand extremely poor households in the poverty-stricken and climate-vulnerable northwestern region, southern coastal belt and haor area of Bangladesh.
PKSF, as the Core Implementing Partner, will implement Livelihood, Nutrition and Community Mobilization components of the project through selected Partner Organizations (POs). The other three components of the project — Market Development, Policy Advocacy and Life Cycle Grant Pilot — will be implemented by other stakeholders of PPEPP. Three issues — disaster and climate resilience, disability, and women's empowerment leading to gender equality — will cut across the PKSF part of PPEPP components.
The total grant made available by the DFID and the European Union for the PPEPP will be up to 109.6 million Pound Sterling for a period of six years (including one-year inception phase) from 2018 to 2024. Of the amount, up to 63.5 million Pound Sterling will be made available as grant for PKSF.
Subject to the progress and performance of the first phase, the project may have second phase from 2024-2028 to support additional 250,000 extreme poor households.