Managing Director (MD) Md. Abdul Karim of PKSF, went to Wagga Union, Rangamati for a 2-day visit, from the 15th to 17th of January, 2014. There the ENRICH Programme is implemented by Integrated Development Foundation (IDF), a Partner Organization of PKSF. The MD visited various activities and microenterprises under ENRICH. He was accompanied by PKSF's General Manager (CC) Akond Md. Rafiqul Islam.
On this visit, the MD gave advice to the people of the Partner Organization on how to improve the activities they have undertaken, possible solutions to problems they may be facing and further suggestions as to what direction to look in next.  He emphasized the importance of access to health care, ensuring education, expansion of agricultural activities such as the cultivation of environment friendly Joom, establishment of sanitary latrines, ensuring continuous water supply, organizing skill development trainings, continually generating employment opportunities, supplying vegetable seeds for cultivating vegetables in the home yard, establishing adequate bridges and culverts, etc.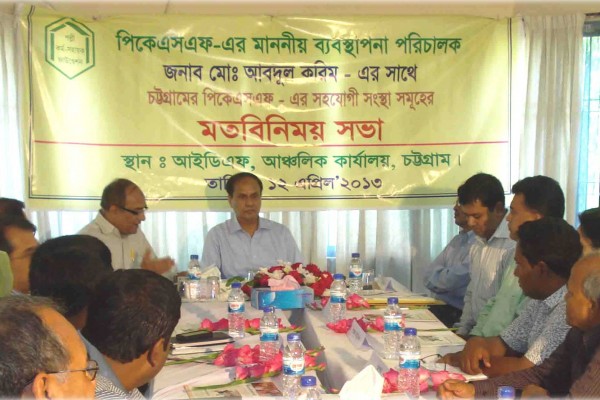 In Bot-toly Village, the MD inspected bashok plantations. Here he met bashok cultivator Mr. Sanjeeb Tanchonga. He has sold about 240 kg bashok to Square Pharmaceuticals Ltd. Mr. Tanchonga expressed concern over fair pricing of bashok plant to which the MD assured him that the ENRICH Unit would ensure that he received the best possible prices.
The MD also visited Dolniapara to inspect the installed sanitary latrines throughout the village. Having seen that there were still many latrines yet to be installed, the MD called for prompt action to ensure the latrines should be completed by the end of January 2014.
Two microenterprise projects were also inspected; one is Baby Chakma's dairy farm, and the other is Shukhanu Chakma's mushroom plantation. Both individuals are entrepreneurs of rural micro credit and have excelled in their undertakings. The MD asks the ENRICH Unit and IDF to provide all technical and financial assistance possible to further their development.
In addition, the MD met 12 female members of IDF who are engaged in small housing businesses, dress making businesses, poultry farming, small transportation businesses, shops, rice businesses, cosmetics businesses, etc.
As his visit neared an end, the MD was taken to Boroisori to inspect the water supply project under ENRICH. Through this project the daily need of water of this union is met. In addition, a tank has been built in the peak of a hill, in which water from the Karnafuli River is stored. This tank supplies water to 125 families, local shops & offices, which has solved the water crisis for these people. The MD was pleased with the success of the project.