A delegation from PKSF visited the World Bank Headquarters
The Managing Director of Palli Karma Sahayak Foundation (PKSF), Mr. Md. Abdul Karim has taken part in a series of meetings with the World Bank as a member of the Bangladesh Financial Sector Delegation at the World Bank Headquarters in Washington DC, USA during July 10-16, 2016. Two Deputy Managing Directors of PKSF, Mr. Md. Fazlul Kader and Mr. Golam Touhid, have also participated in relevant meetings as technical experts on microfinance, microinsurance, livestock/agricultural insurance, agriculture, microenterprise and SME finance. The Bangladesh Delegation Team included top officials from different financial sector authorities including the Secretary of Bank and Financial Institutions Division (BFID) as leader of the delegation, Deputy Governor of Bangladesh Bank (BB), and representatives from Insurance Development and Regulatory Authority (IDRA), Securities and Exchange Commission (SEC) and Microcredit Regulatory Authority (MRA).
The meeting, organized by the Finance and Markets Global Practice (F&M GP) Division of the World Bank, was arranged under the Financial Sector Support Project (FSSP) which is implemented by Bangladesh Bank. In addition to the Bangladesh Delegation and F&M GP Division personnel, a representative of the Bangladesh Country Management of World Bank was also present in Washington. Along with other presentation, during the meetings, PKSF also has shared the key learning and achievements of its Micro-Enterprise (ME) program and the impact of the program made on the economic development of Bangladesh. PKSF has mentioned that there is a huge unmet demand for loan in this sector that needs to be addressed on a priority basis. PKSF also shared its vision and strategy for ME development, its accumulated rich experience and comparative advantage in promoting ME sector by integrating Value Chain interventions through its nationwide network of partner. Moreover, PKSF has also shared its successful experience in livestock insurance.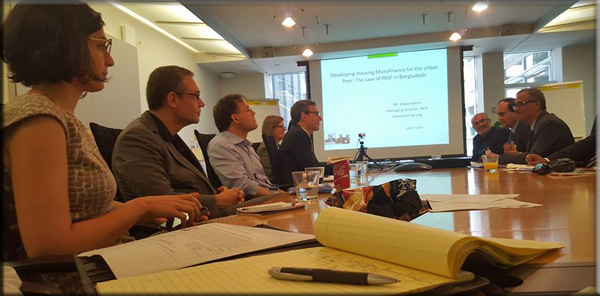 In the last day of the meeting, Mr. Karim has given a separate presentation titled "Developing Housing Microfinance for the Urban Poor: The Case of PKSF in Bangladesh" while responding to a special invitation from the South Asia Social Development Unit of the World Bank. The session was chaired by Mr. David Warren, Practice Manager, Social Development SAR. MD PKSF, in his presentation, portrayed the present scenario of housing finance in Bangladesh with respect to the upcoming Low Income Community Housing Support Project to be implemented by PKSF and National Housing Authority (NHA) and funded by the World Bank. Through his presentation Mr. Karim shared PKSF's view about the project and the role it can play through its comparative advantages and potential value additions. He also mentioned that through this project PKSF will be looking to expand housing finance access to the middle- and lower-income groups, by establishing balanced funding models and a diversified toolbox of instruments; and ultimately developing a sustainable housing finance market. The presentation received widespread appreciation. Representatives from the World Bank as well as the Bangladesh Team acclaimed the ideas presented and World Bank showed its keen interest to work with PKSF on a much broader level to develop the low income housing finance sector of Bangladesh.