Concluding seminar of UPP-UJJIBITO project held
After five years of addressing ultra-poverty, the UPP-UJJIBITO project implemented by Palli Karma-Sahayak Foundation (PKSF) has recently completed its run. To mark this, a concluding seminar was held on April 28, 2014 at PKSF Bhaban.
The concluding event of UPP- UJJIBITO, a component of "Food Security 2012 Bangladesh" project funded by the European Union, was presided over by PKSF Managing Director Mr Md Abdul Karim. Eminent economist Dr Qazi Kholiquzzaman Ahmad, Chairman of PKSF, was the Chief Guest and Mr Manfred Fernholz, First Secretary, Delegation of the European Union to Bangladesh was the Special Guest.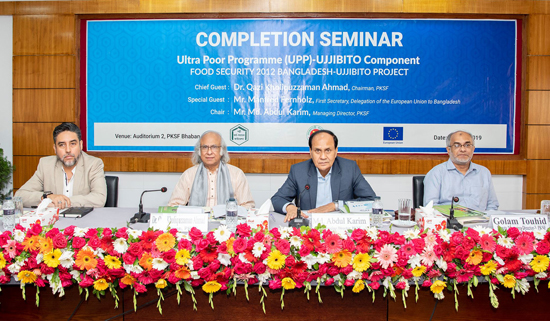 Dr QK Ahmad in his speech said that human-centric integrated efforts are needed to effectively address the multidimensionality of poverty.Referring to the country's progress in the last decade, he emphasized on the need to combat the climate change fallout to sustain this development stride. All development activities should have the motto of 'leaving no one behind', he commented.

Special Guest Mr Manfred Fernholz said that Bangladesh has graduated into a lower-middle income country and the European Union's support will continue to help the country progress further.
Mr Md Abdul Karim highlighted that UPP-UJJIBITO made a tremendous impact at the grassroots. He encouraged the Partner Organizations (POs) to continue the activities with their own fund. "PKSF is mainstreaming the impact making activities implemented under the project through its core programs," he added.

PKSF's Deputy Managing Director Mr Golam Touhid also spoke on the occasion, and General Manager Dr AKM Nuruzzaman made a presentation on the project. EU officials, representatives of POs and PKSF officials were present at the seminar.
The €11.05 million UPP-UJJIBITO project was implemented from November 2013 to April 2019 in 1,724 unions through 36 selected POs of PKSF with the objective of ensuring sustainable graduation of nearly 325,000 vulnerable and women-headed households from ultra-poverty.