A Workshop titled "Formulation of Annual Work Plan & Assessment of Work Progress of ENRICH Programme" held at PKSF auditorium on 25 August, 2014. Dr. Md. Jashim Uddin, Deputy Managing Director (Admin & Finance) of PKSF presided over the event. Mr. Md. Mashiar Rahman, General Manager (Operations) and the team leader of ENRICH programme with his team along with union coordinators/focal persons from110 Partner Organizations (POs) were present in the workshop.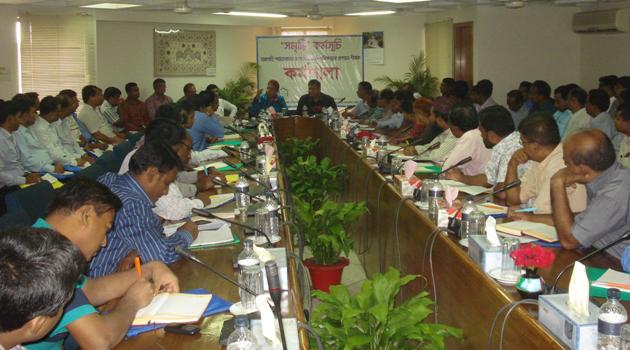 Dr. Jashim in his welcome speech said, "ENRICH is a programme by which people will become enriched. It's a programme harmonized to develop the human being only".
He informed that, in continuation of the success of the ENRICH programme, steps has already been taken to extend the programme in another 100 unions. The extension plan has already been started in 87 unions and gradually the remaining 13 unions will also be brought under the operational net of ENRICH.
He also said that for the extention and smooth running of the ENRICH programme we have allotted a total of Tk.44 crore in FY 2014-15.
Mr. Mashiar Rahman presented the keynote paper.
Taking part in open floor discussion representatives of POs raised different issues related to field level implementation. Mr. Mashiar responded all the queries in the open discussion session.
Mr. Mashiar told the participants to take a new initiative to ensure hand-hygiene before taking foods and after using toilets. For which he suggested a handy formula of collecting and keeping a 1 litre bottle having a small hole on the cap to dispense the detergent mixed water worth Tk 1 beside every toilet and dining area. He also proposed to plant a "Sajna" and a "lemon" tree in every house to fulfill the nutrition demand of the household.
All Union coordinators and focal persons spontaneously supported his proposals and committed to implement those. Mr. Mashiar also suggested to create a garden in the yard of every family in ENRICH unions to make that an "ENRICH-HOME".
Dr. Jashim Uddin in his concluding remarks said, "ENRICH emphasizes on the works related to the improvement of peoples living standard. Therefore, the development works of the POs will become more visible through ENRICH's implementation".
He hoped that the objectives for which the ENRICH programme came in to being will be achieved through the successful implementation of the programme by the POs.
Finally he gave the vote of thanks to the audience and wishing them safe return to their work place and announced the end of the workshop.