On March 09 2014, H.E. Mr. Iyad Ameen Madani, Secretary General of the Organization of Islamic Cooperation (OIC), visited PKSF. H.E. Amb. Tarek Bakheit, Director in the Political Affairs, Mr. Salahuddin Mahmud, Professional Officer in Political Affairs, Mr. Mohammed Elnaghi, Deputy Chief of Protocol, Mr. Ali Hima, Protocol Officer, along with Mr. Md. Shahidul Islam, Bangladesh Permanent Representative to OIC, Mr. Tarik Ahsan, Director General (International Organizations), Ministry of Foreign Affairs, Mr. A.B.M. Sarwer-e-Alom Sarker, Host Officer to OIC SG and Assistant Secretary, Ministry of Foreign Affairs were also present with Mr. Madani.

Dr. Qazi Kholiquzzaman Ahmad, Chairman, PKSF, Mr.  Md. Abdul Karim, Managing Director, PKSF and other senior officials of PKSF hosted the meeting in which a presentation on PKSF was made.It was followed by extensive conversation between the two sides on the topic. H.E. Mr. Madani showed special interest in PKSF's poverty alleviation / income generating activities, monitoring systems and rates of service charge. Mr. Madani was also thoroughly impressed by the ENRICH Programme and expressed interest in possible replication of  such a model including possible support to PKSF's Micro-enterprise programme.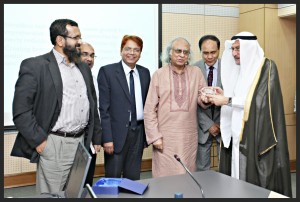 After a thought provoking discussion, Dr. Qazi Kholiquzzaman Ahmad presented H.E. Mr. Madani with a PKSF Crest and commended him for his wonderful work in public service.