Inclusive development: MoU signed for new project
PPEPP to help 0.5 million HHs to graduate from extreme poverty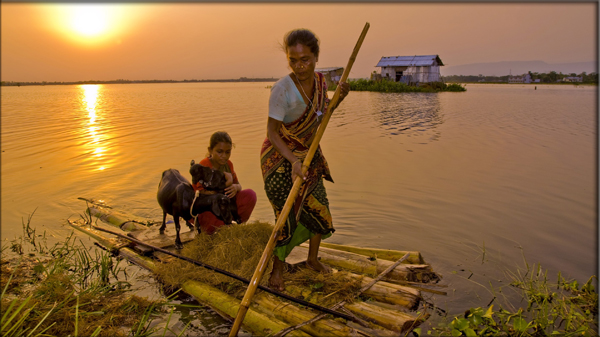 PKSF is set to launch a new project, titled 'Pathways to Prosperity for Extremely Poor People (PPEPP)', with a view to ensuring inclusive development of the disadvantaged and ultra-poor communities. In this regard, a Memorandum of Understanding (MoU) was signed between the Economic Relations Division (ERD), Ministry of Finance, Government of Bangladesh, and the UK Department for International Development (DFID) Bangladesh on 17 December 2018. ERD Secretary Mr Monwar Ahmed and Mr Jim McAlpine, Country Representative, DFID Bangladesh signed the MoU.

PKSF – an apex development agency founded by the GoB – will be the lead implementing partner of PPEPP, to be jointly financed by DFID and the European Union. The project will be implemented in two phases. The budget for the first phase amounting to 109.6 million Pound Sterling (GBP), of which 63.5 million Pound Sterling is earmarked for PKSF as grant. Upon evaluation of the first phase's outcomes, the project can be extended for another five years in the second phase.

The project aims to enable over two million people to graduate from extreme poverty and to place them on sustained pathway to prosperity. To achieve this, PKSF will implement three major components, i.e. Livelihood (including value chain development), Nutrition and Community Mobilization. The issues disaster and climate resilience, disability, and women's empowerment leading to gender equality cut across PKSF's components of PPEPP. The other components, to be implemented by other entities, are Market Development, Policy Advocacy and Life Cycle Grant Pilot.

The project will contribute to the eradication of extreme poverty by addressing multidimensional poverty and building capacities to ensure inclusive financial development of the target communities. The services to be delivered encompass training, financial and technical assistance, technology transfer and market linkage activities. Nutrition interventions for pregnant and lactating mothers, babies and adolescent girls, and social development services will also be in place. The project, the interventions of which will cut across various Sustainable Development Goals, will be implemented in poverty-stricken and climate-vulnerable northwestern region, the southern coastal region, Chittagong Hill Tracts and the haor basin of Bangladesh.

The MoU between PKSF and DFID Bangladesh is likely to be signed by March 2019 and PKSF is expected to start the full-on implementation of the PPEPP project via its Partner Organizations in the 2019-2020 fiscal year.

ERD Press Release:
https://erd.portal.gov.bd/sites/default/files/files/erd.portal.gov.bd/press_release/ada40e92_26cc_4041_a842_a32895b21984/PR_English_171218.pdf