Issue Based Meeting with General Body Members Discussed "One District One Product" Concept
A discussion meeting with honorable members of the General Body of PKSF was held on 28th November, 2018 at PKSF as per the decision of 7th Annual General Meeting of PKSF. The topic of the 1st meeting of its kind was the concept note of "One District One Product" a new initiative of PKSF to develop geographical branding of different potential farm and non-farm products of the country.
Dr. Qazi Kholiquzzaman Ahmad, the Honorable Chairman of PKSF presided over the meeting.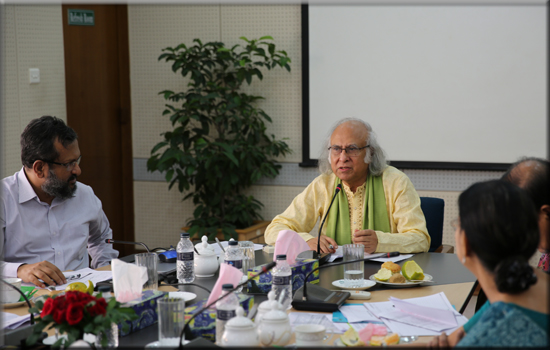 Mr. Md. Abdul Karim, Managing Director, PKSF attended the meeting and delivered his welcome speech. Dr. Pratima Paul-Majumder, Mr. C.M. Shafi Sami, Professor Shafi Ahmed, Dr. Ramanimohon Debnath, Dr. Toufic Ahmad Choudhury,Ms. Nazneen Sultana were present at the meeting. Professor M.A. Baqui Khalily, Dr. Momtaz Uddin Ahmed, Dr. Jahangir Alam Khan also attended the meeting as invited guest. Other higher officials of PKSF were also present on the occasion and took part in the discussion. Besides, Senior Officials of PKSF also attended the meeting.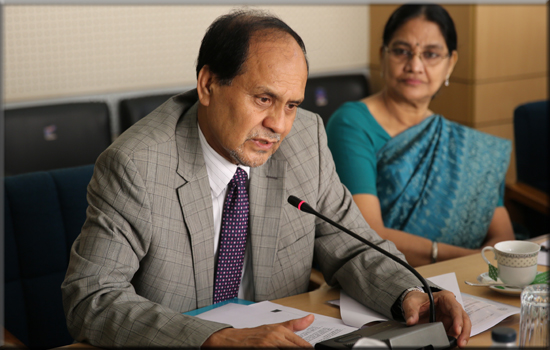 Deputy Managing Director-1 of PKSF Mr. Md. Fazlul Kader presented the concept note on "One District One product". In his presentation, Mr. Kader mentioned that a good number of business clusters have been grown in the country naturally based on the comparative advantages of different geographical regions. He emphasized on developing umbrella branding of these business clusters so that the products of these clusters can reach wider national and international markets. Although each district of Bangladesh has more than one potential product, the most promising one can be chosen as an iconic product from each district to promote geographical branding. PKSF may continue to provide its assistance to all business clusters that have growth potentials in terms of upscaling of economic activities and generation of sustainable productive employment. However, special focus will be given to the iconic ones for their branding.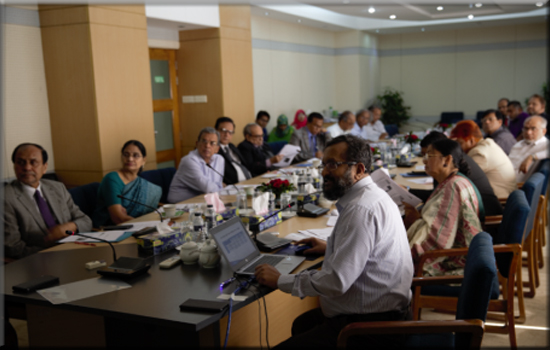 The participants welcomed the "One District One product" concept and provided their valuable suggestions regarding this innovative idea. The participants stressed the need for market assessment, market linkage, use of e-commerce service and adequate financial services to materialize the concept.

Honorable Chairman of PKSF, Dr. Qazi Kholiquzzaman Ahmad in his closing remarks informed that the financial services provided by PKSF, is no longer called microcredit, rather it is inclusive financing that includes people ranging from ultra-poor to micro entrepreneurs. The credit ceiling is now BDT 1.0 million which may be increased further. He also informed that PKSF has already introduced an e-commerce service exclusively for microenterprises. He advised that the most promising product can be chosen as an iconic product from each district while other business clusters will also get assistance from PKSF in accordance with their growth potential and ability to generate sustainable employment. He also gave instruction for focusing on export oriented microenterprise sector. Dr. Qazi Kholiquzzaman Ahmad expressed his commitment to initiate different innovative programs to expedite the economic progress of the country. He thanked all the participants for attending the meeting.