National Anti-Tobacco Platform awarded "Tobacco Control Award-2019''
National Anti-Tobacco Platform (NATP) and Palli Karma-Sahayak Foundation (PKSF) jointly organized a seminar on 12th May 2019to mark World No Tobacco Day that falls on May 31. NATP's `Tobacco Control Awards 2019' was also given out at the program. Dr. Qazi Kholiquzzaman Ahmad, Chairman, PKSF and Convener, NATP presided over the program.Dr. Md. Abdur Razzaque, MP, honorable minister, Ministry of Agriculture joined the program as the chief guest, whereas National Professor Brig. General (Rtrd) Abdul Malik, founder and president, National Heart Foundation of Bangladesh joined the program as the special guest.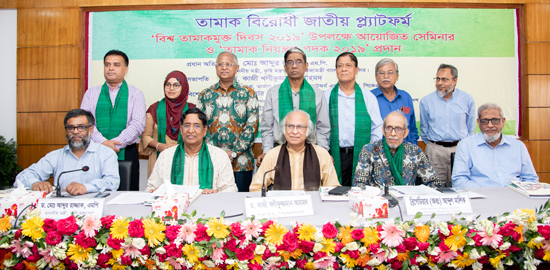 Dr. Qazi Kholiquzzaman Ahmad discouraged tobacco export in his speech saying we should not only think of our health rather we should think about the global health issues. Tobacco is a curse to the whole world, he added. "The government should increase monitoring system on tobacco. Cigarette prices should be hiked further. Honorable Prime Minister Sheikh Hasina declared the goal of having a tobacco-free Bangladesh by 2040. We are ready to support the government to make a tobacco-free Bangladesh," he said. He also mentioned about the pilot project of PKSF, titled "Production of Alternative Crops and Multiple Income Sources to Control Tobacco Cultivation". This project is encouraging farmers to leave tobacco cultivation and start alternate profitable crops, such as cucumber, garlic, brinjal, tomato, corn etc. Later he added, NATP's objectives are to discouraging the use of tobacco in any form, raising consciousness among people against tobacco and doing advocacy at policy level to get rid of this curse. He expected NATP will act as a coordinator for tobacco free Bangladesh.
Dr. Mahfuzur Rahman Bhuiyan, Coordinator, NATP and Project Manager,Hypertension Control Program, National Heart Foundation of Bangladesh depicted the recent activities and future goals of NATP.
Dr. Sharif Ahmaed Chowdhury, General Manager (Programme), PKSF gave a presentation on "Tobacco Free Bangladesh by 2040: PKSF's Steps". In his presentation he discussed on the misconception that tobacco has great contribution to our economy as well as the myth that cultivation of tobacco is highly profitable. Rather he focused on how tobacco destroys our economy, society, health and environment silently. He draws everyone's attention on recent studies that shows revenue from tobacco cultivation is much less than the cost of health problems caused by tobacco use and agricultural hazards. He described how the pilot project "Production of Alternative Crops and Multiple Income Sources to Control Tobacco Cultivation", initiated by PKSF, is motivating tobacco farmers to come back to traditional crop cultivation instead of tobacco cultivation. He explained, to replace tobacco with year-round high-value crop farming, PKSF is using Good Agricultural Practices (GAP) and Intensive livestock production as supplementary income source. Besides, through this project PKSF provides necessary financial, technical, input and marketing services to the farmers, linking them (farmers) with extension services of DAE, DLS. He informed, currently PKSF runs this project in Kustia, Lalmonirhat, Cox's Bazar and Bandarban by the assistance of its Partner Organizations Desha Kustia, ESDO and YPSA respectively, where 682 farmers replaced 1052 bighas of their land from tobacco cultivation to high-value crop cultivation.
National Professor Brig. General (Retd.) Abdul Malik appreciated the role taken by PKSF in alternative cultivation where former tobacco cultivators transformed their lives. He asked everyone to remember the religious cause of standing against tobacco. He urged all to come forward to control tobacco use, saying it is not possible for the government alone.
Dr. Md. Abdur Razzaque, MP, honorable minister, Ministry of Agriculture, Bangladesh Government said tobacco consumption is not on the decline, although all know about its adverse impact. He regretted that union or upazila parishad election candidates distribute cigarettes to young people to gain their support. He recognized that although around Tk22,000 crore is earned as revenue from the tobacco sector, about Tk30,000 crore is lost by its bad impact in healthcare and more. Dr. Razzaque put emphasis on farming agricultural products instead of tobacco. "The domestic market should be expanded. Bangladesh is a country with a lot of potential. We can export a lot of agricultural goods if we can further modernize the sector", he said. He also emphasized on proper allocation and collection of revenues from other internal sectors so that revenue earned from tobacco sector can have less impact in our national budget. Marketing and providing moderate profits to the farmers is still a challenge, he pointed out. "If we cannot find greater domestic and international markets, we would not be able to make profit from agricultural products. And if we cannot make our agricultural products profitable, we cannot stop tobacco cultivation. The farmers will continue to engage in tobacco cultivation", he explained. At the end, mentioning Prime Minister Sheikh Hasina's goal of having a tobacco-free Bangladesh by 2040, the minister said: "I think we will be able to achieve the target much before that time if we can create awareness among people, enforce laws, and commercialize agricultural goods properly."
"Tobacco Control Award 2019"
In this program, NATP has given "Tobacco Control Award 2019" awards in three categories: 1) Organizational Category, 2) Personal Initiative Category, and  3) Research/Publication category in this program.
Young Power in Social Action (YPSA) received the award in Organizational Category. YPSA plays a great role in anti-tobacco activities in Chattogram area. YPSA developed a model of smoke free guideline for Local Government Institutions. It contributed in local fund mobilization by the local government institutions for tobacco control activities. Besides, YPSA has been facilitating Cox's Bazar Municipality and Chattogram City Corporation to be a model of Tobacco free city since August 2017.
Professor Dr. Pran Gopal Datta received the award in Personal Initiative category. Professor Datta has significant contribution in tobacco control activities. He was not only an active participant in making the Bangladesh Road Transport Authority (BRTA), Fire Service and Civil Defense, the polling station smoke-free;  also met with the heads of the organizations for follow up and update the issues. Under his initiative and leadership, delegation team of Bangladesh Anti-Tobacco Alliance met with Chief Election Commissioner and requested to ban tobacco use in the election campaign and declare the polling centers smoke-free. He played active role for tobacco control law amendment as well.
Bangladesh Cancer society accepted the award in Research/Publication category. They have conducted fundamental research work to reduce tobacco use, titled "Cost of tobacco use in Bangladesh- health cost study (July 2017- March 2019)". The project was carried out jointly by Bangladesh Cancer Society, University of Dhaka, American Cancer Society and Cancer Research UK in three successive phases of data collection, analysis and writing, and dissemination and policy advocacy. Bangladesh Cancer Society was the team leader of this study.
There was a "Special Award" to encouraging young researchers in anti-tobacco activities. This year NATP gave this award to Ms. Syeda Sajia Afroz Rumpa, who worked on her research paper titled "Land Degradation and Marginalization from Tobacco Cultivation in Bangladesh: a case Study of Alikadam Upazila, Bandarban". The aim of this research was to explore scientific knowledge for tobacco control.