Bangladesh Rural Water, Sanitation and Hygiene for Human Capital Development Project
---
  Bangladesh Rural Water, Sanitation and Hygiene for Human Capital Development Project
The Government of Bangladesh (GoB) intends to implement the Bangladesh Rural Water, Sanitation and Hygiene for Human Capital Development Project with financial support from the World Bank (WB) and the Asian Infrastructure Investment Bank (AIIB) to reform institutions and improve WASH services that meet the 'safely-managed' services in line with SDG targets of 6.1 and 6.2. The Project Development Objectives are to: (i) improve access and quality of water supply, sanitation, and hygiene (WASH) services in selected areas of rural Bangladesh, and (ii) strengthen sector policy and institutional capacity. Palli Karma-Sahayak Foundation (PKSF) and the Department of Public Health Engineering (DPHE) will implement specific components of this project.
This project, to be implemented from 2021 to 2025, will receive a $200 million fund from the International Development Association (IDA), a lending arm of the World Bank, and another $200 million from the AIIB. The total budget for PKSF-designated components of the project is $328.92 ($184.47 million as IDA credit and $144.34 million as PKSF's contribution). The World Bank, PKSF and DPHE will work together in 78 selected upazilas of 18 districts in 4 divisions. The convergence approach has been applied here with two other WB-funded projects and involves a geographical overlap of project locations. Approximately 1,20,000 households will get safe water supply and 10,00,000 households will get hygienic sanitation facilities under the project.
Negotiation meeting: Delegations representing the Government of Bangladesh and the International Development Association (IDA), a member of the World Bank Group, met on 20 August 2020 for negotiations for a credit of $200 million for the proposed Bangladesh Rural Water, Sanitation and Hygiene for Human Capital Development Project.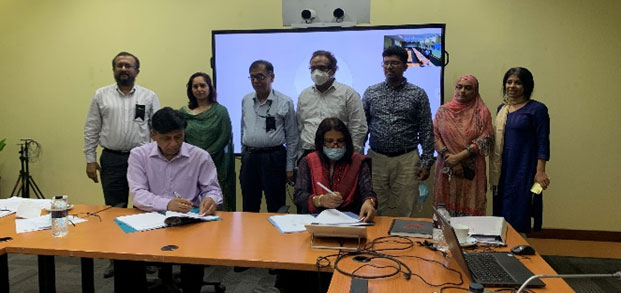 Mr Md Shahabuddin Patwary, Additional Secretary of the Economic Relations Division, Ministry of Finance led the Bangladesh team and Ms Rokeya Ahmed, Water Supply and Sanitation Specialist of the World Bank, headed the team representing the IDA. Mr Md Fazlul Kader, Deputy Managing Director of PKSF represented PKSF as a member of the Bangladesh delegation. He was assisted by Mr Md Abdul Matin, General Manager (Program) and Team Leader of the project formulation team, and Mr Gokul Chandra Biswas, Deputy General Manager (Program).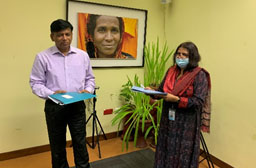 Following the negotiation, both parties signed on the minutes of the meeting and agreed upon finalizing the following documents:
Draft Financing Agreement,

Draft Project Agreement,

Draft Disbursement and Financial Information Letter,

Draft Project Appraisal Document,

Amortization Schedule, and

Environment and Social Commitment Plan.
Environmental and Social Safeguard Documents for Bangladesh Rural Water, Sanitation and Hygiene for Human Capital Development Project: