Pathways to Prosperity for Extremely Poor People (PPEPP) Project
---
Pathways to Prosperity for Extremely Poor People (PPEPP) Project
The UN-sponsored Sustainable Development Goals (SDGs) are aimed at ending extreme poverty for all people everywhere by 2030 (Goal 1). The SDGs also aim to end hunger, achieve food security and improved nutrition and promote sustainable agriculture (Goal 2). Bangladesh, a signatory of this UN declaration, is playing its parts in achieving these global goals. Bangladesh has made remarkable progress in human development indicators. Poverty rate have also demonstrated an impressive steady improvement, falling by about 1.7 percentage points per year. Despite these achievements, the HIES 2016 estimate suggests that about 21 million people live in extreme poverty in Bangladesh and around three quarters of them are in rural areas.
Palli Karma-Sahayak Foundation (PKSF) is an apex development agency established by the Government of Bangladesh for poverty alleviation through employment generation and holistic development of people. It has been working with extremely poor people since early 2002. Based on the decades of experience in extreme poverty interventions in Bangladesh, PKSF,  the Foreign, Commonwealth & Development Office (FCDO, formerly DFID) and European Union (EU) have jointly designed the 'Pathways to Prosperity for Extremely poor people (PPEPP)' project which will support extremely poor people to connect with mainstream economic growth and jobs. The project builds on earlier successful livelihoods graduation programmes (including Programmed Initiatives for Monga Eradication [PRIME], Chars Livelihood Programme [CLP], Economic Empowerment of the Poorest [EEP], Stimulating Household Improvements Resulting in Economic Empowerment [SHIREE] and Targeting the Ultra Poor [TUP]). This project extends a livelihoods graduation model towards 'pathways out of poverty approach' by adding fresh features to: address barriers that stop the poorest people pulling themselves out of poverty; make it more cost effective; and, ensure that it is sustained here after PPEPP's eventual exit.
This comprehensive and integrated project will work towards creating pathways out of extreme poverty for the extremely poor households by addressing multidimensional aspects of poverty. It aims to deliver the results and higher level changes through following six interrelated and multidimensional components: Livelihoods (resilience building and value-chain development), Nutrition and Health, Community Mobilisation, Market Development, Policy Advocacy, and Life-Cycle Grant Pilot. The Project has three cross-cutting areas – Disability, Disaster and Climate Resilience, and Women's Empowerment Leading to Gender Equality.
The project, jointly financed by the FCDO (formerly DFID) and European Union (EU), will be implemented from 2019 to 2025, with one year inception phase. PKSF is the main executing agency for the project, and will implement Livelihoods (resilience building and value-chain development), Nutrition and Health, and Community Mobilisation components for the organised households and targeted communities. PKSF has established a Project Implementation Unit (PIU) to implement the PKSF components of PPEPP.
Project Details
Project Objectives
The PPEPP project has two specific objectives (two phase):
To enable two million people to exit from extreme poverty for good;
To support the development of stronger national institutions and systems to deliver the public and private services required by extremely poor people to become resilient and prosper.
Project Outcomes
Sustained market development in target districts creates market demand for goods and services produced by target households and job opportunities.


Indicative High Level Output: Developed livelihoods options resilient to shocks and stresses.

(a) GoB begins to support effective graduation-style programme, alongside scale-up of a core set of Life-cycle Grant relevant to labour-poor households.


Indicative High Level Output: Improved nutrition practices and sustained through GoB and Market Systems.

GoB begins to invest significant resources in the development of lagging regions, including provision of quality basic services in hard to reach areas.


Indicative High Level Output: Increased awareness amongst extreme and vulnerable poor and empowered to attain their rights.
Key results (2019-2025, 1st Phase)
Up to one million extremely poor people (i.e. 250, 000 households) exit extreme poverty and make significant progress along a pathway towards prosperity;
357,000 women and children have better nutrition and women of childbearing age and adolescent girls reached with a package of nutrition-related interventions;
125,000 women experience a significant change in their social status and level of empowerment within the household and community;
Increased resilience to climate change and other shocks for one million extremely poor people;
Increased GoB investment in quality service provision to extremely poor households in the targeted communities;
GoB increases funding for programmes aimed at promoting the livelihoods of extremely poor people.
PKSF will: (i) make substantial contribution to result I and result IV, (ii) fully deliver result II and result III, and (iii) also contribute to result V and result VI.
Geographical Targeting
The project will be implemented in selected districts and upazilas of the regions where the prevalence of extreme poverty is high and the decline over the last decade have been slower than in other areas. These are: North-west region, South-west coastal belt and the Haor area in the North-east region of Bangladesh. It will also cover some of the severe poverty pockets around the country.
Inclusive Targeting
PPEPP will support 250,000 extremely poor (EP) households (primarily targeting women) to connect to mainstream economic growth and jobs. PPEPP is also designed to address the specific needs of excluded people, such as, people with disabilities, ethnic minorities, elderly persons, etc. PPEPP will be inclusive in targeting based on the PKSF's 16 sub-categories of vulnerable extreme poor. Based on household income, food security, earning ability, productive asset and land holdings, extreme poor will be classified into vulnerable EP and moderate EP to provide them designated services. Households with disable person, elderly people, pregnant women, lactating women and children-under-5 will also be identified to provide designated services of PPEPP. Extreme poor HHs exposed to climatic shocks like flood, water-logging, salinity, storms will receive appropriate services.
Theory of Change
The focus of PPEPP project shifts away from traditional 'graduation' to 'pathways out of poverty' by applying more tailored support package including grants and soft loans with a longer intervention time frame as in the case of PRIME. PPEPP evolves the poverty graduation model, building on what works while addressing its limitations. These include:
Better integration of nutrition interventions to lay the foundation for productive work.
Better identification and development of local markets that will buy beneficiaries' goods or labour.
More focus on disaster management and climate resilience. Studies show that many households remain vulnerable to shocks and stresses that undo gains.
More emphasis on community mobilisation to access basic services and address social norms that exclude certain households or individuals (e.g. women, ethnic minorities, people with disabilities).
Recognition that labour constrained households need to be linked to reformed social security system.
A built-in exit strategy.
The Theory of change has built on this adjustment- shifts from 'graduation' to 'pathways out of poverty' approach. This will support more sustained income and human development gains, reduces vulnerability to shocks, and enables households to access a sustained upward trajectory. The Theory of Change for this project can be presented as four separate but connected causal pathways.
Figure. The Theory of Change for PPEPP project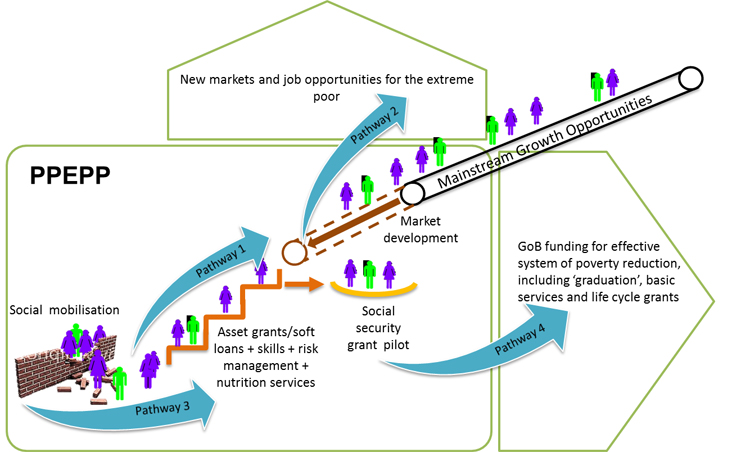 Pathway 1: An improved livelihood promotion model delivers more durable and transformative benefits for target households and enables them to access a sustained pathway out of poverty.
Pathway 2: Combined interventions to improve extreme poor households' access to value chains and promote downstream market development increases the income and/or job opportunities for target households and supports livelihood diversification.
Pathway 3: Community mobilisation and national advocacy amplifies the voice of the extreme poor and marginal communities leading to increased Government of Bangladesh spending on basic services and wider access.
Pathway 4: A combination of new delivery channels and models, sustained national policy and advocacy and targeted investment will lead to a stronger, nationally funded system for extreme poverty reduction.
Project Components
The project has six components and three cross-cutting issues.
Components managed by PKSF
Livelihoods: It will provide access to a flexible menu of products, including grants and soft loans with relevant skills training, over a longer time frame, enabling the target households to develop a livelihood strategy that supports larger and more sustained income and consumption gains and reduces vulnerability to shocks. This component will support people to better adapt to a changing climate, be better prepared when a disaster strikes, and be better able to respond once a disaster has struck. The Value Chain Development (VCD) will be an integral part of the livelihood component.
Nutrition:The nutrition component will focus on three areas: (1) the delivery of a package of essential services either by supporting better delivery of the National Nutrition Services (NNS) or through direct delivery where there are significant gaps in NNS capacity; (2) community-level work to address some of the social practices that prevent good nutrition outcomes; and, (3) promoting income generating activities that support nutrition outcomes where possible.
Community Mobilization: Community level works with extremely poor people and the wider community to build social support and change the social norms that exclude women, girls, people living with disabilities and others, limiting their access to basic services and work opportunities. Community mobilization support (a)interventions at community level to promote community voice and tackle social norms and practices that reinforce negative gender attitudes and other forms of inequality and exclusion and (b) mobilization of communities to understand and advocate for their rights influences local government agencies to allocate existing resources more equitably and push central government for more resources.
Components managed by the Project Management Unit (PMU) [to be established by FCDO]
Market Development: This component will build extremely poor peoples' confidence, productive capabilities and capacity to take risks, by linking them to new markets, adding value to their produce, and by creating new self-employment opportunities and jobs. A strong focus will be given on development of markets to increase self-employed or wage-employed activities providing better economic returns after the initial step up provided by asset transfer and skills training.
Policy Advocacy: An Extreme Poverty Policy and Governance Facility will work at national and local government level to promote GoB action on extreme poverty and hold GoB to account on key policy commitments. This will include work to incentivize and support local government to improve basic service delivery to extremely poor people.
Life-Cycle Grant Pilot: This component will pilot a long-term solution for extremely poor labour restricted households. This will pilot a time-bound top-up of one or more GoB social security grants in selected areas to accelerate and catalyse implementation of the national social security reform process, in order to increase protection for the most vulnerable.
Cross-cutting Issues
Three thematic areas which will be addressed as cross-cutting issues:
Disaster and Climate Resilience:Based on available evidence and planned geographical focus, 75% of targeted households are at a high risk of current and future climate shocks. All of the livelihood and market development support and linked transfers of PPEPP are eligible for climate finance as these provide the basic economic and social foundation for extremely poor people to adapt to a changing climate. A more flexible menu of livelihoods assistance will also be able to provide support for migration in those cases where prospects for livelihood and economic development in situ are untenable.
Disability:PPEPP is designed to address the specific needs of extremely poor people with disabilities. Where possible, livelihoods opportunities will be tailored to their specific capabilities. PPEPP will seek to increase access to targeted social safety nets, where needed, to ensure basic needs are met and specific services are provided. Community level work will build social support for people with disabilities, and support national and local advocacy for increased access to basic services.
Women's Empowerment Leading Gender Equality: To tackle gender inequality and the particular challenges faced by extremely poor women and female-headed households PPEPP will primarily work through promoting their economic status. However, evidence suggests economic status alone is often not sufficient to change prevailing attitudes that constrain women and girls' life choices and control over their own resources. PPEPP will focus on gender relations within the household and community, involving men and women. This will include behaviour change communication activities with men, women, religious and traditional leaders to influence attitudes and practice.
Holistic/Integrated Approach of PPEPP
Integration among different agencies as well as different components of PPEPP will be done based on a Framework Cooperation, which will be a living document. This will be developed during the inception phase. This framework will describe the scope of integration among the components and possible cooperation among the agencies based on the process and deliverables of the respective components.
Institutional Arrangements
PKSF will establish a Project Implementation Unit (PIU) for implementation of its designated components including livelihoods, nutrition and community mobilization, preferably to be located at the premise of PKSF. The PIU will be staffed with diverse technical and professional personnel. PKSF led components will be delivered by around 20 Partner Organizations (POs) of PKSF. Each component will be delivered through a set of standard guidelines and policies.
A Project Management Unit (PMU) will also be established to provide support to FCDO in management and coordination of the overall project.
Governance
The project will be governed through an overarching Memorandum of Understanding (MoU) signed on 17th December 2018 between the Governments of Bangladesh and UK represented through ERD and DFID (currently FCDO) respectively. A Project Steering Committee (PSC), chaired by the Senior Secretary/Secretary of Financial Institutions Division of Ministry of Finance, will oversee and endorse the overall direction and policy of the project. A Project Coordination Committee (PCC) will oversee the operational implementation of the project.
Monitoring and Evaluation
The theory of change will be used as a framework to structure and adjust project monitoring and evaluation activities. The project will develop a results framework to track progress against key outputs, and outcomes. The M&E framework will draw on tools and methods from the Donor Coordination on Enterprise Development (DCED) Standard for results measurement and reporting. M&E service provider will be contracted through the FCDO's Global Evaluation and Framework Agreement (GEFA) to deliver the evaluation in close collaboration with key implementing agencies. The M&E framework for the PPEPP project will aim to capture and track comparable and relevant sets of evaluation data so that Value for Money (VfM) questions can be answered more comprehensively.
A key priority for the inception phase will be to develop a household-level model and monitoring framework to measure 'pathways out of poverty' (and replace the current 'graduation' model). This will build on the lessons from previous programmes and experience of existing partners. A 'Household Transformation Index (HTI)' will be developed by PKSF to monitor the transition/journey of extremely poor households out of poverty, which will capture instances where positive incidences or negative shocks may accelerate or impede household progress. Furthermore, PKSF will develop a Results-Based Monitoring (RBM) system for the PKSF managed components. An Integrated Information System (IIT), containing large digital database on various socio-economic and other relevant information, will be developed and piloted during the inception phase.  
PKSF will undertake independent baseline and follow-up (impact evaluation) studies on livelihoods, nutrition and community mobilization components and cross-cutting issues, which will help keeping the implementation on-track and attain results. PKSF will also undertake need-based action researches and short studies as and when needed. It may also pilot Randomized Control Trial (RCT) in limited scale.