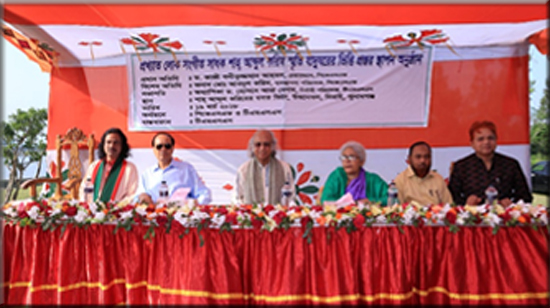 The Baul Shah Abdul Karim Memorial Museum is going to be built at the residence of Baul Shah Abdul Karim at Dirai upazila of Sunamganj district. On 19 March 2018, the Chairman of Palli Karma-Sahayak Foundation (PKSF), Dr. Qazi Kholiquzzaman Ahmad laid the foundation stone of the Museum, in a ceremony organized on the premises of the baul's home. Dr. Qazi Kholiquzzaman Ahmad was the Chief Guest and PKSF Managing Director Mr. Md. Abdul Karim was present as Special Guest. Partner Organization TMSS will oversee construction of the museum with the financial assistance from PKSF.
Dr. Md. Jashim Uddin, Deputy Managing Director (Admin), PKSF, and senior officials of PKSF and TMSS were present at the ceremony.

Ekushey Padak recipient Baul Shah Abdul Karim was born on February 15, 1916 in sunamganj District. He died on September 12, 2009.