PKSF and DAI signed MoU
Palli Karma-Sahayak Foundation (PKSF) and Development Alternative Incorporated (DAI) signed a Memorandum of Understanding (MoU) on 19 February 2015. Mr. Md. Fazlul Kader, Deputy Managing Director (Operations), PKSF and Mr. William T. Levine, Chief of Party, Development Alternatives Incorporated (DAI) signed the MoU on behalf of their respective organizations.

DAI has been implementing a five-year "Agricultu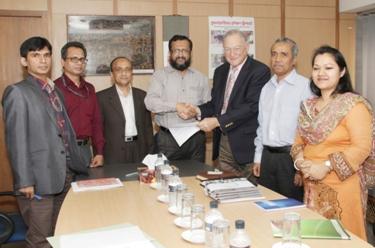 re Value Chain (AVC)" project in Bangladesh under the "Feed the Future" initiative. "Feed the Future" is the U.S Government's Global Hunger & Food Security initiative being funded and administered by USAID. AVC Project will achieve broad-based economic growth which enhances long-term food and nutrition security of Bangladesh applying a market systems approach. The project is being implemented in 20 southern districts of the country. The targeted agricultural value chains will increase on-farm and off-farm income at the household level. The Project will target a portfolio of both food and non-food agricultural products and will address constraints across those agricultural value chains. AVC is committed to facilitate linkages for easy access to finance for farmers and other potential beneficiaries of the project to achieve its objective of strengthening agricultural market system.
The objective of this MoU between AVC Project, DAI and PKSF is to provide services to the beneficiaries of the AVC project through PKSF's partner organizations (POs) working in the project areas. POs of PKSF will provide financial services to the beneficiaries of AVC project as per their own policy. PKSF and DAI will also work together to develop appropriate financial services for different agricultural products.
The AVC project will facilitate sustainable growth of its agricultural portfolio. The portfolio consists of six food and two non-food items namely pulses, potatoes, tomatoes, mangoes, groundnuts, summer vegetables, flowers and natural fibres. AVC has designed interventions to address the prevailing constraints in the value chains of production and marketing of these crops and plans to facilitate agricultural loan executions to 2,000 farmers by the end of December 2017.