PKSF Development Fair Kicks Off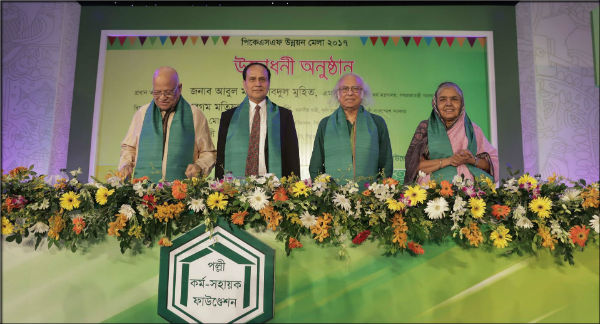 The PKSF Development Fair 2017 has begun at Bangabandhu International Conference Centre in the city from October 29, 2017.  The aim of the fair is to exhibit the products of PKSF programme participants with a view to pulling them out of poverty.  
Finance Minister AMA Muhith was present as the chief guest in the inaugural ceremony of the six-day fair.   Agriculture Minister Matia Chowdhury was present as special guest. 
Dr. Qazi Kholiquzzaman Ahmad, chairman, PKSF, chaired the opening ceremony and delivered the welcome speech while Mr. Md Abdul Karim, Managing Director, PKSF gave the concluding speech.  
In his speech, the finance minister said that Bangladesh will be a poverty-free country by 2024 if the current pace of development continues. He said currently 22 percent of the population live below the poverty line, which is quite unsatisfactory.
The finance minister said that about 60-70 percent areas of the country are developed and there is no difference between villages and cities. People have equal access to education, health, electricity and transportation around the country, he said.  Mr. Muhith said the government has taken various measures to eradicate poverty and the PKSF is working as a helping hand by implementing the initiatives.
Speaking at the opening ceremony, Agriculture Minister Matia Chowdhury appreciated the efforts of PKSF for diversifying their activities in health and education beyond microcredit. "The government has achieved more than its target in poverty eradication and child death prevention and the PKSF has played a vital role", she said
Matia Chowdhury highlighted different development activities of the present government and said the country is achieving remarkable success because of the Prime Minister's bold leadership and well-thought planning.
In the opening ceremony, Mr. Abul Hasib Khan, Director, Resource Integration Centre ( RIC), and Mr. Fakir Abdul Jabbar, Founder Executive Director of Kormajibi kallyan Sangstha  (KKS), were awarded for their outstanding contribution to establish human dignity, poverty eradication and sustainable development. 
Besides, programme participants of ENRICH, Uplifting the Quality of Lives of Elderly People, Sports and Cultural programmes shared their experiences in the opening ceremony.  
A seminar on " human -Centered Sustainable Development" was held in the noon at the same venue.  Presided over by Dr. Qazi Kholiquzzaman Ahmad, chairman, PKSF, Mr. M.A Mannan, State Minister, Ministry of Finance and Ministry of Planning was present as chief guest. Mohammad Muslim Chowdhury, Secretary, Finance Division, Ministry of Finance was present as special guest.
Dr. Md. Jashim Uddin, Deputy Managing Director, PKSF presented the keynote paper in the seminar.  Dr. Dr. M.A. Baki Khalili, former professor of University of Dhaka and Dr. Md. Shahid Uz Zaman, Executive Director, Eco Social Development Organization ( ESDO) discussed in the seminar.   
In the evening, there was an arrangement of colorful cultural show where performers of IDF and ESDO performed different traditional cultural events. Dinat Jahan Munni and Badsha Bulbul, two poepualr singers of the country also performed on the occasion.