PKSF holds its 27th Annual General Meeting
The 27th Annual General Meeting of Palli Karma-Sahayak Foundation (PKSF) was held on 27 December 2016 at PKSF Bhaban.
Dr. Qazi Kholiquzzaman Ahmad, Chairman, PKSF presided over the meeting. The members of the General Body namely, Dr. Pratima Paul-Majumder, Dr. A.K.M. Nurun Nabi, Mr. Khondkar Ibrahim Khaled, Mr. Md. Fazlul Haque, Mr. C. M. Shafi Sami, Ms. Bulbul Mohalanabish, Ms. Begum Razia Hossain, Mr. Nazir Ahmed Khan, Dr. Nazneen Ahmed, Professor Shafi Ahmed, Mr. Munshi Faiz Ahmad, Mr. S. M. Wahiduzzaman Babur, Dr. Mujib Uddin Ahamed, and Mr. Md. Abdul Karim, Managing Director of PKSF were present in the meeting.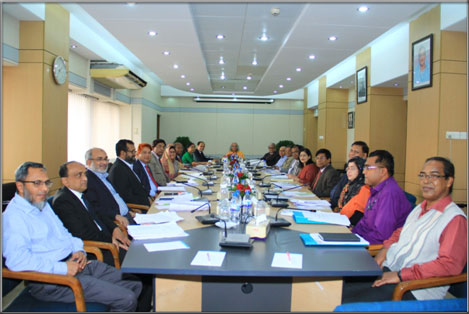 The Chairman presented an overall statement of PKSF's activities. He informed the General Body of the progress of the ongoing programs and projects of PKSF. The members of the General Body lauded PKSF's continuous efforts to accomplish its various activities and initiatives. They also gave their valuable suggestions. The Managing Director updated the meeting regarding the progress of the implementation of the decisions/suggestions of previous Annual General Meeting held earlier this year. In the meeting, the general body expressed its satisfaction over the progress of the overall operations of PKSF.