PKSF Managing Director visits field-level activities in Joypurhat and Nilphamari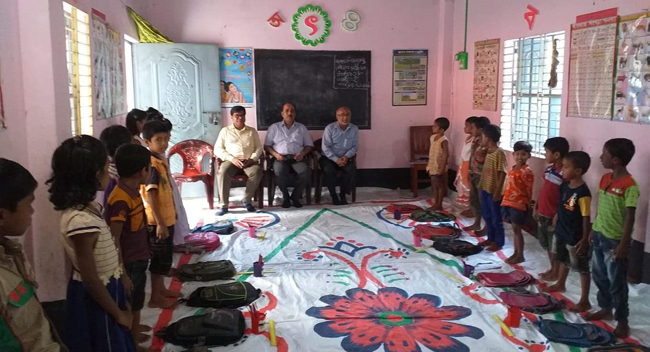 PKSF Managing Director Mr Mohammad Moinuddin Abdullah visited various activities implemented by Partner Organizations JAKAS Foundation in Joypurhat and Self-Help and Rehabilitation Program (SHARP) in Nilphamari during 5-6 October 2019. Mr Golam Touhid, Deputy Managing Director-3; Mr Mohammad Hasan Khaled, Senior General Manager; and Dr Sharif Ahmed Chowdhury, General Manager of PKSF accompannied him during the visit.
In Joypurhat, the PKSF Managing Director inspected various activities implemented through the Agriculture, Fisheries and Livestock Unit of JAKAS Foundation namely, Pekin duck rearing, ornamental fish culture, buck service centre and vermi-compost cluster. He discussed financial and technical aspects of each demonstration implemented by the members. It was evident that the memebers are earning a handsome amount of money from the Income Generating Activities (IGAs) and many of them are gradually emerging as entrepreneurs. To make their IGAs viable, the Agriculture Unit, and the Fisheries and Livestock Unit of PKSF are providing necessary financial and technical services. Mr Moinuddin Andullah also inspected the livestock insurance activities and an ENRICH school under JAKAS Foundation.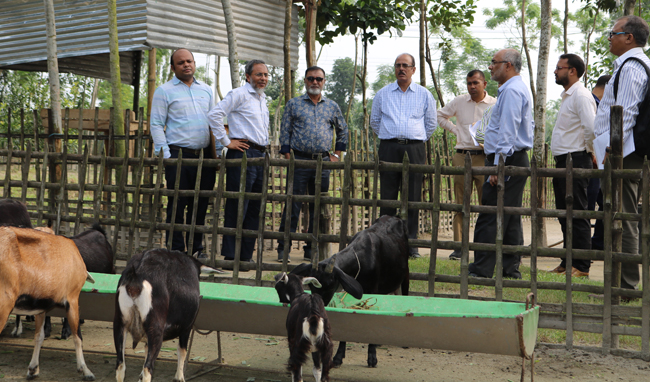 On 06 October 2019, the PKSF Managing Director visited various activities implemented by SHARP namely, Black Bengal goat farming, turkey rearing and vegetable sapling production using coco-dust, high value fish culture in tanks, carp-tilapia polyculture, kuchia (mud eel) farming, and mola fish culture. He also visited a Black Bengal goat breeding farm and a turkey parentstock farm of SHARP. Both the farms have been established with funds from the LIFT program of PKSF. Farmers are getting benefited by using modern technologies and following better management practices in implementing these IGAs.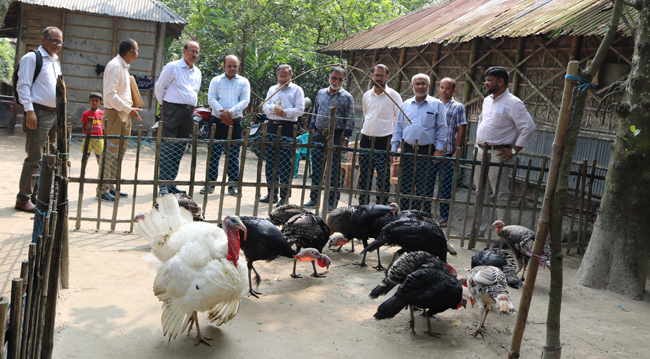 Mr Moinuddin Abdullah expressed his satisfaction at the field operations.