PKSF and Ministry of Finance signed SLGA for implementing PACE Project
Palli Karma-Sahayak Foundation (PKSF) and the Bank and Financial Institutions Division, Ministry of Finance, Government of the People's Republic of Bangladesh signed Subsidiary Loan and Grant Agreement (SLGA) on 18 January 2015 to implement the project titled "Promoting Agricultural Commercialization and Enterprises (PACE) Project, jointly financed by PKSF and International Fund for Agricultural Development (IFAD). The total cost of the project is USD 92.85million. PKSF will receive USD 40.0million from IFAD through the government. Mr. Fazlul Kader, Deputy Managing Director of PKSF and Mr. Arijit Chowdhury, Joint Secretary, Bank and Financial Institutions Division signed the SLGA on behalf of their respective organizations.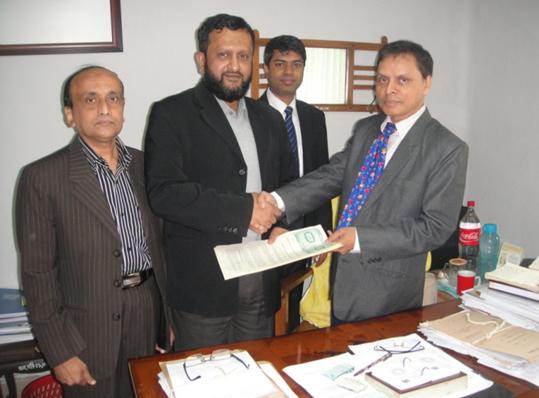 The main goal of the project is to expedite poverty reduction through creating employment by expanding microenterprises in farm and non-farm sectors. Apart from providing financial services, the project will also provide technical and technological supports for microenterprises. Value Chain Development is one of the major components of the project. PKSF will undertake Value Chain Development interventions on various subsectors with a view to unlocking their potentials for sustainable growth. An e-platform will be set up to facilitate internet-based marketing of the commodities produced by micro entrepreneurs.  
PKSF will implement this project in the next 6 years all over the country through its Partner Organizations (POs). It can be mentioned that the Government entered in to a financing Agreement with International Fund for Agricultural Development (IFAD) for implementing 'PACE' project on 11 December 2014.