Initiatives to achieve Sustainable development in haor areas face multilevel challenges. In order to create a strategy to involve the marginalized people of the Haor region in the mainstream development process, a conference was organized in Shantiganj of South Sunamganj upazila in Sunamganj district on 18 March 2018.
The conference was comprised of two sessions. The opening session was chaired by Dr. Qazi Kholiquzzaman Ahmad, Chairman, PKSF. Honorable State Minister of the Ministry of Finance and Ministry of Planning of the People's Republic of Bangladesh, Mr. M. A. Mannan, M. P. was present on the occasion as the Chief Guest while Advocate Shamsun Nahar Begum, MP, Mr. Moazzem Hossain Ratan, MP, Dr. Jaya Sengupta, MP, Mr. Muhibur Rahman Manik, MP, and Mr. Md. Abdul Karim, Managing Director, PKSF were present as Special Guests. Mr. Md. Sabirul Islam, Deputy Commissioner of Sunamganj gave the welcome speech at the conference.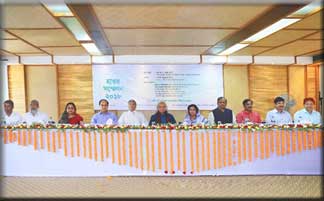 Two presentations were made on the initiatives taken by government and non-government entities for the development of haor people. Dr. Md. Jashim Uddin, Deputy Managing Director (Administration), PKSF gave a presentation titled "Sustainable Development of Haor People: Non-government Initiatives" and the other presentation titled 'Sustainable Development of Haor People: Government Initiatives' was presented by Mr. Md. Ruhul Amin, Director (Wetlands), Directorate of Bangladesh Haor and Wetland Development.
In the second part of the day, a technical session held on "Sustainable Development of the Haor People through Collaborative Initiatives of the government and non-governmental bodies: Challenges and Prospects". In this session, four articles on sustainable development of haor people were presented. Four presentations were made respectively by Dr. Fazle Rabbi Sadeque Ahmed, Director (Environment and Climate Change), PKSF, Mr. Zakir Ahmed Khan, Head of Urban Program, Concern Worldwide, Bangladesh, Mr. KAM Morshed, Director, Advocacy, Technology and Partnership, BRAC, and Mr. Iqbal Ahmad, Executive Director, Padakkhep Manobik Unnayan Kendra.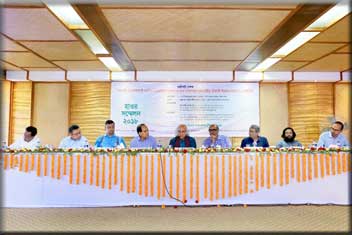 Mr. Ziaul Haque Mukta, General Secretary, Campaign for Sustainable Rural Livelihoods (CSRL), Professor AKM Mazharul Islam, Department of Anthropology, Shahjalal University of Science and Technology, Sylhet and Dr. M. Mokhlesur Rahman, Executive Director, Center for Natural Resources Studies (CNRS) were panel discussant in the session. PKSF Chairman Dr. Qazi Kholiquzzaman Ahmad was the Chief Guest and Mr. Md. Abdul Karim, Managing Director, PKSF was the Session Chair. PKSF organized this conference to get a glimpse of the challenges regarding sustainable development initiatives for the Haor People and identify ways to ensure better and stronger collaboration among different government and non-government initiatives.