PKSF Participates in CAMPE Fair Organized in Observance of its Silver Jubilee

PKSF participated Education and Development fair held at Bangabandhu International Conference Centre in Dhaka on April, 30, 2016. Campaign for Popular Education (CAMPE), an advocacy and campaign network based institution organised the fair to mark its 25th founding anniversary.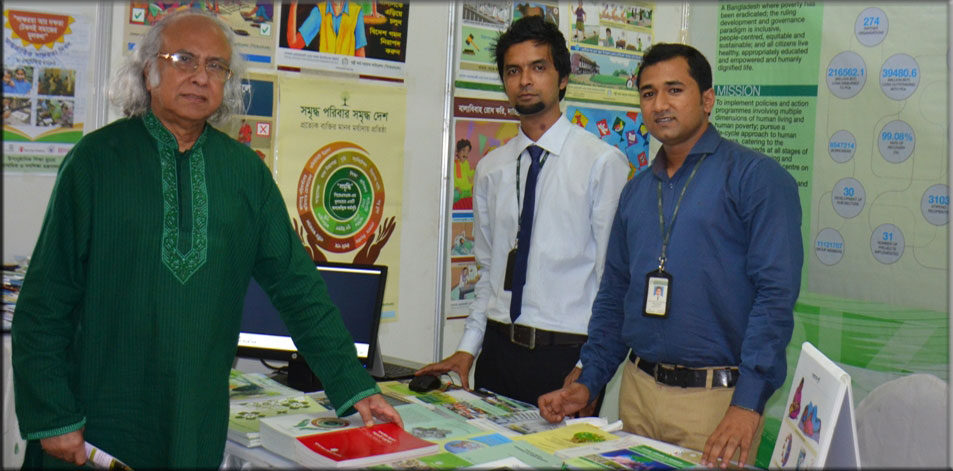 Dr. Qazi Kholiquzzaman Ahmad, Chairman, PKSF, Dr. Rasheda K. Choudhury, Executive Director, CAMPE, Golam Mesbah Uddin, Director, NGO Affairs Bureau, Prime Minister's Office, Dr. Md. Jashim Uddin, Deputy Managing Director, PKSF, among others, visited PKSF stall.
The events included Education & Development Fair and Youth Conference. The festival was inaugurated by Mr. Md. Humayun Khalid, the Hon'ble Secretary, Ministry of Primary and Mass Education, Government of Bangladesh.
PKSF participated in the Fair and took the opportunity to showcase its ongoing activities of poverty alleviation through employment generation. PKSF displayed an info-graph titled "PKSF, at a glance" on its ongoing activities. Apart from this, different types of publications, newsletters, documentaries were also showcased in PKSF stall during the Fair.