Coordinated, area-specific planning a must
Say experts at a PKSF seminar on sustainable development of Haor people

With a view to identifying ways to ensure comprehensive development of those living in the country's Haor areas, Palli Karma-Sahayak Foundation (PKSF) on 14 February 2017 organised a seminar titled `Sustainable Development of Haor People: Innovative Initiatives of PKSF'.
Noted economist Dr Qazi Kholiquzzaman Ahmad, also Chairman of the PKSF, was the chief guest of the seminar chaired by PKSF Managing Director Mr Md Abdul Karim. Mr Amalendu Mukherjee, Executive Vice-Chairman of Microcredit Regulatory Authority (MRA), spoke there as the special guest. Executive directors and other high officials of different Partner Organisations (POs) of the Foundation and representatives of Hoar people attended the half-day event.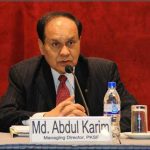 In the welcome speech, PKSF boss Mr Karim said the Haor people constitute a large part of the country's population that still lives below the poverty line. "Though the Haor people live in what probably the hardest-to-reach areas, the PKSF with the help of its POs is relentlessly working to improve their livelihoods. The recommendations to be made during today's event will certainly help us chalk out more effective development action plans for future."
The Haor region covers an area of 4,450 square kilometres of vast wetlands across seven districts of North-eastern Bangladesh. The areas remain under water for over six months of a year, allowing no agricultural activities there during the period. Fishing becomes the only source of livelihood for the millions of people living there. Due to the absence of regular livelihood sources, acute poverty has been plaguing the lives of Haor people for generations.
The Executive Directors of Padakkhep Manabik Unnayan Kendra and Palli Bikash Kendra — both POs of the PKSF — gave two presentations on their experiences of implementing PKSF activities in the Haor areas. Later, PKSF Deputy Managing Director (Admin) Dr Md Jashim Uddin and Mr Murshed Alam Sarker, Executive Director of People's Oriented Program Implementation — another PO of the Foundation, discussed on the presentations.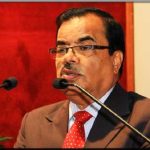 Mr Mukherjee of the MRA lauded the PKSF activities in the Haor region. "Sustainable development of the country cannot be achieved leaving the Haor people out of the process. So, the MRA will always extend all possible support to the PKSF if it undertakes any development project for the Haor areas."
Chief guest Dr Kholiquzzaman Ahmad highlighted the need for inclusive development of the poor and ultra-poor population living in Haor and other remote areas for the country to achieve the UN-sponsored Sustainable Development Goals.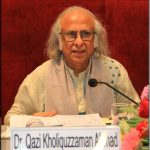 "Proper coordination among the government and the non-government entities at all levels is a must for achieving the desired results in any development activity. Thus, we all have to work together to formulate an area-specific, viable and sustainable plan of action for the Haor region."
The renowned economist expressed hope that the PKSF will take up more Haor-centric programmes in the days ahead.
More photos from the event