Scholarships awarded to 5,603 meritorious students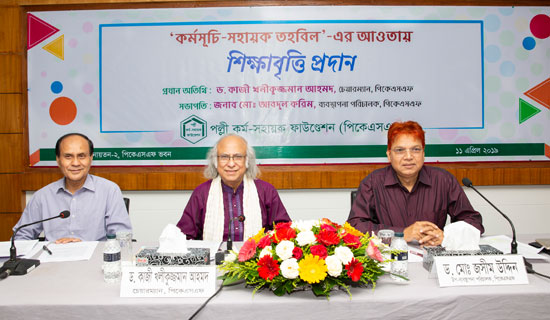 Palli Karma-Sahayak Foundation (PKSF), under its Programs-Support Fund, awarded scholarships to 5,603 students of Higher Secondary level. The scholarship cheques were handed over at a program organized at the PKSF Bhaban, Agargaon on 11 April 2019.
The scholarship was launched in 2012. This year, the amount scholarship stood at BDT 6.73 crore and each recipient got BDT 12,000.
PKSF Chairman Dr. Qazi Kholiquzzaman Ahmad was the Chief Guest at the event chaired by Mr. Md. Abdul Karim, Managing Director of PKSF. Deputy Managing Director Dr. Jashim Uddin gave a special speech highlighting the context of the Programs-Support Fund of PKSF.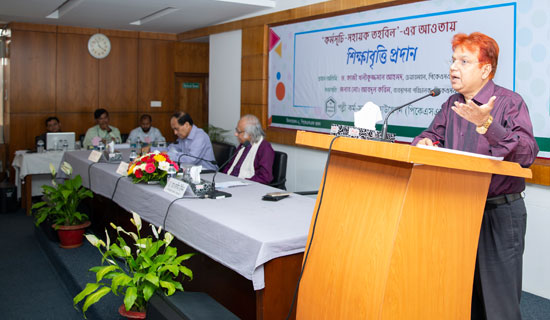 Children of the participants — especially of disadvantaged communities such as Dalit/Harijana, small ethnic groups, Bedes etc — of various PKSF programs are eligible for the scholarship. Chief executives of PKSF's Partner Organizations received the cheques on behalf of the recipients.
A total of 3,100 female and 2503 male students, including 725 students from various minority groups, got scholarship this year.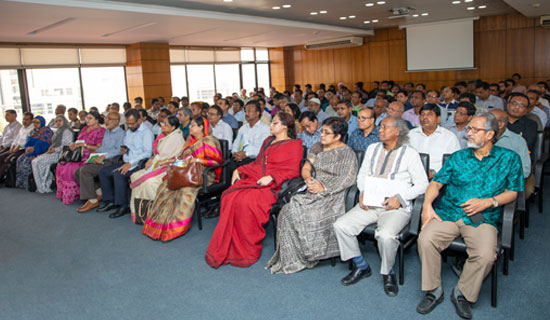 Over the last eight years, PKSF has awarded scholarships amounting to over BDT 27 crore to 20,132 students.