SEIP-test – 01-02-2017
---
Skills for Employment Investment Program (SEIP)
Project Background
PKSF, over the years, has gained in-depth understanding and valuable experience on the multi-dimensional aspects of poverty and acknowledge the fact that Bangladesh is well-placed to benefit from the demographic dividend up to 2050, and believe that combined with effective policies and markets could trigger faster rates of economic growth and human development. Thereby, accept as true that human resource plays a vital role in the knowledge economy and working population and it is becoming an increasingly important factor for the performance of individuals, organizations and whole economies. However, the upgrading of skill based labor market due to technological and organizational change is one of the major threats for the low skilled workers in Bangladesh, as they are being unable to adjust their skills according to the market demand. In this context, PKSF has agreed to implement the 'Skills for Employment Investment Program (SEIP)'project and signed the MoU with SDCMU on 7th May 2015 to ensure training and employment for the poor and marginalized people of the country so that they can develop their living standard sustainably. PKSF will make sure demand driven skill-based training among the poor people under the SEIP project with a view to create wage and self employment.
The Finance Division of Ministry of Finance, Government of Bangladesh (GoB) is working as the executive agency to implement this project. The Finance Division has established 'Skill Development Coordination and Monitoring Unit' (SDCMU) to execute the project. Under the direct supervision of SDCMU, different organizations including PKSF are implementing the project. Asian Development Bank, Government of Bangladesh and Swiss Agency for Development and Cooperation (SDC) are jointly financing the project.
Goal of the Project
The goal of the project is to develop skilled workforce through skills training and therefore placing them in productive self and wage employment which will in turn improve their sustainable livelihood.
Objectives of the Project
The main objectives of the SEIP project are;
Impart skills training linked to gainful wage or self employment through PKSF partners and selected training institutes;

Increase access for targeted poor (both male and female) people to market responsive skills development training programs;

Ensure job placement of the trainees after training and

Increase income of the trained trainees.
Expected Results
It is expected that 20% income of the trainees' House Holds (HHs) will be increased after receiving training under this project.
Outcomes
Increase the number of skilled workers in priority sectors around the country.
Outputs
Produced around 10,000 skilled and semi-skilled workers under six priority sectors.

At least 70% of the total trainees will be employed after training and retained in respective jobs for six months.

The ratio of wage and self employment of the employed trainees will be approximately 60:40 of 70% total trainees.
Highlights of the Project
SEIP entails three major tasks viz.; selection of appropriate trainees, selection of renowned and efficient training institutes and job placement of the passed out trainees, which are equally important as well as very challenging for the successful implementation and goal achievement of the project.
Selection of Appropriate Trainees: PKSF will select the trainees through its Partner Organizations (POs) from their organized group members under inclusive financing program. Trainees' selection will be finalized after conducting screening test and viva voice through the POs. Trainee of age 15 or above will be selected from the partner organizations of PKSF where project will bear all expenditures of trainees except only 10% of the accommodation and food cost to ensure effective participation. Initiatives will be taken to encourage participation of the people with disabilities, ethnic minority and female trainees.
Selection of Qualified Training Institutes: PKSF will select renowned training institutes functioning in Bangladesh to impart market responsive inclusive training. PKSF will ensure delivery of standard course for each training/trade course through the selected training institutes. The course structure will need to be reasonable which are required to show an appropriate balance between compulsory and elective components, theoretical and practical requirements. Practical and theoretical contents of the course-curricula should be 80:20.
Job Placement: PKSF will ensure job placement of the trainees within 6 months of each training program. Selected training institutes will assist PKSF to ensure job placements. The job placement services will ensure the following: i) preparing database of the relevant industries; ii) developing dynamic linkages with the employers; iii) disseminating training outcomes to the employers; iv) organizing job fair and dialogue with potential employers; v) identifying job vacancies in industry and preparing trainees for interviews; v) preparing documents that show wage/remuneration before and after training to indicate value addition of training in case of up skilling and vii) assisting the implementation of Trainees Tracking System.
Selected Trades under SEIP Project
The selected Trade/Courses that have been selected from six high growth priority sectors of Bangladesh in the first tranche are as follows: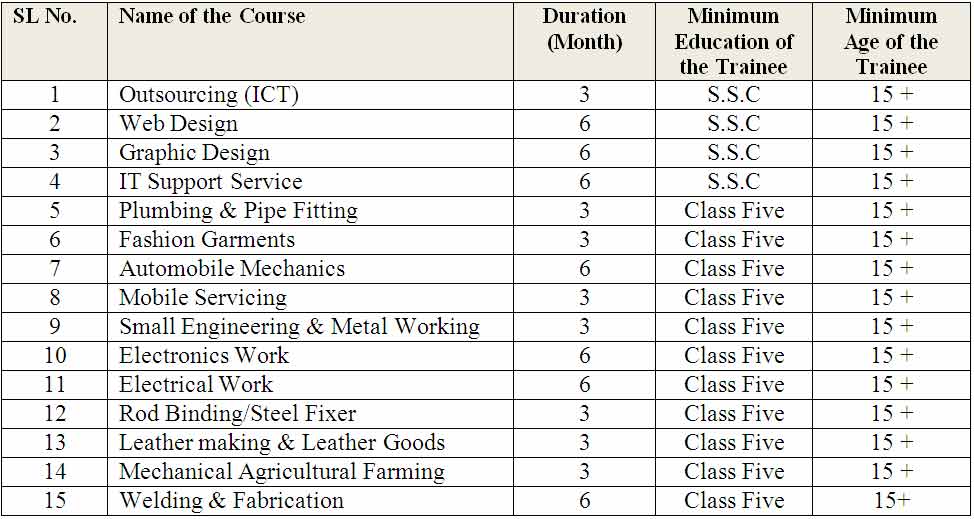 Training Targets and Budget
In the First (1st) phase, PKSF will produce 10,000 skilled workers by 3 years. Projected training targets and budget for the project are in the following table:

Selection of Partner Organizations (PO) and Trainees
PKSF has the capacity and experience of promoting programs/projects with national coverage through 7,000 branches of 203 active POs. POs which are working for marginalized people in various remote places of the country have been considered for the project. They will prepare an initial training participant list for the project from which PKSF SEIP Project Management Unit (PMU) will finalize the training participants following a rigorous screening process.
Selection of Training Institutions
Considering the overall institutional capacity like governance and management; personnel; physical structure and learning resources; support services; development, delivery and review of curriculum; assessment and certification process, 22 reputed training institutions have been selected to provide quality training to the selected trainees in different regions of the country.
List of selected Training Institutes
Sl. No.
Name of Training Institute (TI) & Address
Name & Address of Executive Director of TI

1

Thengamara Mahila Shabuj Shangha (TMSS)
TMSS Foundation Office, Thengamara, Rangpur Road, Bogra Sadar, Bogra.
Professor Dr. Hosne Ara Begum
Executive Director
Phone: 051-78563, 78975
E-mail: tmssed@gmail.comWeb: www.tmss-bd.org

2

Dhaka Ahsania Mission
House No. 19, Road No. 12Dhanmondi R/A, Dhaka-1209
Dr. M. Ehsanur Rahman
Executive Director
Phone: 02-9132847, 8119521-22
Mobile: 01711424247
E-mail: ed@ahsaniamission.org.bd

3

Bangla-German Sampriti (BGS)
Baitul Islam Bhaban4/16 (2nd Floor), Block-BHumayun Road, MohammadpurDhaka-1207
Md. Jahurul Islam
Executive Director
Mobile: 01833833346
E-mail: bgsed12@gmail.com

4

UCEP Bangladesh
Plot No. 2 & 3, Mirpur-2Dhaka-1216
Zaki Hasan
Executive Director
Mobile: 01730300361
E-mail: zaki.hasan@ucepbd.org

5

Eco-Social Development Organization (ESDO)
Gobinda Nagar, Thakurgaon
Dr. Muhammad Shahiduzzaman
Executive Director
Phone: 0561-52149
Mobile: 01713149333
E-mail: esdobangladesh@hotmail.com

6

WAVE Foundation
Darsana Bus Stand


Darsana, ChuadangaDhaka Office:




3/1, Block-D, Lalmatia,




Dhaka-1207

Mohsin Ali


Executive Director




Phone: 02-8143245, 58151620




Mobile 01713040083


E-mail: info@wavefoundationbd.org

7

Naria Unnayan Samity
Vill: Premtala, Post: NariaUpazila: Naria, Shariatpur-8020
Mazeda Shawkat Ali
Chief Executive Officer
Phone: 0601-59154
Mobile: 01713314837
E-mail: nusa_bd@yahoo.com

8

Gono Unnayan Kendra (GUK)
Nashratpur, Gaibandha SadarGaibandha
M. Abdus Salam
Chief Executive
Mobile: 01713200371
E-mail: salam@gukbd.net

9

Shyamoli Ideal Technical College
14/26, Shajahan RoadMohammadpur, Dhaka-1207
Principal M. A. Sattar
Chairman
Mobile: 01711529418
E-mail: sipi_ac@yahoo.com

10

UDOY
Baimhati, Mirzapur, Tangail
Dey Sudhir Chandra
Executive Director
Mobile: 01711731304
E-mail: day.sudhir@gmail.com

11

Shariatpur Development Society (SDS)
Sadar Road, Shariatpur Sadar, Shariatpur
Mojibur Rahman
Executive Director
Mobile: 01714011901
E-mail: sds.shariatpur@gmail.com

12

Uttaran
Flat#B-1 (1st Floor), House#32Road#10/A, Dhanmondi


Dhaka-1209

Shahidul Islam
Director
Mobile: 01711829465
E-mail: uttaran.dhaka@gmail.com

13

SKUS Technical Training Center
House # 06, Road # 01, Katalgonj, Chittagong
Maruf Billah Jabed
Principal
Mobile: 01711307601
E-mail: skus.ctg@gmail.com

14

Aloshikha RSD Center
Vill & Post: Rajihar, AgailjharaBarisal
James Mridul Halder
Executive Director
Mobile: 01711548339
E-mail: aloshikha@gmail.com

15

Uddipan
House#9, Road#1, Block#F Janata Cooperative Housing Society Ltd., Ring Road, Adabar, Dhaka-1207
Md. Imrarul Haque Chowdhury
Executive Director
Phone: 02-58153216, 9145448
E-mail: udpn@agni.com

16

Center for Mass Education in Science (CMES)
House – 823, Road – 19 (Old)Dhanmondi, Dhaka-1209
Hasan Banu
Executive Director
Mobile: 01711439324
E-mail: cmesbd@yahoo.com

17

Greenland Training Center
House No. 34, Road No. 100


Gulshan-2, Dhaka-1212

Abdullah Al-Mamun
Managing Director
Phone: 02-9347888
Mobile: 01713452576
E-mail: almamun@glandgroup.com

18

Skills & Productivity Limited
56/7/N, Palash Nagar, Mirpur-11


Pallabi, Dhaka-1216

Nur Jahan Begum, Chairman


Mobile: 01817140501


E-mail: ahsan_acl@yahoo.com

19

Rural Reconstruction Foundation (RRF)
RRF Bhaban, C&B RoadKarbala, Jessore
Philip Biswas
Executive Director
Phone: 421-66906, 65663
E-mail: info@rrf-bd.org

20

Jagorani Chakra Foundation
46, Mujib Road, Jessore
Md. Azadul Kabir Arju
Executive Director
Phone: 0421-68823
Mobile: 01711899259
E-mail: jcjsr@ymail.com

21

MARS Solution Limited
Unit-11B, Center Point CONCORD, 14/A, Tejkunipara, Farmgate, Dhaka-1215
Mahbub Elahi Chowdhury
Chairman & CEO
Phone: 02-9136091
Mobile: 01730 000605
E-mail: info@mars.com.bd

22

Daffodil International Professional Training Institute (DIPTI)
64/6, Lake Circus (Rasel Square)


Kalabagan, Dhaka-1205

Rabindra Nath Das, Director


Phone: 02-9134695




Mobile: 01713493256


E-mail: Director@dipti.com.bd
Project Management Unit (PMU)
A project Management Unit has been formed for the appropriate implementation of the project.
Publicity & Liaison Building
Awareness among the targeted training participants, POs, Employers and other stakeholders is very crucial for the demand driven training and subsequently job placement on which success of the project depends. Considering paramount importance of the information symmetry among various stakeholders SEIP will organize several meetings, seminars, workshops and other programs. Moreover, SEIP also will publish a range of documents including brochure, quarterly project implementation updates, etc. for the sake of knowledge dissemination among the relevant stakeholders.
Agreement signing:
On 12th May 2016, under SEIP project a Grant Agreement among PKSF and Sir William Beveridge Foundation was signed based on the decision of 200th Management Board meeting of PKSF aiming to develop Skilled and international standard Caregiver and Nursing Assistant from Bangladesh. The agreement was jointly signed by Mr. Golam Touhid, Deputy Managing Director (Finance), PKSF and Mr.Jibon Kanai Das, Country Representative, Sir William Beveridge Foundation. Under this agreement, Sir William Beveridge Foundation primarily will provide one (01) month training to 20 persons to develop Skilled and international standard Caregiver and Nursing Assistant workforce and consequently make sure the job placement of the trainees.
On 29th June 2016, a grant agreement was signed among PKSF and AK Khan Health Care Trust aiming to create international standard caregiver. The agreement was jointly signed by Mr. Fazlul Kader , DMD (Operations) PKSF and Ms. Samanzar Z khan, CEO of AK Khan Health Care Trust. Firstly, 15 participants will be trained in Bangladesh for one year after the successful completion of the training; the trainees will get the certificates of Pearson BTEC (Business & Technology Education Council) Level-4, HNC (Higher National Certificate) Diploma in Health and Social Care. Apart from this, the certified trainees will get whole hearted support from AK Khan Health Care Trust regarding the Enrollment and Internship in Educational Institutions outside of Bangladesh.
Recent Activities:
Major details of the project:
In tranche-1, PKSF-SEIP project is aimed to provide trainings for 10,000 youths of low income families around the country through selected Training Institutions (TIs). Thus, during the period of December 2015 to June 2016, two thousand four hundred and thirty six (2436) participants (Male: Female 81:19) have started their skills development trainings (Three and Six months courses) based on selected trades. As on December 2016, three thousand one hundred and twenty eight (3128) trainees have completed their training successfully and one thousand seven hundred and ten (1710) of them have been placed into employment during December 2015 to December 2016.
Workshops :
Workshop on the 'Trainee Management System (TMS)' software:
Project Management Unit (PMU) has organized a daylong workshop on TMS software of SEIP on 22 September'16, at PKSF Bhaban. The workshop, aimed to facilitate appropriate data management, was organized for the capacity development of the MIS officers of training institutes (TIs) on the updated TMS through practical demonstration. Md. Abul Kashem, Deputy General Manager & Project Coordinator of SEIP, PKSF has inaugurated the workshop. Mr. Faisal Hasan, IT & Database Specialist of SDCMU, Mr. Abu Jafor Al Forhad, Project Coordinator, Tapware Solutions Ltd. have conducted the workshop along with the MIS officer of PKSF-SEIP. Besides, Deputy Project Coordinator (DPC, Technical) and Program Officers of PKSF-SEIP were also present in the workshop.
'Emphasizing the importance of appropriate selection process of the trainees'
One of the major objectives of SEIP project is Industry-demand driven workforce development. That's why the appropriate selection of the project participants is an important factor. Therefore, highlighting the importance of appropriate selection of project participants under SEIP project, thirteen (13) workshops had been placed with Partner NGOs of PKSF as the project participants are selected through them. The venues were in; DESHA, Kushtia, Jagoroni Chakra Foundation (JCF) Jessore, Nabalok Khulna, Satkhira Unnayan Samity (SUS) Khulna, Friends in Village Development Bangladesh (FIVDB) Sylhet, Paige Development Center Comilla, TMSS Rangpur, TMSS Bogra, TMSS Natore, Gono Kallayan Trust (GKT) Manikganj, ASPADA Mymenshing, Bangladesh Development Society (BDS) Barishal, Society Development Committee (SDC) Faridpur from 27th March to 19th May 2016.Wherein, the Executive Director, Director, Regional Manager, Branch manager of almost all the (164) Partner Organizations of PKSF was present. Personnel from PKSF and SEIP project coordinated all the workshops. Objectives of SEIP project, current challenges of selecting participants for the project and the steps of approved trainee selection that the POs should follow.
Besides this workshop, two major workshops on the topics of 'Job Placement' and maintaining proper 'Finance & Accounts guideline' towards the endurance of effective implementation of the project took place under SEIP project at PKSF Bhaban.
'Guideline of the management of Finance & Accounts of SEIP Project':
On 12th January, 2016, General Manager of Audit Department, PKSF presided over the Workshop of 'Guideline of the management of Finance & Accounts of SEIP project'. Wherein, Accountants of 22 selected Training Institutions'' participated and an overview and detailed process of the management of Finance & Accounts of SEIP project were discussed to ensure the proper delivery and management of the Accounting system by following the Financial Guideline.
'Job Placement Challenges and Achievement':
On 23rd June 2016, Deputy Managing Director (Operations) presided over a workshop on 'Job Placement' of the SEIP Project trainees. The importance of the proper job placement process was discussed among the personnel of selected 22 training institutions. The designated job placement officers of the Training Institutions' shared their experiences of current job placement procedure of SEIP Project and as well as made suggestions towards a better Job Placement process of the project in the workshop.
Project visit
Visit of honorable National Project Director, SEIP at Eco Social Development Organization (ESDO):
On 18 March 2016, Mr. Jalal Ahmed, National Project Director, SEIP visited the ongoing training program of IT support service trade at Eco Social Development Organization (ESDO). During his visit, Mr. Jalal Ahmed, observed training and job placement activities and expressed his satisfaction. Along with him, Mr. Sarwar Mahmud, joint secretary of Economic Relations Division (ERD), Ministry of Finance, GoB, Mr. Mukesh Chondro Biswas,District Commissioner (DC) of Thakurgaon district and Executive Director of ESDO were also present.
Visit of honorable Chairman, PKSF at Rural Reconstruction Foundation ( RRF):
On 26August 2016, honorable Chairman, Qazi Kholiquzzaman Ahmad and Mr. Fazlul Kader, Deputy Managing Director (Program), of PKSF visited training program of SEIP at RRF, Jessore. During the visit, trainees of different trades displayed their innovative works.
Visit of honorable Chairman, and Managing Director of PKSF at UTTARAN
On 28 August 2016, honorable Chairman, Dr. Qazi Kholiquzzaman Ahmad, Managing Director Md. Abdul Karim and Deputy Managing Director (Program) of PKSF Mr. Fazlul Kader along with Project Coordinator of PKSF-SEIP visited Uttaran, a TI under PKSF-SEIP. Honourable Chairman inaugurated training of a batch on IT support services trade at the Tala training center of Satkhira, Uttaran. During the visit, honorable chairman highlighted the importance of quality training, and suggested to include awareness issues like; early marriage, violence against women, drug addiction in the curriculum and course modules. He also expressed his satisfaction regarding the ongoing training.
Visit of honorable Deputy Managing Director (Program) of PKSF at Thengamara Mohila Sabuj Sangha (TMSS):
On 25 August 2016, Mr.Fazlul Kader, Deputy Managing Director (Program) of PKSF visited TMSS, Kazipara Mirpur Dhaka center. He awarded certificates among the trainees who have successfully completed the training on Web Design & Graphic design course.
Visit of Executive Project Director, SEIP at UCEP Bangladesh:
On 23 December 2016, Executive Project Director of SEIP, Mr. Abdur Rouf Talukdar visited the training center of UCEP, Barisal of PKSF-SEIP project. During his visit he exchanged views with UCEP officials about the trainings and job placement issues. He also visited the training venue and enquired about training program. He expressed his satisfaction about the overall training program of UCEP Bangladesh. During the visit, Mr. Abul Kashem, Deputy General Manager of PKSF and Project Coordinator, PKSF-SEIP was also present.

SEIP Project visit of Asian Development Bank (ADB) delegates:
On 16th April 2016, delegates of ADB, one of the donor of SEIP project and personnel of Support to Skills Development Coordination and Monitoring Unit (SDCMU) visited one of the current training activities of the training institution, Bangla German Samprity (BGS)Tangail of SEIP. Project coordinator of SEIP, Deputy General Manager (Operation) PKSF, Md. Abul Kashem guided the team on behalf of PKSF. The team was consisted with Mr. Rudi Van Dael, Senior Sector Specialist and A.K.M. Shamsuddin, Consultant from ADB, Mr.Erich Guttman, Backstopper, SDC; Syed Nasir Ershad, AEPD, SEIP and Md. Ahsan Habib, TVET Specialist, SEIP from SDCMU. The team conveyed their contentment regarding the Training Activities and Overall Management of the project work throughout the visit.
SEIP Project visit of Swiss Development Coordination Agency (SDC) delegates:
On 24th of June 2016, Dr. Zowadul Karim KhanProgram Manager of Swiss Development Coordination Agency (SDC), visited the training centers of Under Privileged Children Education Program (UCEP) in Khulna and Rural Reconstruction Foundation (RRF) in Jessore. The ongoing training activities of various trades had been viewed by him and he was accompanied by one of the program personnel of PKSF-SEIP.
Certificate & Appointment letters Giving Ceremony:
Participation of honorable Chairman and Deputy Managing Director, PKSF in certificate giving ceremony of SEIP trainees at Mars Solutions ltd.:
On 3 November 2016, Dr. Qazi Kholiquzzaman Ahmad, Chairman of PKSF was invited as the chief guest of the certificate giving ceremony of training program at Mars solutions ltd under PKSF-SEIP. Honorable chairman handed over the certificates to the trainees of IT Support Service and Web Design and Graphic Design courses. Along with honorable Chairman, Dr. A.K. Abdul Momen, former Bangladesh Ambassador and Permanent Representative to the UN, Dr. Jamaluddin Ahmed, Director of Bangladesh Bank and Mr. Md. Fazlul Kader, Deputy Managing Director of PKSF and Mr. Abul Kashem, Deputy General Manager of PKSF and Project Coordinator, PKSF-SEIP were also present in the occasion. Thirty three trainees had received their job appointment letters from the honorable chief guest during that program.
Participation of honorable Managing Director and Deputy Managing Director, PKSF in '25 years celebration of Shariatpur Development Society (SDS)' at Shariatpur:
On 25 and 26 December 2016, Md. Abdul Karim, Managing Director, and Mr. Fazlul Kader, Deputy Managing Director (Program) of PKSF joined in the 25 years' celebration ceremony of SDS and inaugurated the training programs of Fashion Garment, Mobile Servicing and Plumbing & Pipe Fittings trade courses under SEIP project. During the occasion, honorable Managing Director handed over job appointment letters to 10 graduated trainees. They also visited stalls and exhibitions organized by the SDS trainees at the SDS premise. In his speech, honourable Managing Director highlighted the importance of the vocational education and training in Bangladesh to keep pace with the current development momentum of the country. He also stated the necessity of delivering quality training and requested SDS to take initiatives to send the qualified trainees abroad with suitable jobs after completion of their training.
Participation of honorable Managing Director, PKSF in a certificate giving ceremony of SEIP trainees at Eco-Social Development Organization (ESDO):

On 27 October 2016, Mr. Abdul Karim, Managing Director, PKSF handed over the certificates to the trainees of IT Support service trade courses of ESDO as chief guest. Along with him, Dr. Sharif Ahmed Choudhury, Deputy General Manager, PKSF and Dr. Md. Sohiduzzaman, Executive Director, ESDO were also present in the event. Honorable Managing Director emphasized on the proper utilization of the potentials of the Demographic Dividend in Bangladesh.

Contact Person
Md. Abul Kasem
Deputy General Manager (Operations) & Project Coordinator (PC)
Skills for Employment Investment Program (SEIP)
Email: blkashem@yahoo.com
Cell No.: 01711439513