Seminar held on role of fisheries and livestock sector in sustainable development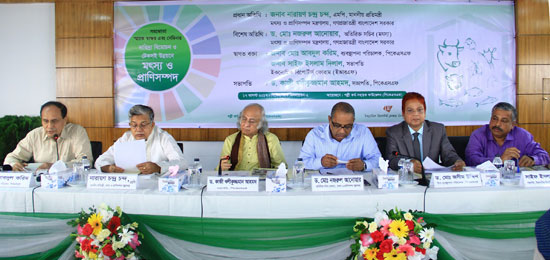 In order to accelerate sustainable development by ensuring food and nutrition security for an ever-growing population, Palli Karma-Sahayak Foundation (PKSF) on 17 August 2017 organised a seminar titled 'Fisheries and Livestock Sector in Poverty Alleviation and Sustainable Development.
Mr Narayan Chandra Chanda, Hon'ble State Minister for Fisheries and Livestock, graced the seminar — held at PKSF Bhaban — as the chief guest while Dr Md Nazrul Anwar, Additional Secretary (Fisheries) to the Ministry of Fisheries and Livestock, was the special guest. PKSF Chairman Dr Qazi Kholiquzzaman Ahmad chaired the event.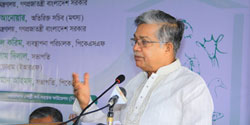 Hon'ble State Minister Narayan Chandra Chanda, in his speech, highlighted different steps the government has taken accelerate development in the fisheries and livestock sector of the country. "But the government efforts alone cannot be enough in achieving Sustainable Development Goals by 2030."
He lauded different innovating interventions PKSF is making at the grassroots level, and urged it to come up with activities tailored to help micro-entrepreneurs sustain against big companies that are investing in fisheries and livestock sector in Bangladesh. "The government will provide necessary assistance if needed."
Terming fisheries and livestock as a key sector in rural economy, Special Guest Additional Secretary Dr Md Nazrul Anwar said what PKSF is doing in this regard is highly praiseworthy. "If PKSF needs any assistance, we will be happy to help," he added.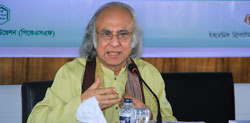 PKSF Chairman Dr QK Ahmad stressed the need for investing more in the sector. "Microcredit cannot be the answer to sustainable development. Hence, we are giving appropriate loans and continually increasing allocation for fisheries and livestock-related activities."
"Leave no one behind — this is at the heart of Sustainable Development Goals. And we are making all efforts to ensure that our interventions reach all the disadvantaged groups in every corner of the country," added the renowned economist.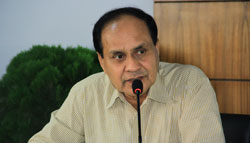 Earlier, in the welcome speech, Mr Md Abdul Karim, Managing Director of PKSF, highlighted how the PKSF is taking a holistic approach to address the multidimensionality of poverty. "We are diversifying our activities to the needs of the people. With this in view, our Fisheries and Livestock Unit and the Learning and Innovation Fund (LIFT) programme are working relentlessly at the grassroots."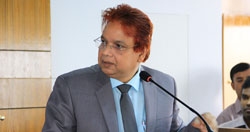 Deputy Managing Director (Administration) Dr Md Jashim Uddin then gave a presentation titled 'Role of Livestock and Fisheries Sector in Poverty Alleviation and Sustainable Development: Efforts of PKSF'. He made an in-depth analysis of the country's food and nutrition security status at the moment, the challenges in the days to come and what PKSF is doing  to help people cope with their food and nutrition needs as well as their strive against poverty.
At the event, five micro-entrepreneurs narrated their stories of success in defeating poverty with financial and technical assistance from PKSF.
Top officials of different government agencies concerned, PKSF officials, Executive Directors of PKSF' Partner Organisations and representatives of different development organisations attended the seminar.
MoU signed between PKSF and ERF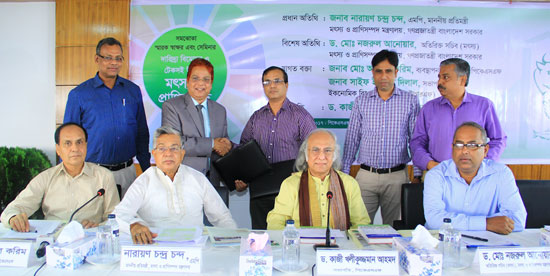 On the sideline of the seminar, PKSF signed a Memorandum of Understanding with the Economic Reporters' Forum (ERF) of Bangladesh. Deputy Managing Director (Administration) Dr Md Jashim Uddin of PKSF and ERF General Secretary Mr Ziaur Rahman signed the MoU under which nine journalists — three each from electronic, print and online media — will receive 'PKSF-ERF Award' every year for outstanding reports on development activities. Also, PKSF will make arrangements for two ERF members to study Diploma in Economics at Dhaka School of Economics each year.
ERF President Saif Islam Dilal said this cooperation will usher in a new era in development journalism in Bangladesh.