'Collaboration is key to ensuring health and wellbeing in Bangladesh'
Speakers say in seminar on SDG-3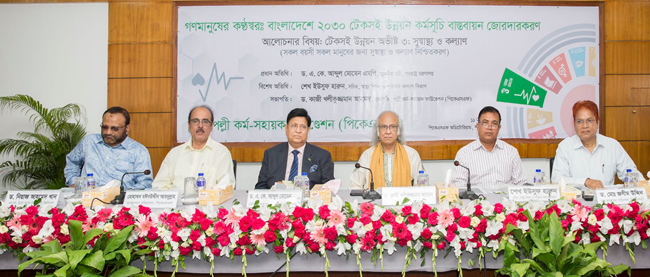 Strong collaboration is a must for ensuring good health and well-being for all, commented experts. They were speaking in a seminar on 'SDG-3: Good Health and Well-being' organized at PKSF Bhaban, Dhaka on 11 September 2019.
Hon'ble Foreign Affairs Minister Dr AK Abdul Momen, MP was the Chief Guest, and Medical Education and Family Welfare Division's Secretary Mr Shaikh Yusuf Harun was the Special Guest at the event presided over by Dr Qazi Kholiquzzaman Ahmad, Chairman of Palli Karma-Sahayak Foundation (PKSF). Mr Mohammad Moinuddin Abdullah, the PKSF Managing Director, delivered the welcome speech.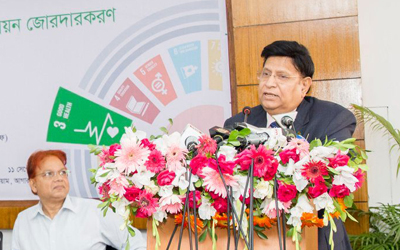 The Foreign Affairs Minister, in his speech, said the Government is implementing every development agenda diligently in line with the core essence of Sustainable Development Goals (SDGs) –'Leaving No One Behind'. All Goals of the SDGs are interrelated and poverty alleviation, ensuring education and empowerment of women are particularly essential for achieving the Goal of Good Health and Well-being. Terming financing as a major challenge to implementing the SDGs, Mr AK Abdul Momen stressed on the need for a bolstered public-private partnership to deal with this hurdle.
Special Guest Mr Shaikh Yusuf Harun emphasized on the importance of institutional capacity development to achieve SDG-3. The Secretary said alongside adequate financing, capacities of the health ministry must be improved and skills of people, particularly of the youths, be enhanced. He informed that an action plan is being formulated to achieve SDG-3.
PKSF Chairman Dr Qazi Kholiquzzaman Ahmad said creating skilled manpower, preventing corruption, adopting proper and realistic action plans and ensuring proper utilization of resources are pre-requisites to ensuring health and well-being for all. Engagement of private sector in the government initiatives and well planned, pro-environment industrialization will ensure sustainability of the interventions, he added.
Earlier, in the welcome speech, PKSF Managing Director Mr Mohammad Moinuddin Abdullah said PKSF is playing a supporting role in SDG implementation in Bangladesh. Highlighting various PKSF initiatives to realize SDGs, he expressed the hope that Bangladesh will be able to achieve SDGs successfully by the 2030 deadline, and PKSF will have a notable contribution to this achievement.
Dr Md Jashim Uddin, Deputy Managing Director of PKSF, gave the keynote presentation titled "SDG 3: Good Health and Well-being — Ensure healthy lives and promote wellbeing for all at all ages". Dr Niaz Ahmed Khan, a Professor of Development Studies at the University of Dhaka, discussed on the occasion.