Seminar on 'SDG 5: Gender Equality'
Speakers call for empowering women for sustainable development
With a call for ensuring gender equality to steer the country toward sustainable development, a seminar titled 'SDG 5: Gender Equality' was organized at PKSF Bhaban on December 23, 2018 by the 'People's Voice: Strengthening Implementation of SDGs in Bangladesh' platform. Ms Nasima Begum, NDC, Secretary of the Ministry of Women and Children Affairs was the Chief Guest and Additional Secretary Ms Sultana Afroz of the Economic Relations Division
(ERD), Ministry of Finance was the Special Guest at the event presided over by PKSF Chairman Dr Qazi Kholiquzzaman Ahmad. PKSF Managing Director Mr Md Abdul Karim gave the welcome speech while Executive Director of Bangladesh Unnayan Parishad Dr Nilufar Banu gave the keynote presentation styled 'Achieve Gender Equality and Empower all Women and Girls'. Professor Salma Akter, Department of Social Science, University of Dhaka spoke as a panelist. PKSF's Deputy Managing Director-2 Dr Md Jashim Uddin gave the vote of thanks.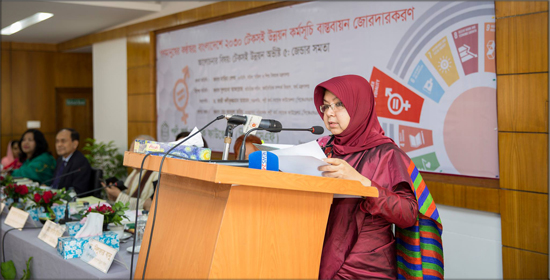 Highlighting various pro-women steps of the government, the Women and Children Affairs Secretary said proper coordination between government and non-governmental initiatives is a must for eliminating discrimination against women and girl children. Ms Nasima Begum also said stringent legal measures are on the cards to more effectively combat the curses of child marriage, violence against and harassment of women, and other social ills.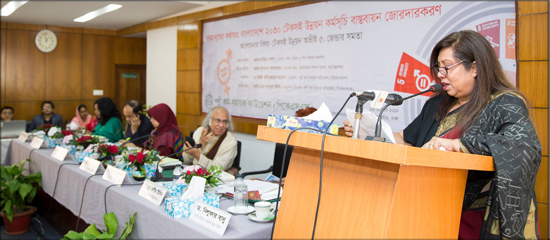 Ms Sultana Afroz, the Special Guest, said, Bangladesh is considered as a role model in successfully realizing the Millennium Development Goals and is all set to repeat the success in achieving the Sustainable Development Goals (SDGs). Stating that discrimination against women has still been a major concern for Bangladesh, the ERD Additional Secretary said people are being made aware of this and they are playing increasingly pro-active roles in protecting the rights of women and girl children, thereby paving the way for their robust contribution to sustainable development.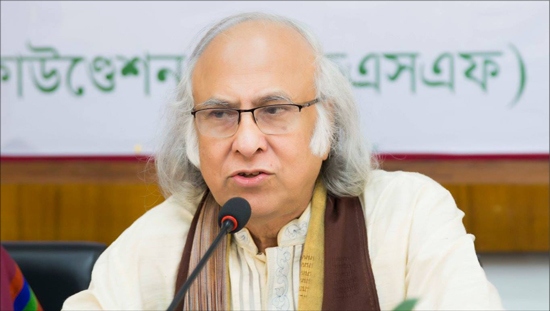 PKSF Chairman Dr Qazi Kholiquzzaman Ahmad said the country is experiencing commendable economic growth "but this growth, this pace of development has to be human-centered". He emphasized on the need for appropriate coordination as well as proper supervision and skill enhancement of people to achieve the SDGs.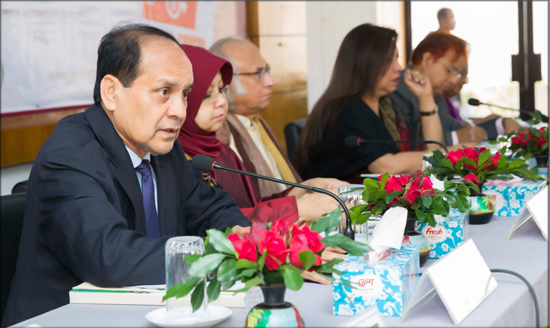 Mr Md Abdul Karim, the PKSF Managing Director, highlighted various initiatives taken by PKSF to ensure empowerment of women. PKSF believes, he said, that gender equity is a pre-requisite to sustainable development and all PKSF interventions are designed and implemented keeping this in mind.
Also in the seminar, two Bangla publications titled 'Tekshoi Unnayan O PKSF' and 'Haorer Chalchitra' were unveiled.
Representatives of government and non-government organizations, and high-ups of PKSF and its Partner Organizations took part in the open discussion session of the seminar.