PKSF organizes 13 Seminars and one Special Discussion Session
 A seven-day-long Development Fair-2014 was held at Bangabandhu International Conference Centre (BICC), Dhaka from 26 October to 01 November 2014 on the occasion of 25th Founding Anniversary of Palli Karma-Sahayak Foundation (PKSF) aiming at promoting poverty alleviation initiatives to lift millions out of poverty.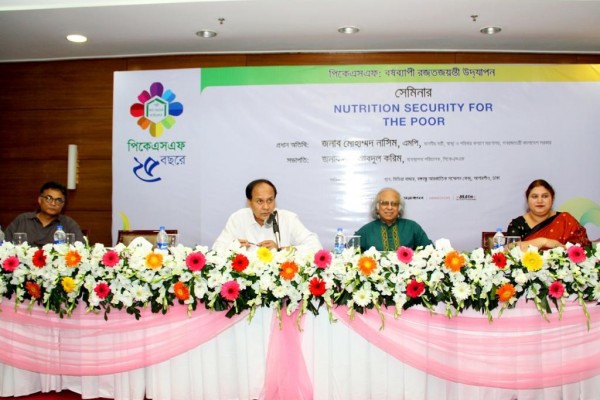 During the fair a total of thirteen seminars and one special discussion session were held in the theme of "Development for Prosperity and Parity: Including the Excluded" where Ministers, Secretaries, economists, researchers, members of civil society and representatives of different non-government organizations were present. Development specialists and discussants from India, Vietnam, Uzbekistan and the USA also participated in the seminars and special discussion.
Presentations of keynote speakers of these Seminars are available here.
List of Seminars:
Agriculture Patterns, Poverty and Climate Change: Vision, Strategy and Actions
Rural Industrialization for Sustainable Poverty Eradication
Building Human Capacity: Education Program for the Excluded
Technology for Sustainable Growth and Development
Expanding the Horizon of Opportunities: Promoting Innovative Enterprises
Reducing Health Risk of the Excluded: Some Innovative Practices
Moving Out of Low Productivity Trap: Investing at the Bottom of the Pyramid
Discussion on: Non-Financial Services of MFIs: Health, Education and Value Chain interventions
ENRICH, a New Approach to Development: a Paradigm Shift
Inclusive Development: Mainstreaming the Challenged People
Empowering Women: Challenges for Next Decade
Equity and Justice in Society: Protecting Rights of Children
Taking off from Poverty: Reducing Risks and Vulnerabilities
Nutrition Security for the Poor