Special discussion to mark National Mourning Day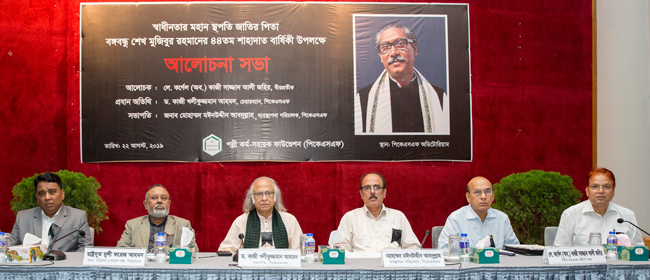 To mark the National Mourning Day 2019, Palli Karma-Sahayak Foundation (PKSF) organized a discussion meeting on 22 August 2019. Speakers at the event spoke on Father of the Nation Bangabandhu Sheikh Mujibur Rahman's pivotal role in the birth of Bangladesh and reconstructing a post-liberation war-ravaged nation.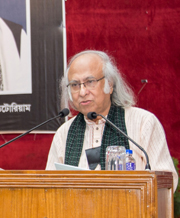 PKSF Chairman Dr Qazi Kholiquzzaman Ahmad was the Chief Guest of the program chaired by Mr Mohammad Moinuddin Abdullah, Managing Director of PKSF. Lt Col (retd) Kazi Sajjad Ali Zahir, Bir Protik, was the main discussant.
The event began with a minute of silence in commemoration of Bangabandhu and his family members who were brutally assassinated on 15 August 1975.
Deputy Managing Director of PKSF Dr Md Jashim Uddin delivered the welcome remarks, and PKSF Governing Body Members Dr Toufic Ahmad Choudhury and Ambassador Munshi Faiz Ahmad delivered speeches. All employees of PKSF were present at the event.

On the occasion of the National Mourning Day, an essay competition on "Bangabandhu, Liberation War and Bangladesh" was organized for the children of PKSF employees. Prizes were distributed at the program among the winners of this competition.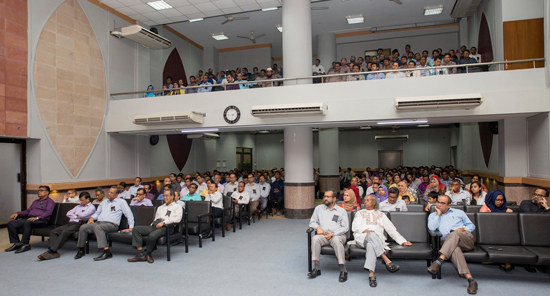 To pay tribute to the Father of Nation, all employees of PKSF wear black badges and giant drop-down banners hang from the top of PKSF Bhaban throughout the month. The national flag remained hoisted at half-mast on 15 August 2019, and special prayers were offered. Besides, the Partner Organizations of PKSF arranged elaborate programs to observe the National Mourning Day.