The 5th General Meeting of PKSF Held
The 5th General Meeting of Palli Karma-Sahayak Foundation (PKSF) was held on 22 June 2016 at PKSF Bhaban.
Dr. Qazi Kholiquzzaman Ahmad, Chairman, PKSF chaired the meeting. The members of the General Body namely, Dr. Pratima Paul-Majumder, Dr. A.K.M. Nurun Nabi, Mr. Khondkar Ibrahim Khaled, Mr. Md. Fazlul Haque, Mr. Md. Emranul Haque Chowdhury, Begum Razia Hossain, Mr. Ishtiaq Uddin Ahmed, Mr. S. M. Wahiduzzaman Babur and Mr. Md. Abdul Karim, Managing Director of PKSF attended the meeting.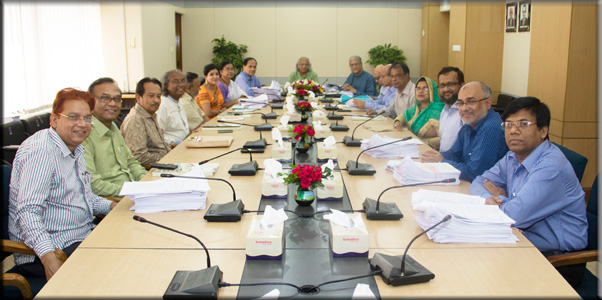 The Chairman gave a graphic report of PKSF's ongoing activities. He informed the progress of various programs and projects being implemented by PKSF. Referring to ENRICH, a people-centered holistic program of PKSF to alleviate poverty through establishing human dignity, Dr. Ahmad said that this is presently being implemented in 150 unions of 143 upazilas under 62 districts by 111 Partner Organizations (POs) of PKSF.
The Managing Director updated the meeting on the accomplishment of the resolutions taken in the 26th Annual General Meeting held on 23rd December, 2015. The General Body expressed its satisfaction over the progress of overall operations of PKSF. They also offered some valuable comments.