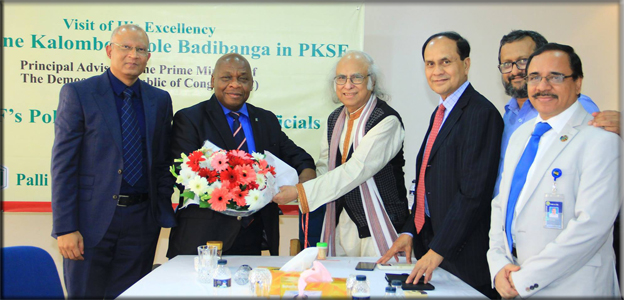 HE Dieudonne Kalombo Nkole Badibanga, Principal Adviser to the Hon'ble Prime Minister of Democratic Republic of Congo (DRC), called on PKSF Chairman Dr Qazi Kholiquzzaman Ahmad on 7 December 2017.
PKSF Managing Director Mr Md Abdul Karim, Deputy Managing Director (Programme) Mr Md. Fazlul Kader and other top officials were present during the meeting held at PKSF Bhaban in Dhaka.
Mr Badibanga is in Bangladesh on an official visit to participate in the Ministerial Conference of Digital World 2017 taking place in Dhaka.
During the meeting, Dr Qazi Kholiquzzaman Ahmad apprised the Congolese envoy for picking PKSF's decades-long experiences in designing and implementing programmes and projects for poverty alleviation, access to fund and financial inclusion, skills and capacity building towards self and paid employment, and beyond-poverty development.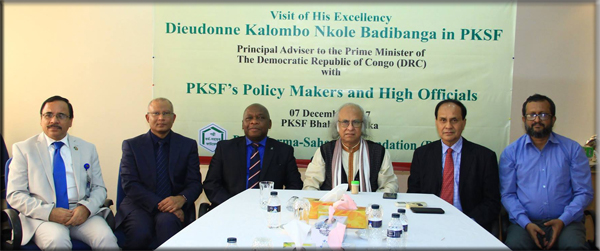 Mr Badibanga highly praised PKSF's role in accelerating sustainable human development in Bangladesh, and said that the DRC Government had started formulating a national strategy for skills and enterprise development in the country with a view to strengthening the public-private partnership-led initiatives for sustainable growth. The DRC could use PKSF's knowledge, experiences and capacities in its strive for achieving the overall development goals, the Congolese envoy observed.
Mr Nazir Alam, Honorary Consul of DRC in Dhaka, Bangladesh (proposed), was also present during the meeting.