Youth Conference held with calls for an inclusive society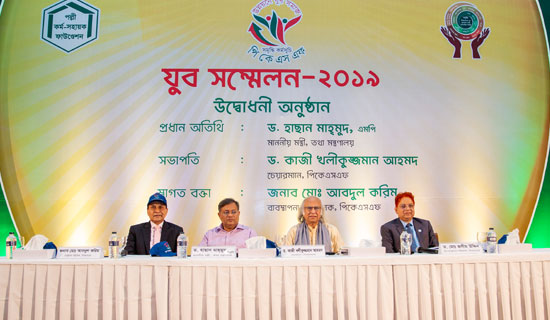 Amid festivities and fanfare, Palli Karma-Sahayak Foundation (PKSF) organized two-day 'Youth Conference 2019' on 7-8 April 2017 at Bangabandhu International Conference Center in Dhaka. More than 1,600 youth representatives selected from the grassroots through various competitive events participated in this gala event.
This colorful event was comprised of five sessions. Hon'ble Information Minister Dr. Hasan Mahmud, MP was the Chief Guest at the inaugural session presided over by PKSF Chairman Dr. Qazi Kholiquzzaman Ahmad. Mr. Md. Abdul Karim, Managing Director of PKSF delivered the welcome remarks. PKSF's Deputy Managing Director Dr. Md. Jashim Uddin gave a speech highlighting the background of the event.

Information Minister Dr. Hasan Mahmud said youths of Bangladesh played a big role in the country's stupendous economic growth over the past decade. Commenting that the government is working to build a humane society alongside the country's infrastructural development, the minister hoped that PKSF, through its program, will help youths at the grassroots become responsible and dutiful citizens.
PKSF Chairman Dr. QK Ahmad highlighted PKSF's interventions to ensure the ethical and leadership skill development of the youths and generate sustainable employment opportunities for them at the grassroots. PKSF will continue its efforts in building a prosperous and just society in the spirit of the Liberation War.
In the welcome address, PKSF Managing Director Mr. Md. Abdul Karim described the youths as "national capital", and said PKSF will continue its work at the grassroots for youth development. "Poverty will never create obstacles to the advancement of youths," he added.
Two seminars were held on the opening day. Social Welfare Minister Mr. Nuruzzaman Ahmed, MP, was the Chief Guest in the first seminar, and Agriculture Minister Dr. Md. Abdur Razzaque, MP graced the second seminar as the Chief Guest. Joler Gaan, a popular folk band of Bangladesh, performed in the evening to close the activities of day one.
The closing day of the conference consisted of a seminar and a closing ceremony. Mr. Saber Hossain Chowdhury, MP, Chairman of the Parliamentary Standing Committee on Environment, Forest and Climate Change was the Chief Guest and Mr. Md. Abul Kalam Azad, Chief Coordinator (SDG), Prime Minister's Office was the Special Guest at the third seminar. A total nine papers on 'Bangabandhu, Liberation War and Bangladesh', 'Education System in Bangladesh', 'Skills Development and Employment', 'Social Ills: Child Marriage, Dowry, Eve-teasing and Drug Abuses', 'Violence and Terrorism', 'Equality and Human Dignity', 'Socio-Economic Discrimination', 'Climate Change' and 'Sustainable Development Goals' were presented at the seminars by the participating youths.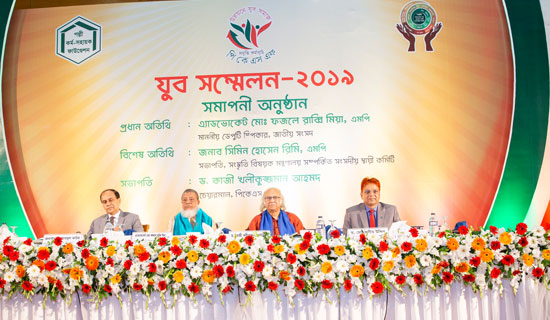 The Closing Session saw Advocate Fazle Rabbi Miah, MP, Deputy Speaker of the Jatiya Sangsad, as the Chief Guest.
Two anthologies of poems by Dr. Qazi Kholiquzzaman Ahmad — Bangladesh Amar Thikana and Oi Mohamanab — were released during the conference.