News
Meeting held with vendors on PPR
Meeting held with vendors on PPR
Palli Karma-Sahayak Foundation (PKSF) has been following the Public Procurement Rules (PPR) since 01 July 2018. In order to inform about the PPR, PKSF organized a meeting with its enlisted providers of goods/works/services at PKSF Bhaban on 18 February 2020. Around 150 representatives from the enlisted vendors of PKSF attended the meeting.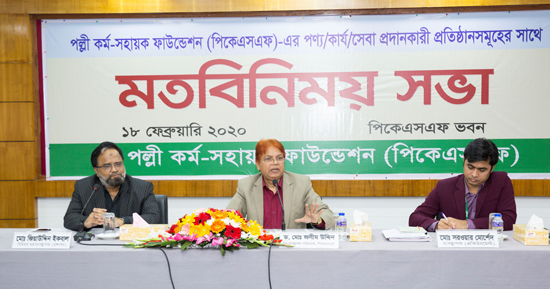 The meeting was presided over by Dr Md Jashim Uddin, Deputy Managing Director of PKSF. He urged the vendors to follow the instructions of PPR carefully while submitting tenders.
Mr Md Ziauddin Iqbal, Senior General Manager (Admin) of PKSF delivered the welcome remarks. Md Sarwar Morshed, Manager of PKSF made a presentation on Procurement Procedure.

It is hoped that this meeting will help ensure further transparency in PKSF's procurement system and will elevate the competitive business environment.