The Training Unit of PKSF aims to develop the capacity of officials of its Partner Organizations (POs). It arranges highly customized training courses with specially designed training modules covering a wide range of areas in management of financial services, sustainable development, and poverty alleviation. In 1997, PKSF started a training program to increase the capacity of the human resources of its POs and established a separate training unit. This Unit offers training to the POs' officials as well as assists in arranging internship programs for university students. It also arranges exposure visits for both domestic and foreign delegates of different organizations.
One of the important tasks of PKSF's Training Unit is to prepare trainee-friendly manuals divided into different training modules for each of the training courses offered. These manuals help trainers conduct training courses effectively for people who are implementing different interventions at the PO level. The Training Unit also organizes training for organizations from both home and abroad who are keen to understand the development efforts taken by PKSF.
The Training Unit conducts all its activities based on specific values and ensures that the values ​​are adopted at all levels. The core values of the Unit are:
Diversity and inclusion
Gender Equality
Inclusive Development
Innovation
Commitment
People at the Center
Team Work
Result-driven Initiatives
Networking
Change Management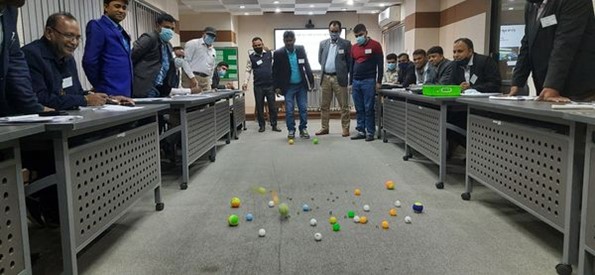 The overall goal of the PKSF Training Unit is to improve the professional capacity of officials of the POs. The Specific Objectives of the Unit are:
To develop and provide training courses for the officials of PKSF's POs to enhance their practical skills which are required at the field level;
To improve the capacities of officials from government offices and national and international organizations by providing customized training, orientations, and workshops; and
To extend appropriate support and facilities to non-partner organizations (non-POs) to organize training, exposure visits, workshops, and seminars as and when necessary.
The General Objectives of the Training Unit are as follows:
Knowledge and Understanding: Training participants will have general knowledge and understanding of principles and theories, as well as specialized knowledge and understanding of the training subjects.
Skills and Abilities to Drive for the Results: Training participants will have the skills and abilities required to engage in the implementation of different development interventions.
Assessment and Approach: Participants will be able to demonstrate the ability to make educated assessments of difficulties.
Double Skills and Double Loop Learning
Training Unit seeks to deliver training in such a way that participants can learn at least two things together. For example, while they are learning the tasks of an auditor, they are also learning time management skills for accomplishing those tasks. On the other hand, the training sessions are conducted with particular focus on the double loop learning. Single-loop learning is about making adjustments to correct a mistake or a problem. Double Loop Learning, as an educational concept and process, involves identifying and understanding causality and then taking actions to fix the problem.
Positive Attitude and People-Centric Leadership: Training participants will be able to: serve as a role model that other people want to follow; empower others to translate vision into results; be proactive in developing strategies to accomplish objectives; establish and maintain relationships with a broad range of people to understand needs and gain support; anticipate and resolve conflicts by pursuing mutually agreeable solutions; drive for change and improvement; accept the status quo; show the courage to take unpopular stands; provide leadership and take responsibility for incorporating gender perspectives and ensuring the equal participation of women and men in all areas of work.
In order to maximize the desired results from the training courses, the PKSF Training Unit upholds the following training specific characteristics.
Trainers strive to create and maintain a learning environment of openness, friendliness, mutual trust, and respect
Trainers consider themselves not as pedagogues but simply as facilitators in the learning process
PKSF values homogeneity with respect to age, education and experience in selecting trainees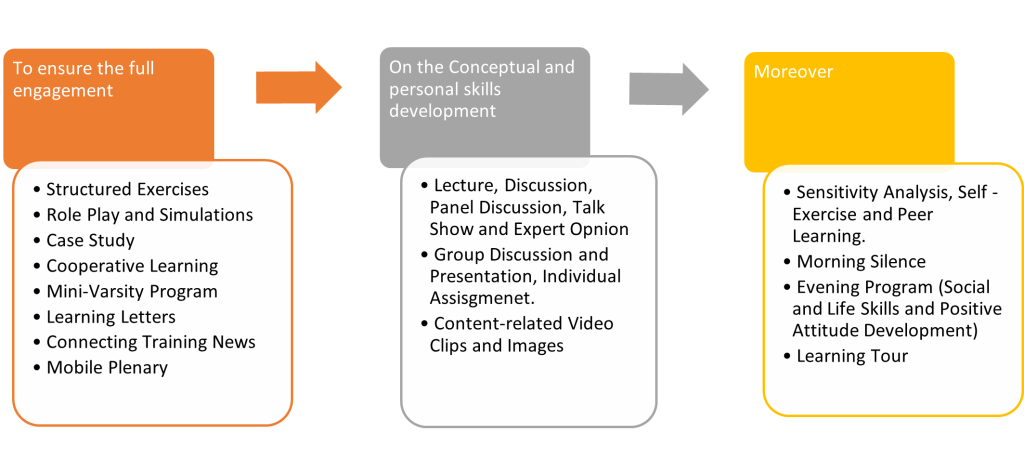 Training is a proven approach to changing mindsets and attitudes, professional development and job creation. PKSF's Training Unit thus continuously strives to develop the human resources of its partners. The Unit meets the training needs not only of the partner organizations (POs) but also of local and foreign organizations. Taking the Covid-19 situation into account, the Training Unit in FY 2021-22 followed a hybrid method that combined online and offline (classroom) training courses. A total of 1,118 officers from POs were trained in FY 2021-22. Of them, 352 received offline training in 17 batches and 766 did online training in 32 batches.
Tour guide training: The Training Unit has taken up a plan to train poor youths from the hilltracts to turn them into professional tour guides. As part of the plan, the Unit organized a 60-hour-long 'Tour Guide Training' course at Pahari Tula Research Centre, Balaghata, Bandarban. The training was organized in association with Integrated Development Foundation (IDF) from 6-17 February 2022. Twenty unemployed youths (both male and female) participated in the residential training course which was conducted by the National Hotel and Tourism Training Institute (NHTTI) under Bangladesh Tourism Corporation. The possibilities of organizing similar training courses in the Sundarbans, Cox's Bazar and other tourist spots in the country are being considered.
'Learning tour' program: PKSF Training Unit took the officers of POs to visit the Liberation War Museum as part as part of its classroom-based training organized in PKSF Bhaban. The visit was organized marking the Birth Centenary of the Father of the Nation and the Fifty Years of Independence. Besides, the trainees were taken to visit Bangabandhu Military Museum, Bangabandhu Novo-Theater and the National Science and Technology Museum as part of regular the 'Learning Tour' program.
Internship program: The internship program of PKSF was conducted online during the pandemic. Later, the on-site internship programs were resumed. In the fiscal year 2021-22, a total of 12 students from different universities completed internship programs.
Formation of external resource pool: Reputable external resource persons are being added to the resource pool of the Training Unit for conducting various sessions including Basic Training of Trainer (ToT) of POs' training officers. Among the resource persons are Professor Dr Md Golam Samdani Fakir, Vice-Chancellor, Green University of Bangladesh; Shipa Hafiza, Former Director, BRAC Training Department; Nilufar Ahmed Karim, Former Faculty Member, BIM; Syed Waliul Islam, Head of Training, Bangladesh NGO Forum; Mohammad Abdur Rahman, former training coordinator, BRAC; Md Fazlul Haque, Deputy Executive Director, Sajeda Foundation; Md Mahbub-ul Alam, Faculty Member, BIM; and Nusrat Sharmin, Capacity Development and Operations Specialist, the World Bank.
In country training: In FY 2021-2022, a total of 745 officials of PKSF (one official participated in more than one training) participated in various training programs/workshops/seminars. The programs included a wide range of topics such as Effective Team Management, Best Practice in Public Communication, Climate Smart Agriculture for Adaption, Financial, Procurement & Auditing Management, Awareness to Control Sound Pollution, Digital Signature, Public Financial Management, Research Methodology etc.
Foreign training: In FY 2021-2022, three officials of PKSF participated in training/workshop/meeting abroad. Deputy Managing Director-5 Dr Fazle Rabbi Sadeque Ahmed participated in a meeting titled 'Technical Assessment Session of Proposed Forest Reference Emission Levels and/or Forest Reference Levels' in Bonn, Germany. The workshop was organized by United Nations Framework Convention on Climate Change (UNFCCC) from 21-25 March. General Manager (Program)Dr AKM Nuruzzaman participated in a workshop titled 'Enhanced Direct Access' in Costa Rica. The workshop was jointly organized by Adaptation Fund Board Secretariat and Fundecooperacion from 21-23 June 2022. In addition, Deputy Manager (Program) Md Moznu Sarkar participated in a training program on 'Food Safety in the Dairy Sector' from 16 May – 03 June 2022 in Copenhagen, Denmark. The training was organized and sponsored by the International Fund for Agricultural Development (IFAD) and the Danish International Cooperation Agency (DANIDA).