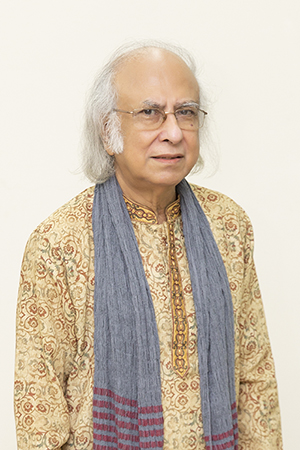 Short Biography of Dr Qazi Kholiquzzaman Ahmad
Dr Qazi Kholiquzzaman Ahmad, a renowned economist, development thinker and climate change expert, is the Chairman of PKSF. He is also the Chairman of the Governing Council of Dhaka School of Economics (DScE), a constituent institution of the University of Dhaka. During Bangladesh's War of Liberation in 1971, Dr QK Ahmad worked in the Planning Cell of the then Bangladesh Government-in-Exile.
The key focus of Dr Ahmad's vision of development is on the establishment of human rights and human dignity for all. According to him, the starting point of moving towards that goal necessitates the ensuring of access to basic education, skills training and basic and universal healthcare. Under the impact of his conceptualization of holistic development and leadership, PKSF has gradually evolved from a financing institution for exclusive microcredit to a development organization, focusing on human-centric multidimensional, integrated approach for poverty eradication and sustainable development. A basic element in this approach is human capability development through creating opportunities of education, skills development and health services. Also, a major focus is on enterprise development. Financing is no longer in terms of microcredit. It should be appropriate to the circumstances and purposes of the borrowers and provided along with necessary non-financial services such as skill training, support for access to technology, market information, marketing support, social capital formation, climate change awareness and possible climate actions. (Now, a borrower can have appropriate financial assistance from PKSF from BDT 20-25 thousand to BDT 10 lakh)
Dr Ahmad was the Co-chair of the committee that formulated Bangladesh National Education Policy 2010, which focuses, among many other aspects, on morality, inclusiveness and quality of education. Dr Ahmad is a well-known expert on climate change, and is an eloquent advocate of the concerns and adverse impacts on both natural and human systems and on the ways to address them.
He has for years been strongly promoting sustainable development in all its aspects. He has played a lead role at the national level in the cases of both government initiatives and civil society efforts in the formulation of the proposals and recommendations relating to the Post-2015 Development Agenda from the Bangladesh perspectives which was submitted to the United Nations. He also actively participated in the UN Open Working Group that debated and prepared the draft 2030 Agenda for Sustainable Development for the consideration and adoption by the UN General Assembly (UNGA). The UNGA adopted the Agenda on 25 September 2015.
Regional cooperation for mutual benefit has been another major focus of his research, dialogues, and advocacy activities since the late 1980s. On the management of water resources in particular, he has, in cooperation with other experts in the field from Bangladesh and other South Asian countries including India and Nepal, produced several pioneering research works on the Ganges-Brahmaputra-Meghna (GBM) region water issues. He has to his credit a number of publications on water issues.
Dr Ahmad has conducted a wide range of research works including on policy planning, food and agriculture, environment and climate change, water resources, rural development and employment generation, poverty alleviation, human development, women in development and gender issues. He has written (alone or jointly with others) 40 books and over 250 learned articles, published at home and abroad.
He is a former President (elected for three consecutive terms) of Bangladesh Economic Association (BEA), the founder Chairman of Bangladesh Unnayan Parishad (BUP), and a former Research Director at Bangladesh Institute of Development Studies (BIDS). He was the President of Kuala Lumpur-based Association of Development Research and Training Institutes of Asia and the Pacific (ADIPA, later renamed APISA) during 1979-83 and the Vice-President of Rome-based Society for International Development (SID) during 1988-91. He was also a member of the Executive Board (2011-14) of Clean Development Mechanism (CDM) under the Kyoto Protocol of the United Nations Framework Convention on Climate Change (UNFCCC). He was on the Intergovernmental Panel on Climate Change (IPCC) that won the Nobel Peace Prize in 2007, having been the Lead/Coordinating Author for the 3rd and the 4th Assessments, published respectively in 2001 and 2007.
He was a member of the National Water Resources Council of the Government of Bangladesh (GoB), 1997-2001; and an Honorary Adviser to the GoB's National Water Policy 1999 and National Water Management Plan formulation processes (1998-2001).
Dr Qazi Kholiquzzaman Ahmad was a member of the Syndicate of Bangladesh University of Engineering and Technology and Shahjalal University of Science and Technology. Currently, he is a member of the Senate of the University of Dhaka.
Dr Qazi Kholiquzzaman Ahmad was awarded the Swadhinata Puroshkar 2019 (the highest civilian award in Bangladesh) for his outstanding services promoting human and social welfare, and the Ekushey Padak in 2009 (second highest civilian award in Bangladesh) in recognition of his pro-poor development thinking and poverty alleviation activities. He was also awarded the National Environment Award 2019.