Learning and Innovation Fund to Test New Ideas (LIFT)
Palli Karma-Sahayak Foundation (PKSF) has been implementing the 'Learning and Innovation Fund to Test New Ideas (LIFT)' program since 2006 to encourage and patronize pro-poor financial and non-financial innovative initiatives. This program develops a wide range of new tools for poverty eradication so that the poor and the extremely poor can benefit from them. At present, the LIFT program is specifically tasked with implementing initiatives for the inclusive development of 16 disadvantaged groups identified by PKSF as well as poor-friendly off-farm based innovative initiatives.
The LIFT fund is open for both Partner Organizations (POs) and non-POs in order to experiment and implement innovative ideas on a large scale to bring the poor members out of extreme poverty. PKSF uses an innovation matrix to classify innovation and evaluate LIFT proposals. The LIFT fund is disbursed among project-implementing organizations both as loans and grants on the basis of the nature of the projects concerned.
Activities

Achievements
Some of the LIFT initiatives have had remarkable impacts on the sustainable economic growth of the extreme poor.
LIFT has helped a large number of extremely poor people in the Haor area of Kishoreganj, Sunamganj and Habiganj districts to ensure that they have access to financial services. This initiative has yielded a specialised loan product that brought over 22,000 poor members under financial service coverage.
Char land lease loan for the extremely poor of the Char and remote areas is a successful loan product of LIFT. It has strengthened the capacity of over 1,00,000 members to fight extreme poverty by ensuring self-employment opportunities and food security for them.
LIFT has introduced inclusive financing, capacity building and social awareness advocacy programme for the poor people with disability in Sitakunda of Chattogram and Saghata in Gaibandha. Besides, an initiative on "Sign Language" has recently been taken up for the students with hearing and speech impairments in Syedpur Upazila of Nilphamari.
A special program for elderly people — Improving Elderly People's Livelihood through Community Initiative — is going on in Munshiganj. Under this initiative, poor elderly people get financial and health services as well as capacity building training. For the expansion of its elderly program based on this initiative, PKSF has already developed a mainstream loan product named "Loan for Elderly People's Income Generation".
LIFT offers a number of financial and non-financial services to ensure socioeconomic development of the Dalits and ethnic minorities living in Dinajpur district. These impoverished people are being provided with grant, loan, training, education and healthcare services. LIFT is also implementing initiatives for protecting land rights and preserving cultural heritage of ethnic minorities in Thakurgaon district.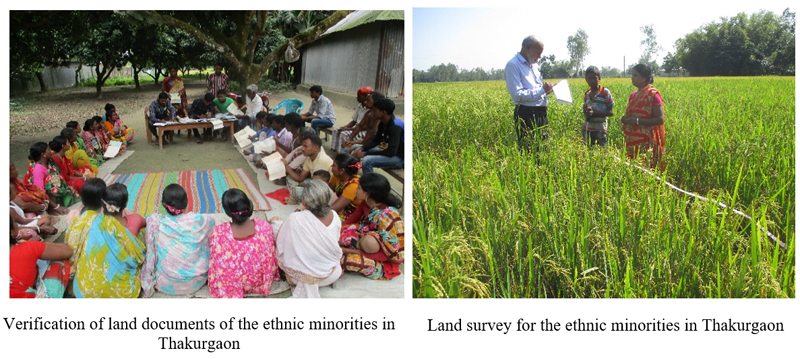 LIFT is working for adolescent girls and women subjected to abuse and violence as well as with those having mental disorder. The discourteous or drug-addicted boys or youth from poor families also get benefits under the initiative. This creative initiative aims to bring these destitute individuals back to the normal life.
PKSF is extensively working to address the crisis of potable water among the coastal poor. In this regard, 20 desalination plants have been established through 12 POs under LIFT for continuous supply of low-cost potable water for them. LIFT also provided 2,000 rainwater harvesting tanks for free to the coastal poor through nine POs. A study of PKSF through the Institute for Inclusive Finance and Development (InM) reflects the demand and opportunities for setting up more desalination plants throughout the coastal region.
The LIFT-financed community radios broadcast educative and recreational programs on disaster adaptation, education, health, livelihood, social awareness and folk music to connect the country's marginalized communities with the integrated development process.
The LIFT has a specialised initiative in Jibon Nagar, Chuadanga, to ensure public services for the poor. In this regard, a non-communal platform, styled "Lokmorcha", has been formed under LIFT with the participation of local leaders, development practitioners of private sectors, NGO workers as well as representatives from youth group, journalists, professional organizations, etc. The "Lokmorcha", on behalf of the poor people, works to make public service institutions more accountable towards the rights of and services to the poor.