The Hon'ble Prime Minister sanctioned a special allocation worth BDT 500 crore in favor of PKSF under the fourth stimulus package in fiscal year 2021-2022 to disburse loan among the low-income people affected due to the restrictions in the wake of Covid-19 pandemic. PKSF has already sent the partner organization-wise disbursement list to the Financial Institutions Division after it received the first instalment worth BDT 250 crore of this package. PKSF has completed disbursement of the rest BDT 250 crore among partner organizations by June 2022, and loan disbursement at the field-level is now underway. It may be mentioned that in case of disbursement of the last instalment worth BDT 250 crore under the 4th stimulus package, relatively high poverty-prone districts such as Kurigram, Bandarban, Satkhira, Khulna and Sunamganj are being given highest priority, alongside the affected low-income people across the country.
Earlier in FY 2020-2021, the government allocated BDT 500 crore in favor of PKSF under a stimulus package to tackle the negative impact of Covid-19 pandemic and to revive the economic activities of the rural poor and create self-employment opportunities for them.
On top of this BDT 500 crore, PKSF made available BDT 100 crore from its own fund to launch a specialized loan program styled Livelihood Restoration Loan (LRL) from September 2020. PKSF is disbursing this specialized loan through selected partner organizations (POs) to create self-employment opportunities and restore the pandemic-stricken economic activities of five categories of people-agriculture and agro-related rural entrepreneurs, micro and cottage industry-related entrepreneurs, trained youths, unemployed youths and the returnee migrant workers.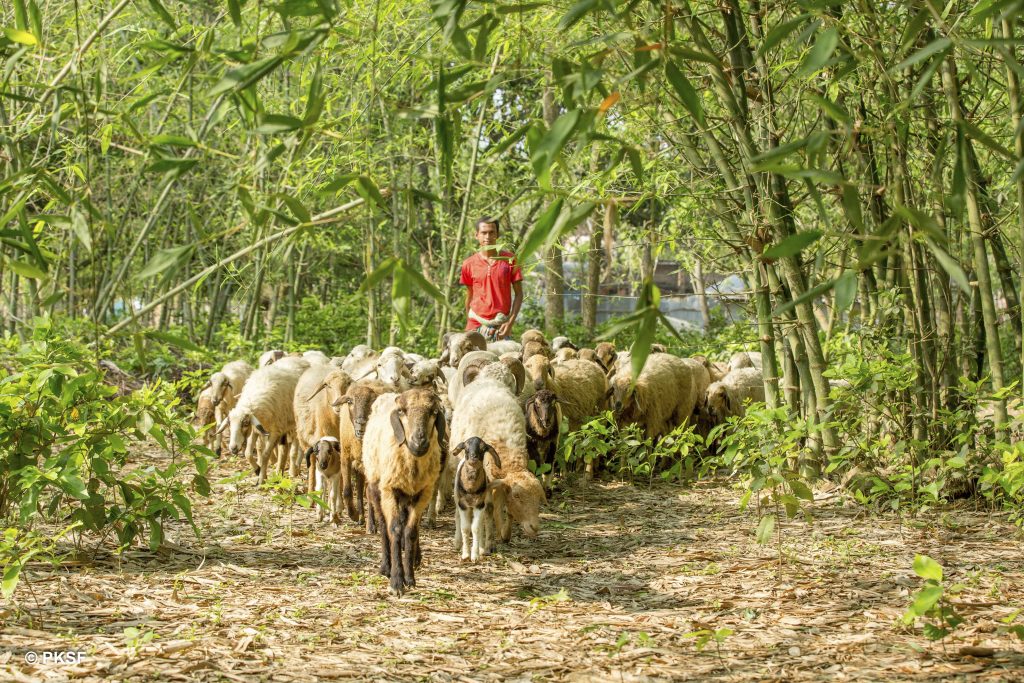 Presently, PKSF is implementing LRL Phase 2 with the BDT 500 crore received in FY 2021-2022 under a separate and flexible guideline prepared in line with the conditions set by the Financial Institutions Division. This specialized loan under LRL Phase 2 is being disbursed among the affected rural people categorised in three groups – poor, extreme poor and day labor.   Some main features of this loan program includes low service charge at PKSF to PO level, which is now 0.5%, down from 5% previously; equally low service charge at PO to borrower level, which is now 4%, down from 18% previously; and more flexible duration at the field level, which has been fixed at two years from one year. 
Fund disbursement under both programs (LRL and LRL Phase 2) with the government stimulus package is now underway. As of June 2022, a total of 4.26 lacs members received loan support worth BDT 1,460.08 crore under the two special loan.
A recent study by PKSF's research cell on the effectiveness of the LRL program found the loan support achieved its intended purpose, i.e., it has successfully restored the livelihoods and economic activities of the participants. The study found almost 91% of the disbursed loan has been used in income-generating activities. Sector-wise loan disbursement under the programs is presented in the table below:  
| | |
| --- | --- |
|   Sector | Direct use of the loan in IGA establishment |
| Agriculture and agro-related small entrepreneurs | 91.5% |
| Micro and cottage industry-related entrepreneurs | 87.2% |
| Trained youths | 91.6% |
| Unemployed youths | 90.9% |
| Returnee migrant workers | 94.7% |
| Total | 91% |
The Financial Institutions Division, Ministry of Finance, and other relevant stakeholders, have appreciated the LRL scheme to tackle the Covid-19 fallout. PKSF and its partner organizations are implementing these special loan programs with the stimulus package using their existing infrastructures. PKSF is being able to disburse the loan among the affected people in a quick manner as it has a vast network of partner organizations across the country.