Including the Excluded for Ensuring Human Dignity
Background
Target
Working Area
Features
Other Services
Achievements
Impact
'Buniad' is a Bangla word which means foundation. PKSF has been implementing 'Buniad' for the ultra poor people since 2004 previously known as Ultra Poor Program (UPP). Under 'Buniad', PKSF is providing flexible microcredit to the ultra-poor people. In addition to the financial service PKSF is also providing different non-financial services like primary health care, technical services for implementing income generating activities of the poor people, capacity building support at the time of disaster, training, awareness building on nutrition and social issues through some special projects. The main objective of Buniad is to support the ultra-poor people in such a way so that they become capable to create sustainable income opportunities and human dignity as well as they can lift out of extreme poverty.
Target People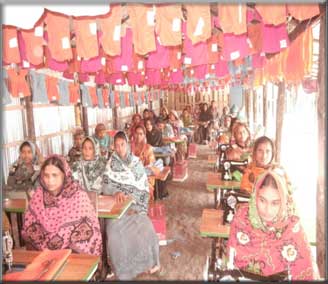 'Buniad' targets the following category of the ultra poor population:

Have less than or equal to 10 decimals of land (a tenth of an acre).

Earn livelihood through selling their labor.

Households with no permanent residence like slum-dwellers, who live in and around areas affected by river erosion, live besides dam.

Beggars, mobile sex workers, domestic help.

Widowed, divorced, abandoned and distressed women.

Female headed households dependent on others assistance.

Households dependent on child labor.

Old, physically challenged people and acid burnt women who have no permanent source of income.
Households face severe food crisis in a particular season of the year especially in the lean period.
Working Areas


'Buniad' particularly targets those areas of Bangladesh that are inaccessible and having very limited employment opportunities for the ultra-poor. Currently PKSF is implementing 'Buniad' through its 135 Partner Organizations all over Bangladesh.
Main Features of 'Buniad'


| | |
| --- | --- |
| Component | Features |
| Savings | Regular deposit of savings is mandatory but the amount of savings is not fixed. The ultra Poor people have to deposit savings in a specific rate as per their capacity. They can withdraw their own savings whenever they needed. The POs provide interest to the UP members on their savings as per MRA policy. |
| Group meeting | Group meeting is mandatory but the frequency of organizing the group meeting is weekly/fortnightly/monthly as per the group members' convenience. |
| Size of loan | Each ultra poor borrower will have maximum loan amounting to taka 10,000/- in the 1st year. The 2nd and subsequent loans will be sanctioned considering the type of the income generating activity, capacity of using the first loan and repayment of the first loan which can be any amount equal to or greater than tk.10,000/-to the concerned member. |
| Duration and mode of repayment |  The ultra poor borrowers have to repay the loan within one year by weekly/fortnightly/monthly installments as per their own convenience. |
| Service charge (rate) | The rate of service charge is 20% which is calculated by declining method of balance. This rate of service charge is lower compared to other loan programs of PKSF. |
| Transaction cost of borrowers | To become a member of 'Buniad', the ultra poor people do not have to pay charges related to purchase of passbook and forms of membership. They do not have to deposit any amount against their sanctioned loan. Other charges related to loan application are also waived for the ultra poor members. |
Other services provided to the ultra poor member
PKSF provides Disaster Management Loan, Land Lease loan for the ultra-poor people under 'Buniad'. Through the Land Lease Loan program the landless and marginal Ultra Poor Households (HH) who lives in char areas and engaged in agriculture, can acquire temporary land ownership rights by taking lease of cultivable land for crop cultivation. It creates opportunities for them to improve their livelihood by cultivating crops on leased in lands. PKSF also provides Disaster management loan to the ultra poor borrowers for natural and manmade disaster throughout the year.
Besides, since 2007, PKSF is implementing one of the largest extreme poverty programmes in Bangladesh named Programmed Initiatives for Monga Eradication (PRIME) with the assistance of DFID. The main objective of PRIME is to eradicate Monga or Monga-like Situation (the term `Monga' refers to pre-harvest seasonal famine triggered by low availability of agriculture related work) through creating self-employment and wage-employment opportunities for the extreme poverty stricken households. PRIME offers both financial services like: microcredit and emergency loan and non-financial services like: group formation, skill and vocational training, technical service, primary health care service and disaster management. For detailed information on PRIME please visit www.primepksf.org.
PKSF has been implementing another Project named Ultra Poor Programme-Ujjibito (UPP-Ujjibito) targeting the existing ultra poor members of PKSF's ultra poor program since November 2013. The development partner is European Union. Through this project PKSF is providing different non-financial services for the ultra-poor members like skill & vocational training, technical service for IGA activities, primary health care service; and awareness building on practical nutrition and social issues.
Achievements 

Table: Achievements of Buniad (Feb 2021)
| | |
| --- | --- |
| Particulars | Total (Tk.) |
| Cumulative Disbursement (PKSF to PO in lac) | 278812.00 |
| Loan Outstanding (PKSF to PO in lac) | 30582.36 |
| Cumulative Disbursement (PO to Members in lac) | 1017416.50 |
| Loan Outstanding (PO to Members in lac) | 48677.64 |
| Recovery Rate in the field | 99.44% |
| Average Loan Size (Thousands) | 22358 |
| Total Savings (in lac) | 28728.22 |
| Total Members | 678922 |
| Total Borrowers | 402630 |
Impact
The ultra poor people are not homogeneous but most of them face similar challenges. The biggest challenge that the ultra poor face is the lack of a consistent income. Through 'Buniad', PKSF is providing financial support to the income generating activities of the ultra poor with lower service charge and considerable flexibilities. With this support, ultra poor members are now getting involved in sharecropping, small enterprise, food processing, tailoring and various types of income generating activities, resulting secured income and improved livelihood.
| | |
| --- | --- |
| IGA | Percentage (%) |
| Sharecropping | 25.97 |
| Small Enterprise | 22.27 |
| Beef Fattening | 10.87 |
| Rickshaw/Van pulling | 11.07 |
| Goat Rearing | 6.72 |
| Duck and Chicken Rearing | 4.74 |
| Handicrafts | 4.53 |
| Food Processing | 3.53 |
| Tailoring/Embroidery | 2.34 |
| Others | 7.97 |
| Total | 100 |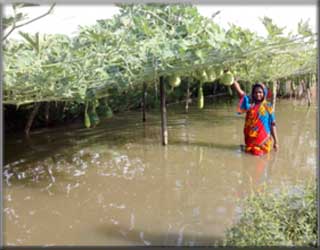 The management of PKSF has approved recently a strategic plan, including short, medium and long term dimensions, based on geographical diversity, demographical characteristics, nature of occupation and other heterogeneous conditions of ultra-poor. For developing the strategic plan, PKSF has considered multidimensional nature of poverty, proposed post-2015 development target, the pathway to reaching the level of a middle-income country, alongside learning from implementation of the ultra-poor program through the years. Under this plan, two approaches such as 'Service Delivery' and 'Policy Advocacy' have been adopted for developing the standard of living of ultra-poor. The ultra-poor have been divided into six groups and this again has been further split into 15 sub groups for initiating inclusive program for them. The particular objective is to improve their socio-economic conditions. The groups and sub-groups under this plan are (1). Class based group (Sub-group: repressed or socially deprived class; small ethnic group; and gypsy tribe; (2). Occupation based class (sub-group: tea worker, beggar, household worker, sex worker, and agriculture worker; (3). Regional class (Sub-group: ultra-poor living at haor areas, ultra-poor living at different char and island); (4). Class based on health/age (disabled, street child, and insolvent aged people); (5) Environment/climate based class (sub-group: ultra-poor due to environment and climate change) and (6). Female headed ultra-poor households. Initiative of collecting data from the ultrapoor households has been undertaken.