News
PKSF MD Visits PKSF Activities in Chapainawabganj
PKSF MD Visits PKSF Activities in Chapainawabganj
Dr Nomita Halder ndc, Managing Director of PKSF, inspected various field-level activities of PKSF in Chapainawabganj on 16 January 2022. PKSF's Deputy General Manager Md Ashraful Haque, Assistant General Manager Md Manir Hussain and Program Development Officer Md Golam Rabbani accompanied Dr Halder. Md Hasib Hossain, Executive Director of Proyas Manobik Unnayan Society, a Partner Organization (PO) of PKSF, was also present there.
During the visit, the PKSF Managing Director visited different farm and off-farm activities under ENRICH, LIFT, Uplifting the Quality of the Lives of the Elderly People Program, and Sustainable Enterprise Project (SEP). She exchanged views with the members of the disadvantaged Harijan and Santal communities. She talked to about 150 members of the ethnic minority communities.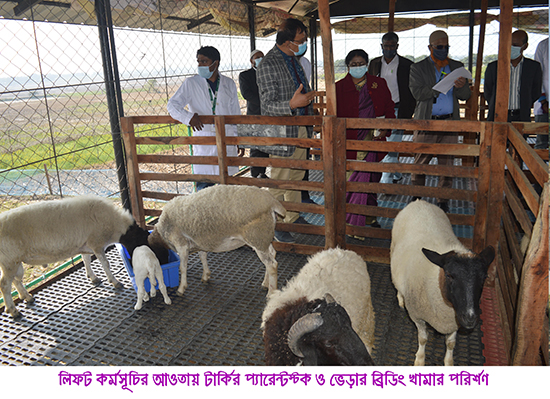 Dr Halder visited a health camp under the ENRICH program at Nezampur Union in Nachol upazila and exchanged views with the doctors, health workers and patients. She handed over wheelchairs to three ailing elderly persons and had a meeting with the members of 'Youth in Development' component under the ENRICH program.
She visited a tea stall of Md Tabzul Haque, formerly a beggar who has not been rehabilitated through the ENRICH program, at Dogachhi in Nezampur Union. She later inspected a sheep breeding farm established under the LIFT program in Mayapukur.
Dr Halder visited an ecological fruit garden at Amarak in Gobartala Union, a vermicompost production center, and an aquarium fish and eel fish breeding center under the SEP.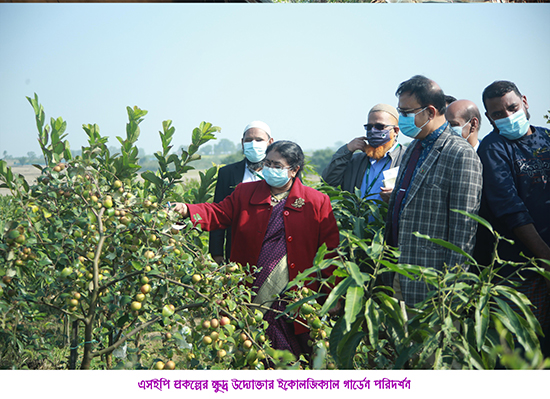 Later, she joined a meeting to exchange views with members of two microcredit groups of ethnic minority people at Nadhai in Gobratala Union. Members of the Santal community there are getting various financial (grants and flexible loans) and technical services for vegetables and cereal crop cultivation, cattle rearing, fish farming etc.
Dr Halder also joined a program on a community radio station, where she spoke about her own adolescent years, education, and work life.