Promoting Financial Services for Poverty Reduction (PROSPER)
Learning and Innovation Fund to Test New Ideas (LIFT)
Palli Karma-Sahayak Foundation (PKSF) has been implementing the 'Learning and Innovation Fund to Test New Ideas (LIFT)' program since 2006 to encourage and patronize pro-poor financial and non-financial innovative initiatives. This program develops a wide range of new tools for poverty eradication so that the poor and the extremely poor can benefit from them. At present, the LIFT program is specifically tasked with implementing initiatives for the inclusive development of 16 disadvantaged groups identified by PKSF as well as poor-friendly off-farm based innovative initiatives.
The LIFT fund is open for both Partner Organizations (POs) and non-POs in order to experiment and implement innovative ideas on a large scale to bring the poor members out of extreme poverty. PKSF uses an innovation matrix to classify innovation and evaluate LIFT proposals. The LIFT fund is disbursed among project-implementing organizations both as loans and grants on the basis of the nature of the projects concerned.
Activities

Achievements
Some of the LIFT initiatives have had remarkable impacts on the sustainable economic growth of the extreme poor.
LIFT has helped a large number of extremely poor people in the Haor area of Kishoreganj, Sunamganj and Habiganj districts to ensure that they have access to financial services. This initiative has yielded a specialised loan product that brought over 22,000 poor members under financial service coverage.
Char land lease loan for the extremely poor of the Char and remote areas is a successful loan product of LIFT. It has strengthened the capacity of over 1,00,000 members to fight extreme poverty by ensuring self-employment opportunities and food security for them.
LIFT has introduced inclusive financing, capacity building and social awareness advocacy programme for the poor people with disability in Sitakunda of Chattogram and Saghata in Gaibandha. Besides, an initiative on "Sign Language" has recently been taken up for the students with hearing and speech impairments in Syedpur Upazila of Nilphamari.
A special program for elderly people — Improving Elderly People's Livelihood through Community Initiative — is going on in Munshiganj. Under this initiative, poor elderly people get financial and health services as well as capacity building training. For the expansion of its elderly program based on this initiative, PKSF has already developed a mainstream loan product named "Loan for Elderly People's Income Generation".
LIFT offers a number of financial and non-financial services to ensure socioeconomic development of the Dalits and ethnic minorities living in Dinajpur district. These impoverished people are being provided with grant, loan, training, education and healthcare services. LIFT is also implementing initiatives for protecting land rights and preserving cultural heritage of ethnic minorities in Thakurgaon district.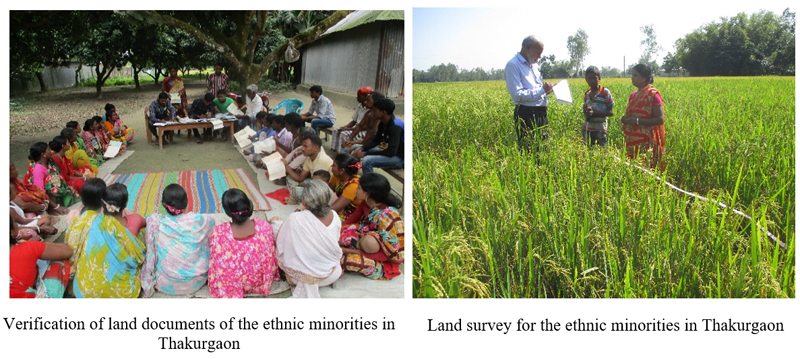 LIFT is working for adolescent girls and women subjected to abuse and violence as well as with those having mental disorder. The discourteous or drug-addicted boys or youth from poor families also get benefits under the initiative. This creative initiative aims to bring these destitute individuals back to the normal life.
PKSF is extensively working to address the crisis of potable water among the coastal poor. In this regard, 20 desalination plants have been established through 12 POs under LIFT for continuous supply of low-cost potable water for them. LIFT also provided 2,000 rainwater harvesting tanks for free to the coastal poor through nine POs. A study of PKSF through the Institute for Inclusive Finance and Development (InM) reflects the demand and opportunities for setting up more desalination plants throughout the coastal region.
The LIFT-financed community radios broadcast educative and recreational programs on disaster adaptation, education, health, livelihood, social awareness and folk music to connect the country's marginalized communities with the integrated development process.
The LIFT has a specialised initiative in Jibon Nagar, Chuadanga, to ensure public services for the poor. In this regard, a non-communal platform, styled "Lokmorcha", has been formed under LIFT with the participation of local leaders, development practitioners of private sectors, NGO workers as well as representatives from youth group, journalists, professional organizations, etc. The "Lokmorcha", on behalf of the poor people, works to make public service institutions more accountable towards the rights of and services to the poor.
Programmed Initiatives for Monga Eradication (PRIME)
PKSF launched Programmed Initiatives for Monga Eradication (PRIME) in 2006 to address the distress of people affected by Monga and Monga-like situations. The programme was designed to be implemented in the north-western region of Bangladesh which faces acute hunger during the pre-harvest months of October-December. This period locally known as Monga is characterized by minimal access to food and a dearth of earning opportunities for the landless and wage labourers in the region. From 2010, PRIME started working in the natural disaster-prone south-western region which were earlier hit by cyclone and other calamities and had been suffering from water salinity and acute poverty. The primary focus of PRIME is to create wage-employment and self-employment opportunities for the Monga-affected people to ensure their income throughout the year. Therefore, the objective of PRIME is to fight the adverse consequences of Monga in the north and Monga-like situations in the south as well as to enhance the capability of the ultra poor to cope up with its economic hardships in short-term while help alleviate poverty in the long term. PRIME delivers holistic package of financial and non-financial services through seven components; namely group formation; provision of Flexible Microcredit (FMC); provision of Emergency Loan (EL); technical services; skill development/vocational training; primary health-care services and disaster management.
PRIME working areas
The working area of PRIME comprises35 upazilas of Rangpur, Lalmonirhat, Nilphamari, Kurigram and Gaibandha districts of northern region; 12 upazilas of Satkhira, Khulna and Barisal and Barguna of south-western region and 3 upazilas of Jamalpur of north-eastern region. 24 Partner Organisations (POs) were selected for the implementation of PRIME, 13 POs from northwest region and 14 POs from southwest & northeast region. PRIME is being operated through 202 branches in the north and 107 branches in the south of Bangladesh and at Jamalpur.

PRIME ends this year
The extreme poverty focused PRIME programme completed its 1st phase in June 2016 covering 0.51 million ultra poor HHs in the north-western, south-western and north-eastern region of Bangladesh. Both field-level observations and independent evaluations revealed that over the last nine years, PRIME has made significant positive impact on employment, income, food-security, social integration and resilience to different kinds of shocks of the ultra poor households. Longitudinal impact studies on PRIME by the Institute of Microfinance (InM) also show that PRIME model is an effective tool for reducing both economic and multi-dimensional poverty of extreme poor living in the most vulnerable location of the country. PRIME has resulted increase in annual income of the targeted households from Tk. 37,000 in 2008 to Tk.1,42,638 in 2016; food security remarkably increased from merely 4% only in 2007 to 99% in 2016 during Monga period; monthly working days during the Monga period in 2007 was virtually non-existent but now increased to average 20 days/month (269 days/year) for each household; and the total family assets (savings and physical assets) also increased significantly by 240% from Tk.61,700 in 2008 to Tk.211,000 in 2016. PRIME has a significant contribution in Monga eradication in Rangpur Division. It has also reduced the vulnerability of AILA and SIDR affected extreme poor of south-western coastal areas. The Multi-dimensional Poverty Index (MPI) of PRIME households was 40% less (0.25 Vs 0.41) than that of non-PRIME extreme poor. Women from PRIME HHs were significantly more empowered (0.96 Vs 0.39) than the non-PRIME control extreme poor. Human dignity was significantly higher (latest score 4.19 Vs 3.65) in PRIME HHs than those of non-PRIME. Nutritional status of under-5 children and women of child bearing age of PRIME HHs were quite comparable to that of the national data. Recent study by the DFID showed that PRIME is the least costly and yet most effective extreme poverty programme of Bangladesh.

Lessons learned from PRIME

Extreme poor should be properly targeted with standard key elements of extreme poor characteristics.

Extreme poor are not homogenous group in their characteristics; they differ in their human capacity, financial/asset base, access to market, geographic/climatic vulnerability and social capital. The programme should response to this aspect of extreme poor characteristics.

Financial services alone are insufficient for the extreme poor they need sustained financial, technical and generic human capital investments.

Extreme poor need long term (at least 4-5 years) programme support for sustainable graduation out of extreme poverty.

Farming related, more specifically livestock based intervention should get priority as livelihood option. Enterprise development should be the aim.

Extreme poor should have diversified income sources (both farming and non-farm) so to reduce their vulnerability and increase their resilience especially in climatically challenged conditions.

Helping extreme poor to make markets work better for them is a big challenge due to accessibility and quality compliances.

Extreme poverty programme should not target threshold graduation rather it should aim for family based sustainable graduation programme.

Extreme poverty programme not necessarily have to be very costly but at the same time costs should be considered as a component of public social service provision for extreme poor up to a 'sustainable graduation'.
A Case Study on PRIME Member:
Munira Maya: a victory against poverty, an example to live by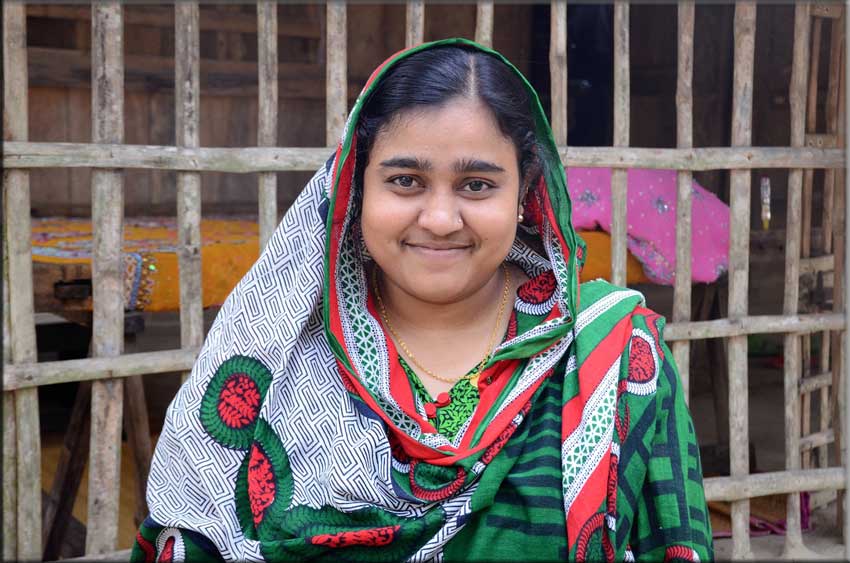 Hers is not a story of merely struggling through poverty and achieving solvency in life; nor is it an over-glorified tale of success that development workers often enjoy sharing to exhibit the purported effectiveness of their activities.
Munira's story is sewn with sufferings, painted with plights, saturated with sorrows and soaked in tears; it is a tale of her unbending willpower, indomitable spirits, relentless hard work and the eventual smile of victory against a life marked by excruciating poverty.
Her full name is Munira Akter Maya, now a confident 24-year-old woman, mother of a fourth-grader son, and torchbearer for her husband Maruf Hossain Biplob, 38, who once lost his way and would probably have to forever live in disgrace hadn't Maya stood so firm against all odds.
"He borrowed about Tk 5 lakh to go abroad for work. But he was conned out of everything by some unscrupulous overseas manpower traders," Munira said as we were sitting at the tiny front yard of her house in Haybatpur, a small village under Shyamnagar upazila some 60km from the Satkhira district town in Southern Bangladesh. The Indian border was only a few kilometres from her house.
"And then began our real nightmares. The money-lenders would come to us day and night wanting money. Unruly as they were, they would often threaten us with consequences. But where could we find so much money? … At one stage, my husband fled to India to save himself. This left me in a worse situation.
"There was no end to insults, Sir. The money-lenders would hurl every abusive word in their stock at me. I am a woman. How could I possibly counter them? My head would hang in shame," Munira stopped, attempting to hold back her tears, but unsuccessfully."
"While I was grappling to support myself and son and to pay the debt, Jagaroni Chakra Foundation (one of the 24 Partner Organisations through which the Programme was implemented) came here with the PRIME," she continued after recomposing herself. "That was in 2011. I became a member and was trained on embroidering and designing sarees. Later, I received a grant of Tk 20,000 and took a loan of another Tk 20,000 to buy the raw materials to start the business. This was the turning point of my life."
When she joined the PRIME, her monthly income was around Tk 1,500 which she would make by rearing chickens and working as a maid. Within a year, she became a trainer under the PRIME and started earning around Tk 14,000 each month. "At the same time, I would work on designing and embroidering sarees at night".
"Gradually, I repaid all the debts and my husband returned home. I bought him a motorcycle so that he could earn on his own."
Motorcycles are very popular among commuters in southern Bangladesh. The communication infrastructure there is so poor that four-wheelers cannot operate outside the main towns. Hence, motorcycles are hired, much like the taxis, for travelling from one village to another or to the town areas.
"We had no land. We used to live in a tiny rented house. A few years ago, I bought this piece of three-decimal land with my own income and constructed this house. I have a home now," Maya said, pointing to her two-room wooden house on a mud platform.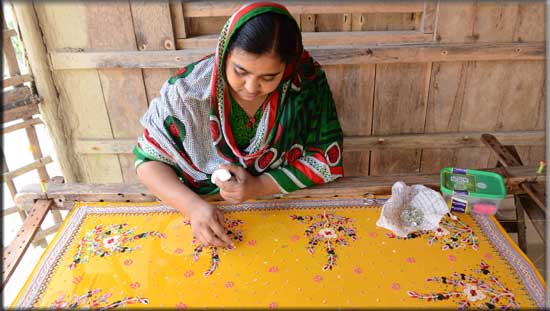 On the veranda was a square wooden frame with a bright yellow georgette saree strung on it. As we asked what it was for, Maya said she was working on a new saree and explained how it is done.
"Now I take work orders from contractors in Dhaka and distribute the work among the women I have trained. Around 60 women work for me round the year and the number goes as high as 150 before the festival seasons like Eid and Durga Puja."
Maya, however, doesn't make a lot of money. "My monthly income stands between Tk 8,000 and Tk 10,000. During the peak season, it goes up to Tk 15,000-20,000."
"I definitely could make more from the orders I get. But I want the women who work for me get what they deserve. I know how it feels to have nothing, to feel deprived. So, it fills my heart with joy when I realise that I have pulled not only myself out of extreme poverty, but also others in the process."
Her growing economic strength has also resulted in her empowerment. "All my relatives, who used to ignore me in the past, now seek advice from me before planning something. They value my opinion. My husband respects my decisions. Even those money-lenders, who once would treat me like a lesser human, gives me 'Salaam' when they see me," said a beaming Munira, whose Arabic name itself means 'luminous'.
Asked about her future plans, she says she wants to establish direct contact with the wholesalers in Dhaka, instead of relying on the middlemen. "I also want to rent a place where my workers can sit together and work. And when I have saved enough money, I want to open a showroom at a prime location in Shyamnagar town."
As we were preparing to leave her house, Munira said, "Sir, I could never thank you enough for what you have done. May Allah bless you all!"