News
ECCCP-Flood: PKSF MD Closes 3-day Refresher Training
ECCCP-Flood: PKSF MD Closes 3-day Refresher Training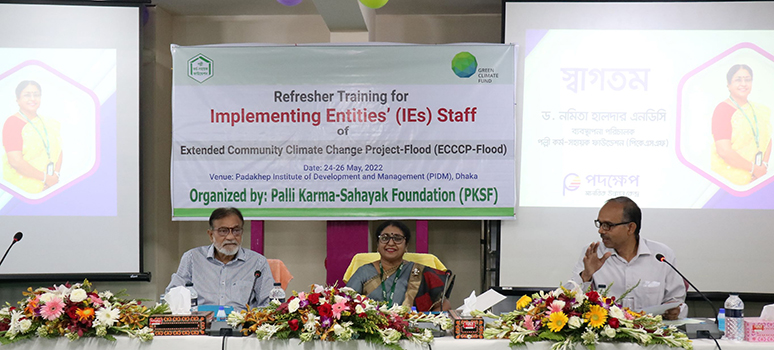 The closing ceremony of a three-day-long training titled "Refresher Training for the Implementing Entities' (IEs') Staff" organized under the Extended Community Climate Change Project-Flood (ECCCP-Flood) of Palli Karma-Sahayak Foundation (PKSF) was held on 26 May 2022.

PKSF Managing Director Dr Nomita Halder NDC was the Chief Guest of the ceremony held at Padakhep Institute of Development and Management (PIDM) in the capital's Mohammmadpur.

Other guests included PKSF's Deputy Managing Director Dr Fazle Rabbi Sadeque Ahmed and Md Shahjahan Majumder, Secretary (retd) at the Ministry of Chattogram Hill Tracts Affairs, who also is an Adviser of Padakhep Manbik Unnayan Kendra (PMUK) – a Partner Organization (PO) of PKSF.

The purpose of the training was to enhance the capacity of the project staff of the IEs on sustainability of ECCCP-Flood interventions, online database management, training and communication management, gender action plan, structural management, grievance redress mechanism, etc.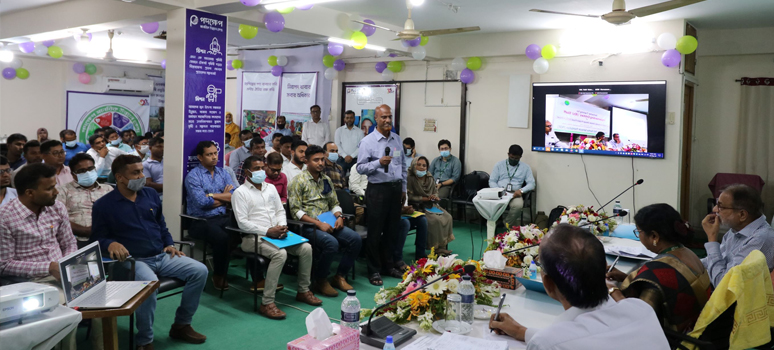 Project Coordinators, Technical Officers and Field Facilitators of the project's IEs (NDP, TMSS, ESDO, POPI, PMUK, SHARP, NAZIR, GBK and SSS) participated in the training.

In her speech, Dr Halder thanked all participants for taking the training and requested them to practice and implement in the field the knowledge learnt from the training.

ECCCP-Flood is financed by the Green Climate Fund (GCF).