News
1st Annual Coordination Meeting of BD Rural Wash for HCD Held
1st Annual Coordination Meeting of BD Rural Wash for HCD Held
The first annual coordination meeting of The Bangladesh Rural Water, Sanitation and Hygiene for Human Capital Development (HCD) project was held at PKSF Auditorium on 26 May 2022. The meeting was chaired by Dr Md Jashim Uddin, Additional Managing Director of PKSF.
Md Abdul Matin, General Manager and Project Coordinator of BD Rural Wash for HCD gave a presentation on the work plan, implementing strategy and progress of the project.
Rokeya Ahmed, Task Team Leader, World Bank, and Md Tabibur Rahman Talukder, Project Director, Department of Public Health and Engineering (DPHE) also spoke in the conference.
In the second session of the conference, Mohammad Enamul Hoque, Dr Nepal Chandra Dey, Md Zahid Hossain, Azahar Ali Pramanik and Arif Ahmed gave presentations on social and environmental safeguard issues, technical aspects, monitoring and verification process. Executive Directors and focal persons from 57 project implementing Partner Organizations (POs) participated in the conference and shared their views during the open discussion session. Rokanuzzaman, Deputy Project Coordinator of the project, gave the vote of thanks to conclude the daylong event.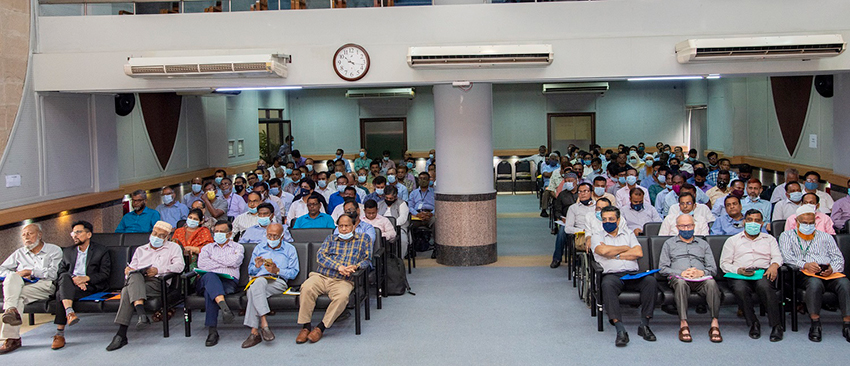 The Government of Bangladesh is implementing the Bangladesh Rural Water, Sanitation and Hygiene for Human Capital Development Project with financial support from the World Bank (WB) and the Asian Infrastructure Investment Bank (AIIB) to reform institutions and improve WASH services that meet the 'safely-managed' services in line with SDG targets of 6.1 and 6.2. The Project Development Objectives are to: (i) improve access and quality of water supply, sanitation, and hygiene (WASH) services in selected areas of rural Bangladesh, and (ii) strengthen sector policy and institutional capacity. PKSF and the Department of Public Health Engineering (DPHE) are implementing specific components of this project.