News
Family plays key role in protecting elderly people's rights: PKSF Chairman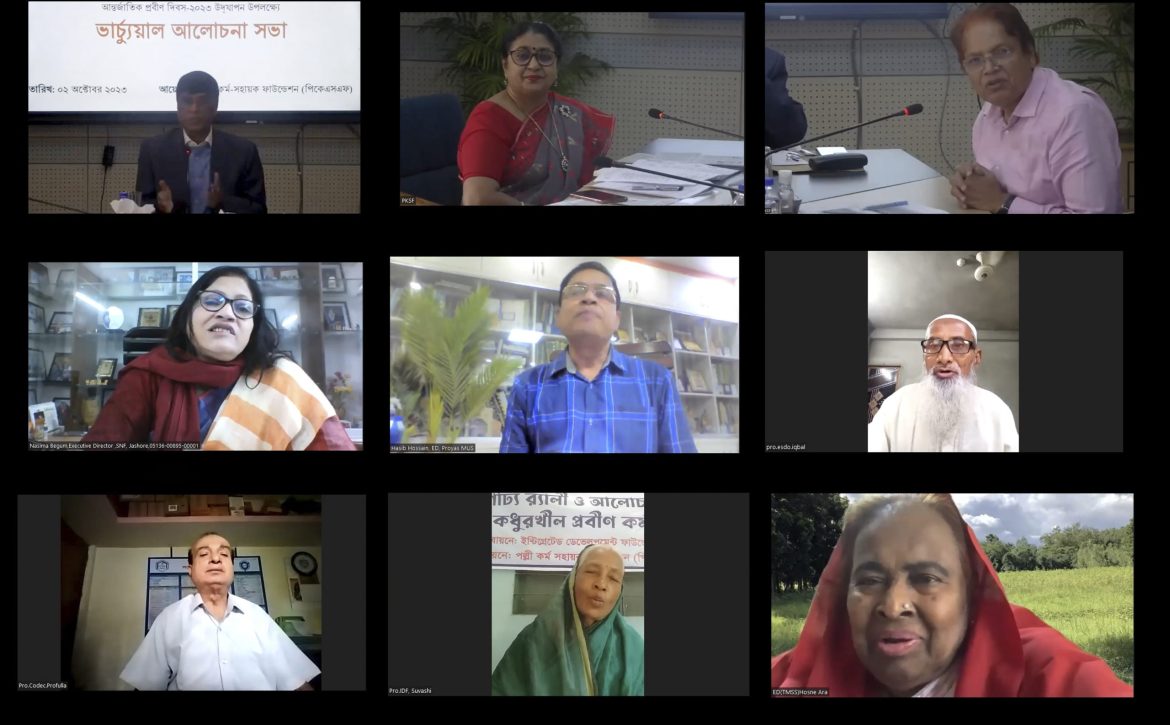 PKSF Chairman Dr M Khairul Hossain said that the Government of Bangladesh has taken various initiatives to protect the rights of the elderly. However, protecting the rights of the elderly must start from the family, ‍he added.
He made this comment at a virtual discussion meeting organized by PKSF on 2 October 2023 to mark the International Day of Older Persons. Speaking as the chair of the program, Dr Hossain said that parents should impart morals and values in their children in such a way that when they grow up, they respect the elderly and take care of them.  
Dr Nomita Halder ndc, Managing Director of PKSF, moderated the event. She urged government and non-government organizations to work together to protect the rights of the elderly people.
In Bangladesh, 40 children drown every day and the number is 14,600 per year, said PKSF General Body Member Gowhar Naeem Wara. These incidents mostly take place between 11am to 3pm when their mothers are busy with household chores including cooking. If arrangements can be made to keep children in the PKSF-established Elderly Centers across the country for this period, the incidents of children drowning will reduce significantly, he commented.
Highlighting different aspects of PKSF's 'Uplifting the Quality of the Lives of the Elderly People' program, Dr Md Jashim Uddin, Additional Managing Director of PKSF, said that this program aims to ensure economic and social development of the disadvantaged elderly. However, this program needs countrywide expansion, which cannot  be done by PKSF alone. He requested all concerned to come forward to this end.
Members of the Governing Body and the General Body of PKSF, Chief Executives of different Partner Organizations and elderly representatives from 212 Unions participated in this virtual meeting. The theme of this year's International Day of Older Persons was 'Fulfilling the Promises of the Universal Declaration of Human Rights for Older Persons: Across Generations'.