News
PKSF and POs Donate BDT 4cr to HPM's Relief Fund
PKSF and POs Donate BDT 4cr to HPM's Relief Fund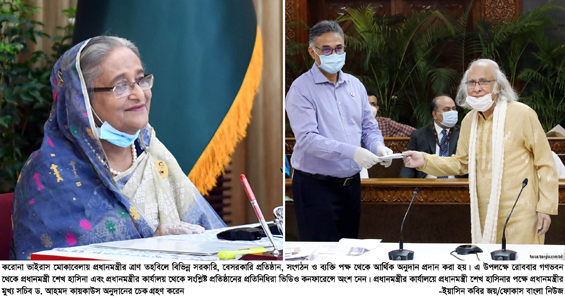 Palli Karma-Sahayak Foundation (PKSF) and its Partner Organizations (POs) have donated BDT 4 crore to the Hon'ble Prime Minister's Relief Fund.
In a program at the Prime Minister's Office (PMO) on 10 May 2020, PKSF Chairman Dr Qazi Kholiquzzaman Ahmad handed over the cheque of the donation to Dr Ahmad Kaikaus, Principal Secretary to the Hon'ble Prime Minister. PKSF Managing Director Mr Mohammad Moinuddin Abdullah was with the PKSF Chairman at the time.
To complement the Government's measures to combat Covid-19 spread, the POs of PKSF have also distributed food packages among more than 1.34 lakh families, and emergency protective materials (such as surgical gloves and masks, soaps, hand sanitizers, Personal Protective Equipment etc) among various personnel and organizations across Bangladesh. Apart from these, they are carrying out various awareness campaigns as well to keep people safe from Covid-19 contraction.