News
PKSF Managing Director inspects interventions in Cumilla and Lakshmipur
Development at Grassroots
PKSF Managing Director inspects interventions in Cumilla and Lakshmipur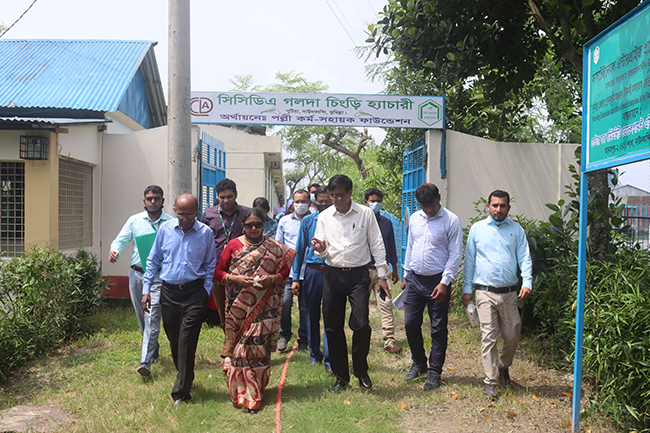 In order to inspect various development interventions in the field, PKSF Managing Director Dr Nomita Halder ndc visited different sites in Cumilla and Lakshmipur districts on 12 and 13 June 2022. The activities there are implemented by PKSF's Partner Organizations (POs) Center for Community Development Assistance (CCDA), PRISM Bangladesh Foundation, Community Development Center (CODEC), and Society for Project Implementation Research Evaluation & Training (SOPIRET).
Dr Halder was leading a PKSF team comprising, among others, Deputy Managing Director Dr Tapash Kumar Biswas, Deputy General Manager Md Humayun Kabir, Manager Dr Syeda Khaleda and Deputy Manager Asfak Mahmud.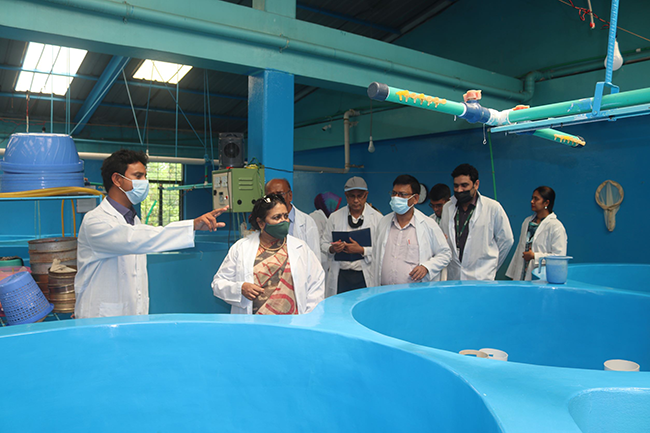 The interventions the PKSF team visited included a lobster hatchery of CCDA in Daudkandi of Cumilla district and the Nakshi Katha (embroidered quilt) stitching activities supported by the MDP project of PKSF and implemented by PRISM Bangladesh Foundation in Lakshmipur Sadar.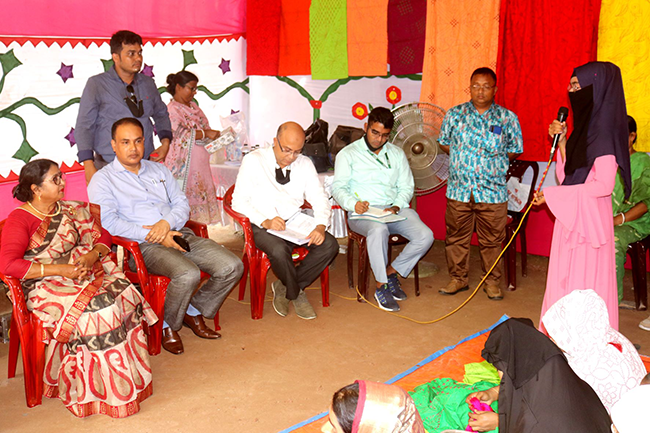 Dr Halder attended a training session on protecting livestock under the LRMP project of PKSF, and agricultural activities such as mixed-fruit orchards, and sugarcane and papaya cultivation, all of which are being implemented through CODEC in Raipur upazila of Lakshmipur district.
During the SOPIRET chapter of the field trip in Lakshmipur, she also visited coconut oil producing microenterprises supported by PKSF's Sustainable Enterprise Project in Lakshmipur Sadar, interventions under the ENRICH program in Laharkandi Union, a livestock farm established and run with the support of the Agrosor program, and activities on ensuring safe water and sanitation for rural people under the BD Rural WASH for Human Capital Development project.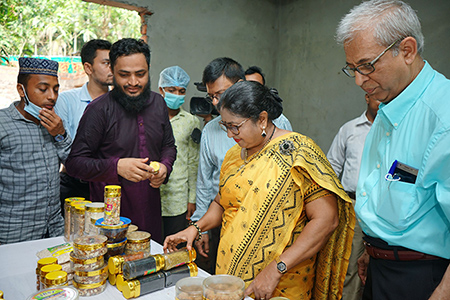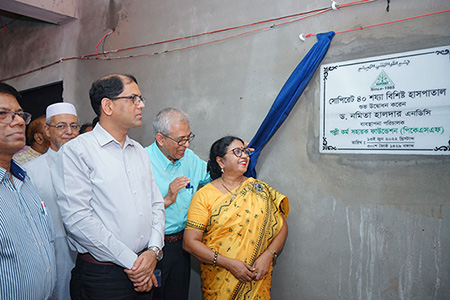 A former Secretary of the Government of Bangladesh, Dr Nomita Halder ndc inaugurated a 40-bed hospital founded by SOPIRET on 13 June. Lakshmipur's Deputy Commissioner Md Anwar Hossain Akand and SOPIRET's Executive Director Professor Mohammed Moslehuddin, PhD, were also present at the inauguration program.
The PKSF Managing Director also attended some presentation sessions arranged by different POs and enjoyed cultural performances by members of PKSF's Program for Adolescents.