News
SEP Mid-term Evaluation Report
Mid-term Evaluation Report Reveals
80%+ SEP Microenterprises Practice Environmentally Sustainable Methods
Researchers have found out that 80.14 percent of the microenterprises (MEs) under Sustainable Enterprise Project (SEP) adopted at least one environmentally sustainable practice for their businesses. This was disclosed at a presentation on the Mid-term Evaluation Report of SEP on 21 October 2021 at PKSF Bhaban. The third-party consultant Pathmark Associate Limited also commented that 78 percent of them vowed to continue such environmental practices in the future. It also rated the adoption of such practices by the MEs as 'satisfactory'.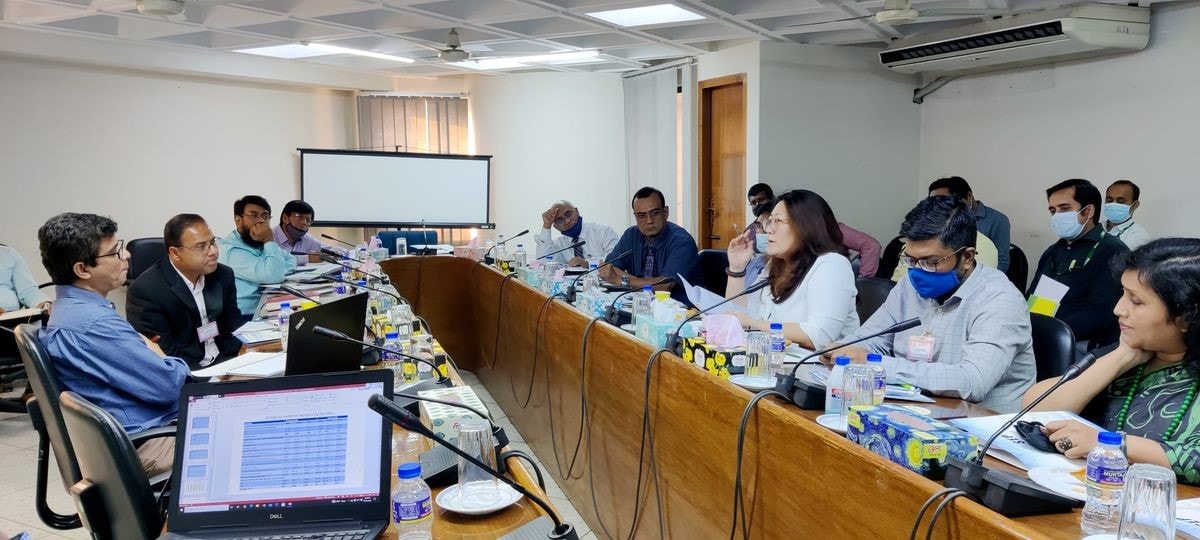 Mr Md Fazlul Kader, Additional Managing Director, PKSF delivered the welcome speech in the session. The team leader of the research group — Professor Dr AQM Mahbub, Vice-Chancellor of Bangabandhu Sheikh Mujibur Rahman Science and Technology University — and Ms Eun Joo Allison Yi, Senior Environmental Specialist and Task Team Leader of the World Bank, Dr Tapash Kumar Biswas, Deputy Managing Director, PKSF, Mr Zahir Uddin Ahmed, Deputy General Manager of PKSF & Project Coordinator of SEP along with other officials of the World Bank, PKSF and Pathmark were present.
Dr ABM Shah Jalal, senior advisor & consultant of Pathmark, and Dr M Shafiqur Rahman, Professor, University of Dhaka made the presentation. They remarked that the state of the factories and business premises including the residences of the micro-entrepreneurs has visibly improved. They further mentioned that SEP need to be promoted and replicated for future sustainable business growth. They recommended that digital financial services for the MEs be introduced and support for an ME-friendly certification system to access the premium markets be ensured.
Ms Eun Joo Allison Yi said that usually it takes a long time to see the environmental benefits. That is why the data primarily show lower growth. After a few years, the real change would become more visible. The question is to get the support until we get there. We have to be very patient with the MEs and gradually other variables like health, happiness should be included.
Dr AQM Mahbub thanked the World Bank team for their positive comments on the presentation. He reported that there are about 10 million MEs that contribute one-fourth of the total GDP of Bangladesh. Addressing the environmental problems of the MEs, he also pointed out that bigger industries get a large amount of loans from the banks with lower interest rates while the MEs get lesser amount with higher rates.
Professor Dr M Abu Yusuf, a member of the research team, mentioned that SEP focuses on inclusive development, which can also contribute to the achievement of the Sustainable Development Goals (SDGs). The branding support to the MEs can help them reach a wider market.
Dr Tapash Kumar Biswas thanked Pathmark and mentioned that necessary actions will be taken to address the issues raised in this study. The moderator of the session, Mr Zahir Uddin Ahmed thanked everyone for their participation.