News
World Bank Country Director Meets PKSF Managing Director
World Bank Country Director Meets PKSF Managing Director
Discusses success of WB-funded low-cost housing project implemented by PKSF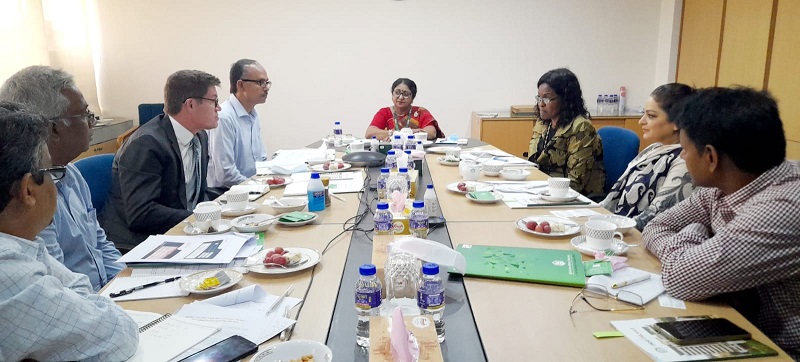 Mercy Miyang Tembon, the World Bank's Country Director for Bangladesh and Bhutan, met PKSF Managing Director Dr Nomita Halder NDC on 18 May 2022 at PKSF Bhaban.
The WB's Practice Manager Robin Mearns, Senior Social Development Specialist Sabah Moyeen and Consultant Engineer Md Rafiqul Islam-Sasda, and PKSF's Deputy Managing Director Dr Fazle Rabbi Sadeque Ahmed and General Manager Dr AKM Nuruzzaman were present in the meeting.
The main purpose of the meeting was to share experiences of housing loans under the Low Income Community Housing Support Project (LICHSP) and to find avenues for expanding the activities to other parts of the country.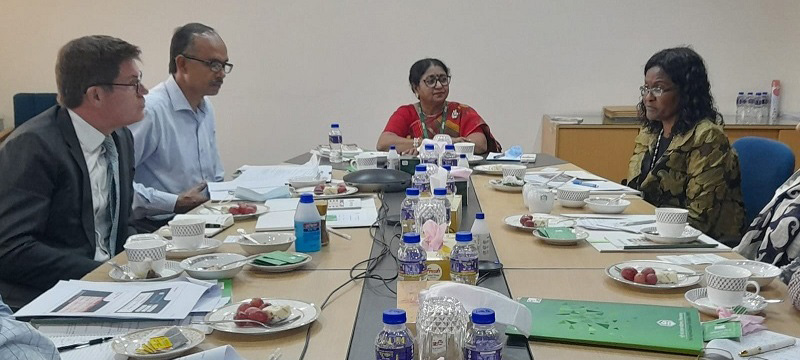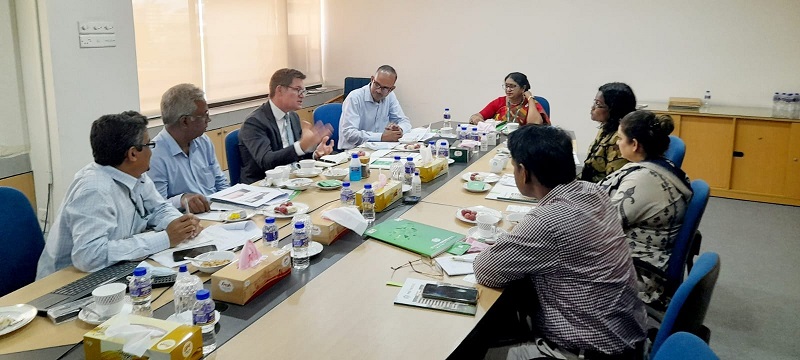 Dr Nuruzzaman, also the LICHSP Project Coordinator at PKSF, mentioned that the Project funded by the World Bank and the Government of Bangladesh has been jointly implemented by PKSF and the National Housing Authority (NHA) since 2016. PKSF, through its 7 Partner Organizations (POs), has disbursed loans amounting to BDT 2,346 million to 11,259 borrowers for the construction of new houses and extension or repair of existing ones in 13 towns. Based on the learning from LICHSP, 'Abason Loan' (housing loan) program was launched by PKSF in January 2019. The program is being implemented by 17 POs in 37 upazilas of 19 districts. As of 30 April 2022, PKSF has disbursed BDT 1,169 million to 5,033 borrowers for construction of new houses and repair or extension of old ones. He also said that a large number of households in the working areas were engaged in some kind of home-based enterprises and therefore, houses were seen as an asset, investing in which would yield return. Many started a small shop at home and have added to their household income. Many borrowers already recognize that they are getting benefits in terms of health, mental peace, physical security and children's education. Nonetheless, the housing loan program seems to be very effective and appropriate for PKSF considering the significant demand for housing among the low-income communities in the country. PKSF feels the need for expanding such services to wider a range of population.
In response, Mercy Miyang Tembon said that LICHSP is an important project for ensuring sustainable poverty reduction, which is also in line with the objectives of the World Bank. Living in improved housing conditions, she said, would most likely make the next generation more resilient, productive and responsible than their parents. Stating that such projects should be expanded not only within Bangladesh but also elsewhere in the world, Tembon said she sees potential to scale up the Project's activities and arrange finances accordingly.
Others present in the meeting participated in the open discussion and shared their views on the activities of LICHSP.