News
DFID-EU team visits Satkhira to explore its challenges and potentiality
DFID-EU team visits Satkhira to
explore its challenges and potentiality
A high-profile team comprised of UK's Department for International Development (DFID) and the European Union (EU) officials visited Satkhira, a southwestern district to see for themselves the challenges of implementing the Pathways to Prosperity project. It is an area that is already bearing the brunt of climate change.
It was their first visit in the project area after the program took off in April 2019 with funding from the DFID and the EU.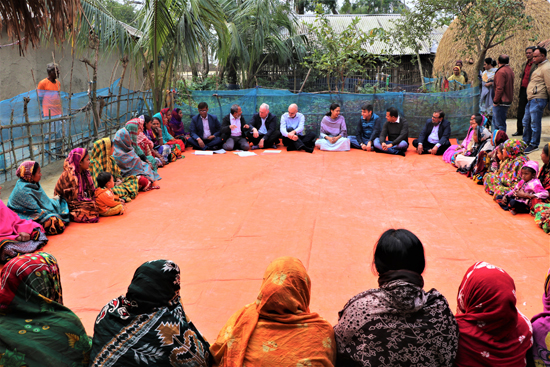 During the 3-day visit from 4-6 February 2020, the delegation also explored the challenges of extreme-poor household selection, linking the extreme poor people to public and private service institutions, and creating a congenial environment for optimum use of the potentials of these people.
They also explored various income generating activities around the Sundarbans, which is already experiencing the adverse impacts of climate change.
On the first day of the field visit, the delegation had a meeting with a number of participants of 'Programmed Initiatives for Monga Eradication (PRIME)', an earlier flagship project implemented by PKSF from 2006 to 2016. During the meeting, a number of participants said how the PRIME interventions had changed their lives for the better.

The DFID officials in the team were John Warburton, Team Leader, Extreme Poverty, Resilience and Climate Change; ABM Feroz Ahmed, Livelihoods Adviser; and Tasneem Rahman, Programme Management Adviser. From the EU, Maurizio Cian, Minister Counsellor & Head of Cooperation; and Manfred Fernholz, First Secretary & Team Leader, Food Security, Nutrition & Livelihood Development, took part in the visit.
PKSF General Manager Dr Sharif Ahmed Chowdhury, Sector Coordinator (Community Mobilisation) Sadar Arif Uddin and other PKSF officials accompanied the delegation.
POTENTIAL VALUE CHAIN OF CRAB, EEL FISH (KUCHIA)
On 5 February 2020, the delegation of the development partners visited a crablet hatchery established and operated through Nowabenki Gonomukhi Foundation (NGF), a partner organization of PKSF in Shyamnagar of Satkhira. They explored the potentiality of crab rearing and its value chain in the light of the Prosperity project, which aims to lift some 1 million people from about 2,50,000 households out of extreme poverty by 2025. The team also visited an eel farming project.

ASSURANCE OF SUPPORT
The team held two meetings with Satkhira Deputy Commissioner (DC) SM Mostofa Kamal and Shyamnagar Upazila Nirbahi Officer (UNO) ANM Abuzar Giffary at their offices.
Both the DC and the UNO gave assurance of necessary support, and expressed hope that the project will improve the lives of the extreme poor people in the area.