News
Bangladesh on right track to become upper-middle income country by 2041: WB Acting Country Director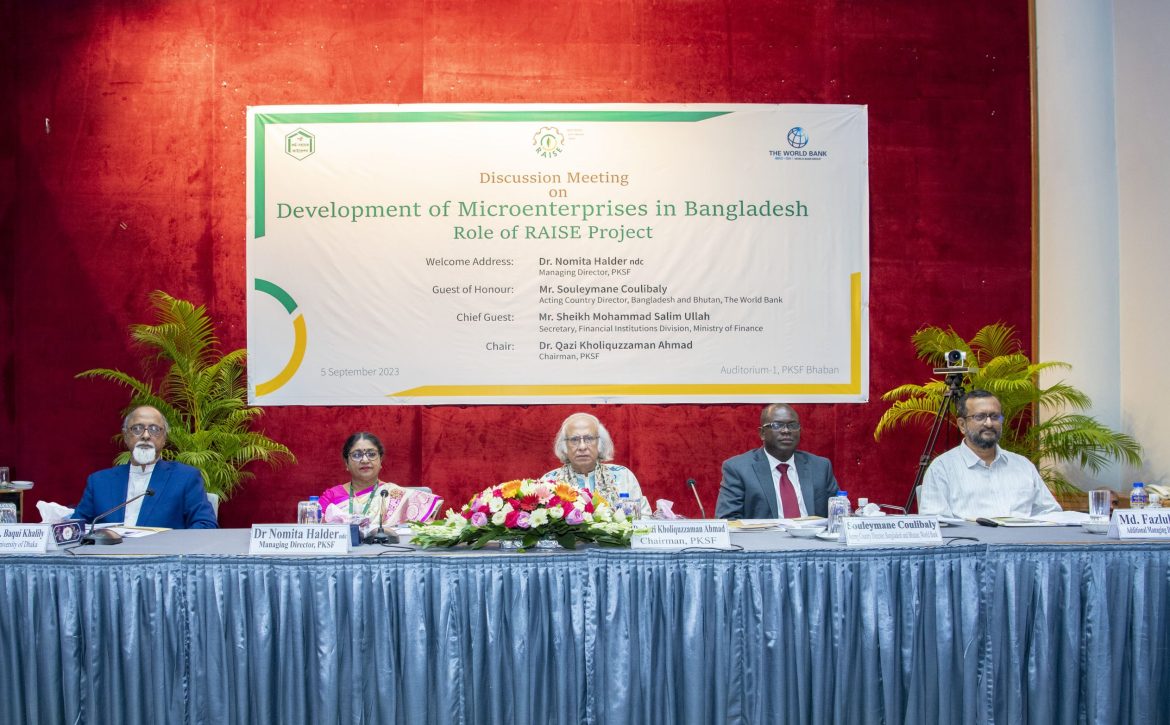 Acting Country Director of The World Bank Bangladesh and Bhutan Mr. Souleymane Coulibaly said that Bangladesh is on the right track to become a high middle-income country by 2041. "Bangladesh is one of the fastest growing economies in the world. I strongly believe that the country is on the right track to become an upper-middle income country by 2041, as Bangladesh has maintained its economic growth over the years despite the COVID-19 pandemic", he said while speaking as the Guest of Honour at a discussion meeting titled 'Development of Microenterprises in Bangladesh: Role of RAISE Project' organized by PKSF.
Eminent economist and Chairman of Palli Karma-Sahayak Foundation (PKSF) Dr. Qazi Kholiquzzaman Ahmad presided over the discussion meeting. Dr. Nomita Halder ndc, Managing Director of PKSF gave the welcome address.
Dr. Qazi Kholiquzzaman Ahmad said that Bangladesh needs to invest in microenterprises if the country wants to benefit from the demographic dividend. Development of microenterprises requires implementation of capacity enhancement activities along with financial services.
PKSF is working tirelessly to improve the socio-economic status of the people who lag behind said Dr. Nomita Halder ndc. The RAISE project is working to improve the overall quality of life of the people, especially the youths by enhancing their capacities, she added.
In a presentation on 'Development of Microenterprises in Bangladesh: Prospects and Challenges', Mr. Md. Fazlul Kader, Additional Managing Director of PKSF, highlighted the role of various activities and projects of PKSF in the development of microenterprises. Besides, Mr. Dilip Kumar Chakravorty, General Manager (Programs) of PKSF and Project Coordinator, RAISE presented on various aspects of the Recovery and Advancement of Informal Sector Employment (RAISE) project.
Former Dhaka University Professor M. A. Baqui Khalily discussed on the presentations. Some participants of the RAISE project shared their experiences at the event. Besides, officials of PKSF and its Partner Organizations and representatives of the World Bank participated in the event. 
To enhance human capacities in microenterprises, the RAISE project was launched in February 2022 jointly funded by PKSF and the World Bank. The project is being implemented in the urban and peri-urban areas of 333 upazilas of 64 districts of the country through 70 Partner Organizations. Under this five-year project, 1 lakh 75 thousand youths and micro-entrepreneurs are receiving inclusive financial services as well as capacity development support. The RAISE project is playing an important role in achieving the Perspective Plan 2021-2041 of the Government of Bangladesh and Sustainable Development Goals (SDGs) by creating opportunities for youths to engage in dignified and decent work environments.