News
Inception Workshop Held on 'Extended Community Climate Change Project-Flood'
Inception Workshop for 'Extended Community Climate Change Project-Flood'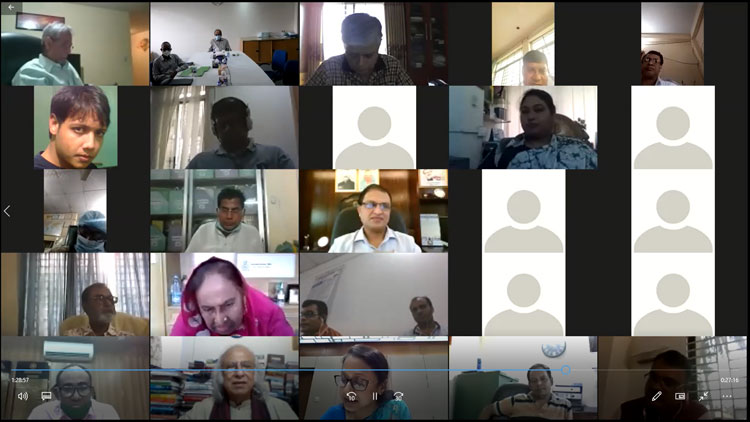 A virtual inception workshop for the 'Extended Community Climate Change Project-Flood (ECCCP-Flood)' — funded by the Green Climate Fund (GCF) — was held on 20 August 2020. Ms Fatima Yasmin, Secretary of the Economic Relations Division, Ministry of Finance was present as the Chief Guest of the event presided over by PKSF Chairman Dr Qazi Kholiquzzaman Ahmad. Dr AKM Rafique Ahammed,Director General, Department of Environment was the Special Guest. Mr Mohammad Moinuddin Abdullah, the Managing Director of PKSF, delivered the welcome remarks, and Dr Fazle Rabbi Sadeque Ahmed, Director (Environment and Climate Change) gave a presentation on the project.
The ECCCP-Flood project will strengthen the adaptation capacity and increase the resilience of marginalized communities in 5 flood-prone districts — Kurigram, Lalmonirhat, Nilphamari, Gaibandha, and Jamalpur. Two lac people are expected to be benefitted from the project. The major activities of the project includes raising homestead plinths, cultivating flood-resilient crops, installing tube-wells and flood-resilient sanitary latrines, livestock rearing etc. PKSF will implement the project through its Partner Organizations (POs).
The speakers in the workshop expressed their hope that the ECCCP-Flood project will also provide significant co-benefits — such as improved health, food security, gender equality, women's security etc — that can help mitigate the impacts of climate change and contribute to green recovery.
More than 200 participants, including representatives of various ministries, departments, directorates, Deputy Commissioners of five districts, members of PKSF Governing Body, representatives of various non-governmental organizations and development partners, Executive Directors of PKSF POs, and senior officials of PKSF, attended the webinar.