News
PKSF, BFRI Sign MoU to Expand New Fisheries Technologies
PKSF, BFRI Sign MoU to Expand New Fisheries Technologies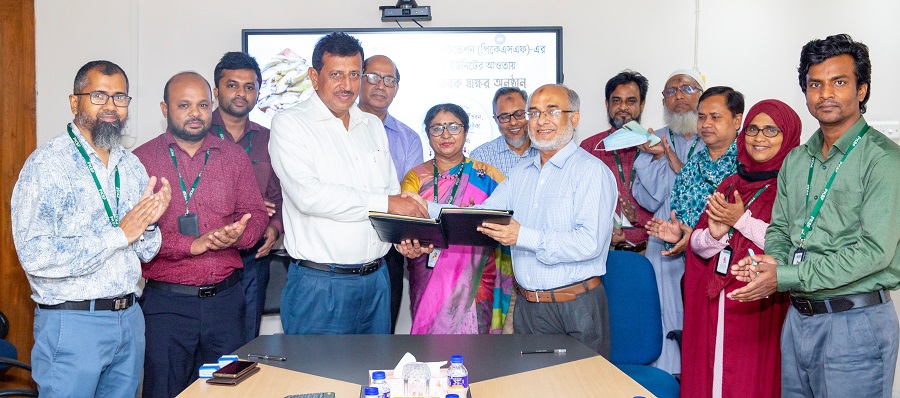 Palli Karma-Sahayak Foundation (PKSF) and Bangladesh Fisheries Research Institute (BFRI) signed a Memorandum of Understanding (MoU) on 23 August 2022 with the objective of achieving food and nutrition security and alleviating poverty by boosting fisheries production through partnership and collaboration.
Dr Nomita Halder ndc, Managing Director of PKSF, chaired the occasion. Golam Touhid, Senior Deputy Managing Director of PKSF, and Dr Yahia Mahmud, Director General of BFRI, signed the Memorandum of Understanding (MoU) on behalf of their respective organizations. Dr Sharif Ahmed Chowdhury, General Manager (Program) along with his team members in the Integrated Agriculture Unit of PKSF, and Dr Md Zulfiker Ali, Chief Scientific Officer and Director (Planning and Evaluation) of BFRI, also were present there.
Under this MoU, BFRI will provide special and modern BFRI-mandated fisheries technologies, ‍assist in sourcing quality fish fries specially of commercially high value and those of endangered native fish species, help explore blue economy, disseminate relevant knowledge and technical information, train PKSF, POs' technical staff members and participants in the grassroots to expand sustainable technologies among the farmers receiving PKSF's services. PKSF will extend necessary cooperation to BFRI to facilitate the latter's services to the targeted farmers.