News
New pro-poor housing project on the cards
New pro-poor housing project on the cards
WB, PKSF high-ups discuss key details of the proposed $250mn project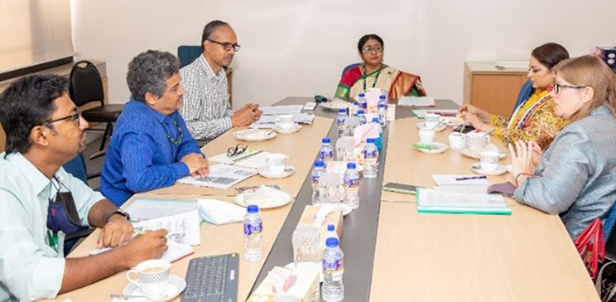 In its bid to improve the standard of living of the low-income communities, PKSF mulls floating a new project, primary termed 'Housing Loan for Low-Income People (HLLIP)'. The proposed $250-million project plans to directly benefit 97,032 families in selected areas of Bangladesh.
To this end, a World Bank (WB) delegation comprising Lead Social Development Specialist Anna O'Donnell and Senior Social Development Specialist Sabah Moyeen met PKSF Managing Director Dr Nomita Halder ndc at PKSF Bhaban on 22 August 2022. PKSF's Deputy Managing Director Dr Fazle Rabbi Sadeque Ahmed and General Manager Dr AKM Nuruzzaman and Assistant Manager Md Anisur Rahman were also present at the meeting.
PKSF, jointly with the National Housing Authority (NHA), is currently implementing the WB-funded Low Income Community Housing Support (LICHS) Project. Describing the project as necessary for ensuring sustainable poverty reduction, Dr Halder said such interventions are also consistent with the goals of the World Bank. She expressed her hope that the Bank would stay beside PKSF in realizing the planned second phase of the LICHS project.
The World Bank team informed PKSF that they would shortly take necessary measures on PKSF's funding request for the LICHSP Phase-2, titled "Housing Loan for Low-Income People (HLILP)" which would expand housing microfinance opportunities to a wider number of low-income households and explore new areas of housing like climate-resilient housing, disaster-resilient housing, reducing gender gap through women's access to improved housing facilities, as well as promoting innovations in this field.
Anna O'Donnell expressed her satisfaction at the LICHS project's successful implementation by PKSF, and hoped for further strengthening cooperation between the World Bank and PKSF.
Dr Fazle Rabbi Sadeque Ahmed shared his experience on climate-resilient housing interventions in various climate-vulnerable areas of Bangladesh.
Drawing on the LICHSP experiences, General Manager Dr AKM Nuruzzaman, who spearheaded the project's implementation as its Project Coordinator, said PKSF had disbursed all the funds under LICHSP some months before the project's completion period. A large number of households in the working areas, he continued, were engaged in home-based enterprises, and therefore the houses were now seen as assets, investing in which would yield a return. Many borrowers already recognize that they are getting benefits in terms of health, mental peace, physical security, and children's education. It is for all these tremendously successful activities that the World Bank has rated the LICHSP as "Highly Satisfactory", he added.